Meet America's Most Worthless Human Being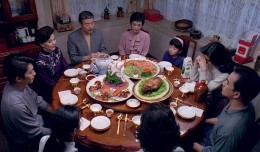 These are strange and stressful times we're living in. Millennials are broke. The weather is awful. A member of my (extended) family shared on FB that screenshot from the O'Reilly Factor claiming racism is over because police killings of blacks are down 70% from 50 years ago. 70%! From 50 years ago, when we as a nation barely considered you citizens and murdered you with impunity! So what are you all whining about?
At least there's one thing we can agree on, regardless of our religion, sexuality, politics, or creed: this petty, arrogant Harvard Business School professor wins the title of America's Most Worthless Human Being. The story of how he harassed and threatened small Chinese restaurant proprietor Ran Duan over $4 — four dollars! — is nail in the coffin for 2014.
Last week, Edelman ordered what he thought was $53.35 worth of Chinese food from Sichuan Garden's Brookline Village location.
Edelman soon came to the horrifying realization that he had been overcharged. By a total of $4.
If you've ever wondered what happens when a Harvard Business School professor thinks a family-run Chinese restaurant screwed him out of $4, you're about to find out.
(Hint: It involves invocation of the Massachusetts Consumer Protection Statute and multiple threats of legal action.)
You must, must, must read the back-and-forth between the pompous, aggrieved Edelman and the polite small business owner. It will boggle your mind, and then re-boggle it, and then boggle it again.
Here is one particularly egregious section: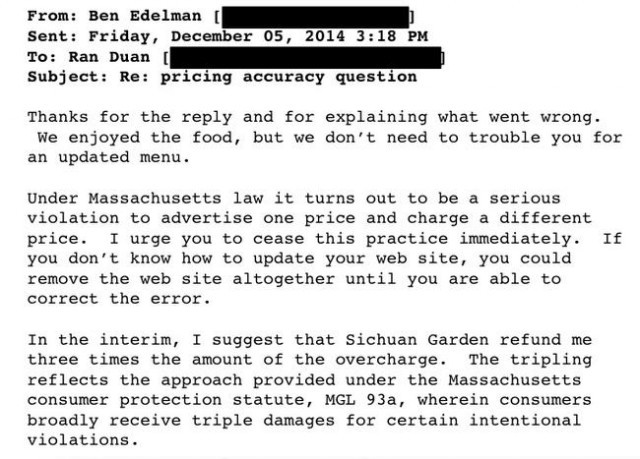 I might have given Edelman some creative advice about what he could do with his egg rolls. Duan, perhaps because he has more experience working in customer service, is more restrained.
Runner Up for America's Most Worthless Human Being: Ridley Scott.
Update: Edelman has apologized. I guess we have to find a new target for our communal ire, like Guy Fawkes or something.
"Having reflected on my interaction with Ran, including what I said and how I said it, it's clear that I was very much out of line. I aspire to act with great respect and humility in dealing with others, no matter what the situation. Clearly I failed to do so. I am sorry, and I intend to do better in the future."
---
Support The Billfold
The Billfold continues to exist thanks to support from our readers. Help us continue to do our work by making a monthly pledge on Patreon or a one-time-only contribution through PayPal.