Places I've Lived: A Sunporch, Next to a Elevated Train and a California Cottage
by Megan Elliott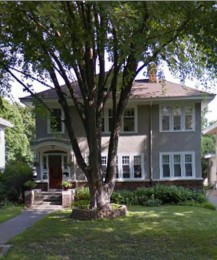 Goodrich Avenue and Pascal Street, St. Paul, MN, June 2000-December 2000. About $300/month (my share)
I moved into my first apartment, one block off campus, the summer after my sophomore year in college. The unit was on the upper-floor of a craftsman-style duplex, with two real bedrooms and three pseudo-bedrooms that were actually converted sun porches, which were lovely and light-filled in the summer, but terrifyingly cold during the winter. I lucked out, scoring one of the real bedrooms in the unit. Drawbacks of this apartment included the landlord's brother-in-law, who lived in a likely illegal studio apartment conversion in the basement and was rumored to do his laundry naked (though I never witnessed this myself), and the landlord himself, who lived on the first floor and would lurk by his front door and then leap out to pepper you with questions about rent and bills as you were coming home from class or work. The most important lesson I learned while living here? Avoid housing that is heated by oil. I don't remember exactly how much it cost, but I do know that my share of filling an enormous tank with an entire winter's worth of heating oil nearly wiped out my sad college student bank account.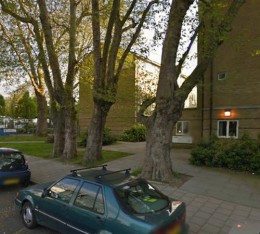 New Cross Road and St. James's, London, U.K. January 2001-April 2001. Cost: Not sure. Probably more than I could afford
Spring semester of my junior year I studied abroad in London. Student housing was half-a-dozen dorm rooms off of a hallway, plus a shared kitchen. My flatmates were several unfailingly polite British students and one other American exchange student. The living space was tiny and every piece of blond wood furniture was bolted to the wall, but each room had a private bathroom, making this the first time in my life that I didn't have to share a toilet and shower with someone else. It was amazing.
Goodrich Avenue and Pascal Street, St. Paul, MN, May 2001-May 2002, About $300/month (my share)
I returned from London and moved back into the five-bedroom near campus. The ever-evolving roommate situation had become contentious, and in the fall, a mice infestation led to an epic house meeting regarding the ethics of kill vs. no-kill traps. The mouse-murdering faction (of which I was a member) won the day, but when one rodent finally got stuck in a trap when I was in the apartment by myself, I got squeamish and begged my one male roommate dispose of it when he got home. To repay him, I played dumb whenever creditors called inquiring about his whereabouts. By the time I finally moved out for good, shortly after graduation, I'd had 12 different roommates over the 18 months I'd lived in this apartment.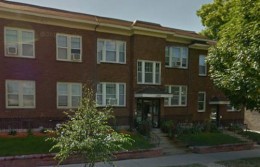 Dayton Ave and Snelling Ave, St. Paul, MN, June 2002-June-2003, About $300/month (my share)
Fed up with sharing one bathroom with half-a-dozen people, I moved into a two-bedroom with one of my roommates from the previous apartment and her boyfriend, who soon moved back to Indiana to finish his MFA. My bedroom was a converted porch (again with the porches), and in the winter it was so cold I could see my breath when I woke up in the morning. A space heater helped, but if anyone tried to use the microwave when the heater was on, a fuse would blow. One January evening when my roommate was out of town, I accidentally shut her cat in my room before going out. When I came home hours later, I found he'd taken a shit on my bed in revenge. I didn't really blame him.
Stevens Ave and 19th St., Minneapolis, MN, July 2003-July 2004, $450/month
After a dismal, broke year of post-collegiate internships and temping, I joined AmeriCorps and moved across the river to Minneapolis, to the cheapest studio I could find that was also within walking distance of my new job. I found a place in the Stevens Square neighborhood. The dark wood finishes and deep red carpeting in the building's hallways gave it a depressing, noir-ish vibe. One night around 3 a.m. I woke up to a screeching alarm and firemen pounding on my door. A neighbor down the hall who I'd never seen had set her unit on fire. My apartment escaped the inferno, but the hallway smelled like smoke for weeks afterward. Now, that fire seems like one of many signs that it was time to move on.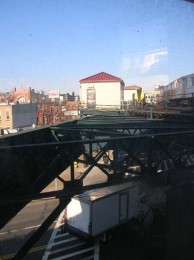 Davis St and Vernon Blvd, Long Island City, NY, September 2004-August 2006, $650/month
After yet another brutal Midwestern winter, I realized I had to get out of Minneapolis. I also had the feeling that if I stayed, I'd spend the rest of my 20s drinking whatever beer was on special in the same dive bars I frequented in college, as my hopes and dreams slowly withered away. Graduate school seemed like a smart, albeit expensive, solution to this problem, so I left the Twin Cities and drove to New York with a friend-of-a-friend who was starting law school in Manhattan. Neither of us had a place to live, so we searched for an apartment together.
Our tight budget led us to an ostensible two-bedroom in Queens, where one of the so-called bedrooms was actually the living room, naturally. Our building abutted the elevated 7 train tracks, and every 10 minutes a train would screech by as it entered or left the Courthouse Square station, rendering conversation impossible. Shortly after we moved in I locked myself in the bathroom, with the kettle whistling on the stove, while home alone. I remained calm for a time, but eventually started to freak out. When my roommate finally came home and liberated me two hours later, I was trying to break the opaque glass on the bathroom door with a can of hairspray. But we were one-stop to Manhattan on the E train, across the street from PS 1 and on the same block as the 5 Pointz building. Years later, when watching Julie & Julia, I saw my building in the background as Amy Adams climbed the stairs to the train, and it made me miss New York in a way I never expected I would.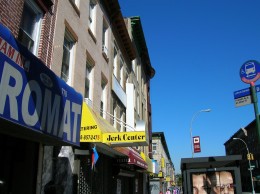 Franklin Ave and St. John's Place, Brooklyn, NY, September 2006-August 2008, $600/month
After two years, in Queens, my roommate and I moved into a friend's place in Crown Heights, a neighborhood then on the cusp of gentrification. (When I went back to visit last year, the process seemed pretty much complete.) One night when I wasn't home, several men crawled over from the fire escape and in through my open bedroom window, robbed my roommate at gunpoint and then threw an Ikea folding chair at him for good measure as they were leaving. Many of the surrounding buildings were also occupied by young gentrifiers, and I had a lot of friends in the neighborhood, including, weirdly, several people I went to high school with in Illinois. The best part about living here was that it was where I met my current boyfriend, one of the tenants in a neighboring building.
Burrell St. and Smith St., Milwaukee, WI, September 2008-August 2009, $350/month (my share)
New York was turning me into a brittle, cranky person, and the paltry salary I earned editing a trade magazine barely paid the bills. When my boyfriend accepted a job offer in Milwaukee, I followed him back to the welcoming arms of the Midwest a few months later. The cheap two-bedroom we rented in Bayview featured amenities I'd nearly forgotten existed during my time in New York: In-unit laundry. Attic storage space. A front and a back deck. Our downstairs neighbors grilled various meats outside in February. A sausage factory and a bowling alley were both within walking distance. Everything about this apartment was very Wisconsin.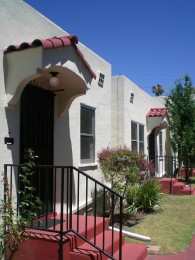 Idaho St., San Diego, CA, September 2009-present, $450/month (my share)
My boyfriend got laid off and I hated my job in Milwaukee, so we moved to California so he could go to graduate school. Our current apartment is a postage-stamp one-bedroom cottage in a 1920s bungalow court. Our landlord is an elderly gentleman with a titanium leg who hasn't raised our rent in five years. I have a small lemon tree next to my front stoop and many potted succulents. While I wish we had hardwood floors instead of carpet, and the bathroom leaves a lot to be desired, this is by far the best place I've lived so far. And, after five years, it feels like home. At least for now.
Megan Elliott works as a copywriter. She lives in California but is still a Midwest girl at heart.
---
Support The Billfold
The Billfold continues to exist thanks to support from our readers. Help us continue to do our work by making a monthly pledge on Patreon or a one-time-only contribution through PayPal.