Money I Spent To Make Money Teaching Yoga
by Steph Auteri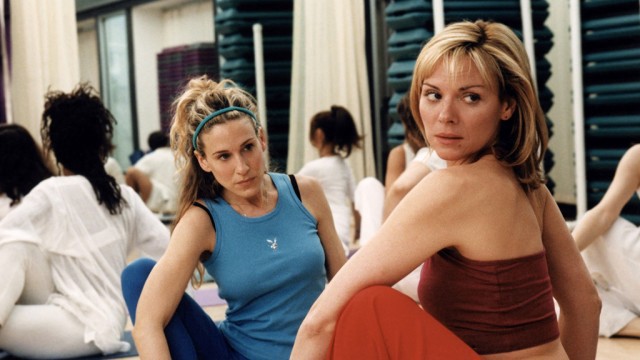 I was incredibly thrifty as a young yogi. I wore old T-shirts and unflattering sweatpants from Kohl's. I used a $22 Gaiam yoga mat I'd picked up at Barnes & Noble. At the very beginning, I didn't even pay for classes. As one of the test subjects for a New York Post story on diet books, I received a free, three-month gym membership for New York Sports Club. That was when I tried yoga for the first time.
When my freebie gym membership ran out, I didn't go back. I'd never been much of a gym-goer. But what little I'd seen of yoga intrigued me, so I rented yoga DVDs through my Netflix account until I found two I liked enough to buy. When I eventually went to a studio, I took a couple of the $5 community classes taught by teacher trainees before committing to a package. And once I was hooked, I still tried to do what seemed most economically sound. I paid $100 a month for unlimited classes, which was a steal considering the fact that I took four to six classes a week.
But then there were the various accoutrements of my new hobby. Because obviously, now that I self-identified as a yogi, my entire life had to revolve around it.
I spent $15 on Toesox, which I used once before they were relegated to the back of a dresser drawer. I purchased a yoga blanket for $32 and a meditation cushion for $44.95, both of which were used only a handful of times because my meditation practice is sad. I spent $19.99 on a blank journal, the cover of which features a picture of a cat doing yoga (because: cats and yoga). I spent $63 on a Manduka brand bag for my yoga mat, which I no longer use.
And I spent at least $97.43 on yoga-related books and $170 on yoga-inspired jewelry.
All of this, of course, is just from the receipts I'm able to find through Amazon and Etsy. Things like my Tibetan hand cymbals and my om wall hanging and my tiny Ganesh figurine and other books and knick-knacks aren't even included.
I even spent around five or six hundred dollars to go on a yoga and cooking retreat up in Vermont. Yoga was my drug, and I would spend anything to get my fix.
And then I decided to become a teacher.
As an aside, the problems that have popped up due to the commercialization of yoga could fill an entire book (or an entire series of Billfold posts). Because we don't have the room for that here, I'll just focus on my experience as a teacher.
Which is interesting. Because many of us feel conflicted about the work we do. We feel guilty charging money for a service that should be accessible to all. Yet at the same time, we must able to make a living in order to afford to continue teaching.
So we teach a billion classes a week, running from studio to studio, gym to gym, receiving only a tiny amount per class. Or we develop workshops and retreats, which allow us to make larger profits. Or because of the fierce competition among teachers — battling for open time slots, feeling pressure to bring in students or else risk losing our spots on the schedule — we try to distinguish ourselves in some way by developing our "niche" or creating some sort of wild yoga hybrid (which of course brings up a whole other conversation about the sanctity of "true" yoga).
But before all of this madness even begins, there is the teacher training.
In case you weren't aware, the teacher training program is the true moneymaker at most yoga studios. Not the classes themselves, which often go for cheap thanks to Groupon and Amazon Local and Metabody deals offered to bring in new students. I myself paid $2,000 to earn my teacher training certification, during the lowest-income year of my professional life. This doesn't include the $89 I spent on the required reading materials. What can I say? It was my hope that I was making an investment in my future.
Once I made it through the program, though, I still had to spend $80 to register with the Yoga Alliance, another $80 to take a first aid / CPR certification class, and $143.19 for personal liability insurance. I also subscribed to Yoga Journal ($27.95) and got myself some business cards ($24.99). And me being me, there were more books (at least $200 worth over the past two years), gulped down at a rapid pace in order to build my knowledge and discover new ideas I could incorporate into my teaching, and small snippets of money spent here and there on mp3s to add to my yoga class playlists.
Thank god for all the gifts I received. The yoga bolster. The Tibetan singing bowl. The blocks and the strap. The gift card I used to buy a higher-end ($70) yoga mat. The countless books I didn't have to pay for myself. These are all things I use to work on and strengthen both my practice and my teaching methods.
And of course there are the hundreds of dollars I have spent on apparel at Athleta (possibly nearing the thousands by this point). I don't always keep good records on these purchases, but my most common purchase from Athleta is a pair here, a pair there, of leggings, usually at the $70 or $80 price point.
Why do I spend so damn much on leggings, of all things? Because I want to look the part, yes. But also because yoga has taught me to love my body, and I want to show it off. As curvy as I am (and this has been a source of low self-esteem over the years), I feel beautiful and muscular and strong in my yoga leggings (and thanks to my yoga practice). And this particular brand seems to fit my curves the best. It doesn't hurt that, as a teacher, I receive a 30% discount.
Do I regret pouring so much money into a career path that isn't necessarily lucrative for most? Not at all. (Well, I do regret some of those jewelry purchases, but I wouldn't exactly say those were necessities.)
As someone with a strong freelance writing and editing career, I don't need to rely on the money I make teaching yoga to keep me going. Rather, it's the nice, extra chunk of change that pads my monthly income, making me feel just that little bit more secure. (I was previously bringing in at least $500-$600 a month from my yoga. Now that I have a 4-month-old and have scaled back significantly, I bring in closer to $250 a month, which is still nice to have.)
More than the money, though, I feel that what I spent was worth it because of the community I now find myself a part of, and because of the surprising ways in which teaching fulfills me. It's an odd joy to discover at this part of my life. As an introvert with social anxiety, I've spent so much of my professional life working toward a point where I could make my money in complete isolation. (Bless you Internet age.)
But this doesn't feel like work. It feels like sharing. Sharing something I love. And the money itself feels like money well spent.
Steph Auteri is a freelance writer and editor who often collaborates with sexuality professionals on books, blog posts, and other forms of content. She has also been published in Playgirl, Time Out New York, New York Press, and other publications. You can learn more about her at her professional site, or stalk her on Twitter.
---
Support The Billfold
The Billfold continues to exist thanks to support from our readers. Help us continue to do our work by making a monthly pledge on Patreon or a one-time-only contribution through PayPal.