What Your Sex Life Has to do with Barry Diller and Diane Von Furstenberg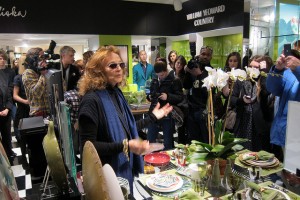 Fun facts related to online dating:
+ The online dating portals Match.com, OK Cupid, How About We, and Tinder are all owned by the conglomerate IAC, which also owns About.com, Ask.com, Ask.fm, Vimeo, and everyone's favorite College Humor. It is, as NYMag puts it, the "Berkshire Hathaway of Internet companies."
+ IAC is run by Barry Diller. You might remember Barry Diller from such feats as helping to make Aaron Spelling and Steven Spielberg, and giving the American TV watching public Roots. Most importantly, perhaps, he helped create the Fox network — which in turn gave us the Simpsons, so whatever else you might say, you should also remember to be grateful.
+ Barry Diller is married to Diane Von Furstenberg*, with whom he makes money and gives it away. Yes, that DVF, the workaholic who was once married to a prince:
"The worst, I'm sorry, is to do interviews, because I also have to go into the sample room, and I really have to work," she says. Over the next few weeks, she is releasing not only her memoir but also a new TV show on E! (in which young women compete to be a DVF brand ambassador) and a book on the evolution of her trademark wrap dress, based on a recent exhibit at the Los Angeles County Museum of Art. Forty years after she created that dress — which wraps around the front and ties at the waist, creating an hourglass shape — her designs have turned into a brand estimated to be worth hundreds of millions of dollars, with 1,500 points of sale, including 97 DVF retail outlets in 55 countries.
+ Ironically, since both Diller and DVF are Jewish, almost the only the online dating behemoth they don't own is JDate.
But maybe that's a matter of time: Spark Networks, which also owns ChristianMingle.com, is swimming in rough waters and having a hard time staying afloat. (eHarmony more or less owns itself.) (There is also Zoosk?)
All of this came to mind this weekend because I had lunch with a single, straight, twenty-something guy friend who's open about his dating life. Do you use Tinder, I asked him. No, he said, and told me about Coffee Meets Bagel (free, and founded by women!) which is like Tinder crossed with Snapchat:
To make this easy & fun, we decided to deliver to our members one match ("Bagel") every day at NOON. Members simply choose to LIKE or PASS their Bagels. We wanted to create something for you to look forward to every day, something that adds excitement to spice up your lunch break 🙂
It's a cute idea, and so far it's been successful.
His estimate for how much money he has spent on first dates in the past six months was $1,000. "That's approximating $15 per, because a first date is one drink: I take her to a bar and then I get a beer, and following suit she usually gets a beer too, even if she leaves half of it, so it's not too bad."
Do you budget for that in advance? I said. No, he said, but I live frugally to allow for it.
The nitty gritty of this stuff is fascinating to me since I met my person when I was 18 and he was 19, and we missed out on online dating — as well as dating as adults — completely. Anyone want to write about the strategy of money related to dating for us? Pitch me: ester AT the billfold
*About her memoir, DVF says, "Words are so powerful … I spoke very candidly about everything, except I had more men than I talk about in the book." A+ diva, bow down.
---
Support The Billfold
The Billfold continues to exist thanks to support from our readers. Help us continue to do our work by making a monthly pledge on Patreon or a one-time-only contribution through PayPal.