The Cost of Running in My First 5K
by Nicole Johns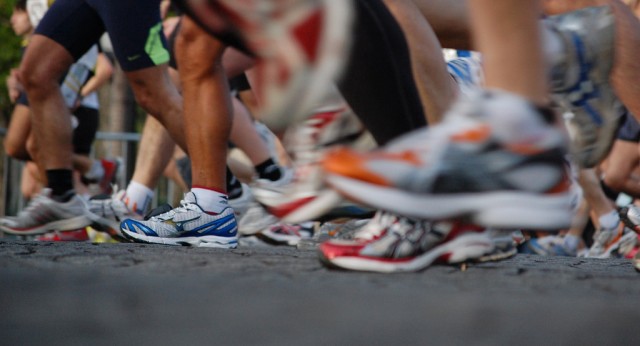 I decided I wanted to run a 5K this past May, when I read about the Minnesota State Fair Milk Run. For those of you unfamiliar with the Great Minnesota Get Together, it is a bacchanalia of dairy products, deep-fried candy bars, and foot-long corndogs. Non-edible fair highlights include (but are not limited to): butter sculptures, crop art, the fattest pig in all of the Minnesota, and dangling placentas in the Miracle of Birth barn. The state fair is the most Minnesotan of experiences; the Saint Paul Winter Carnival (where there is sometimes a palace — made out of ice — that doesn't melt because it's -25 here in the winter), a Gophers football game, and ice fishing may be Minnesotan, but nothing compares to the Minnesota State Fair. As a transplant from the hills of rural western Pennsylvania, I had never witnessed anything like the state fair, and it was love at first deep-fried-cheese-on-a-stick.
One of my goals was to get outside and enjoy the fleeting Minnesota summer, so I decided to sign up for the Milk Run and drop my gym membership in favor of hitting the Twin Cities extensive trail system. It didn't hurt that the race package included a ticket to the fair, a race T-shirt, and best of all, a malt from the Midwest Dairy Association's Dairy Goodness Bar. I am a sucker for dairy goodness.
To get started, I needed some basic running gear.
$92, Shoes: Per the advice of my runner friends, I went to a running specialty store and was fitted for a pair of running shoes. I bought Mizuno Wave Rider 17s, and I love them.
$125, two sports bras: If you are a woman, and especially if you are a busty woman, it is very important to get good sports bras. The ones I bought are called The Last Resort, from Title Nine. They are amazing. Nothing moves. This was money well spent. I cannot overemphasize the importance of good sports bras, even if they are a bit spendy.
$8.25, six-pack of athletic socks: I bought c9 brand, and they worked. I recently bought some Under Armour socks with a gift card, and they are even better.
$56.97, three pairs of compression shorts: Like my first set of socks, these were also c9 brand. They worked well, although one pair does have a habit of riding up when I run. In the future, I'm hoping to try some other brands.
$30, three shirts: Again, these are the c9 brand, and they work well. They are lightweight and moisture wicking. They are also bright, which is good, because I don't want to get hit by a car.
$11.99, foam roller: Because I hadn't run in … ever, and I wasn't stretching properly, I developed shin splints. Many of my friends preached the gospel of the foam roller, so I tried it out, and it helped a lot with sore muscles in general. I foam roll after every run now.
$13.37, headphones: My old ones from 2007 died on my first run.
$9.86, armband: Just like my headphones from 2007, my armband fell apart soon after my first run.
$25, glorified fannypack: I am allergic to everything, and I have asthma, so it was imperative that I find some way to tote around my Epipen and inhaler, hence the glorified fannypack. I purchased an Amphipod, and I like it, although I wish I didn't need it.
$27, 5K race registration fee: This included a ticket to the state fair ($13), $1 off a cup of coffee, race t-shirt, and a free malt from the Midwest Dairy Association's Dairy Goodness Bar. There were also door prizes.
$13, Parking: Normally I take the Metro Transit shuttle to the fair, but the shuttle wasn't in operation until later in the day.
Total: $426.16

When I tallied everything up, I was surprised that it was this much; I figured my initial start-up costs would be lower. I do think it was money well spent though, since I am healthier now than when I started, and I have spent a lot of time outside, running, and I just feel better in general. When I can't run, I miss it, which is something I never thought I'd say!
While I did pay a lot in start-up costs, I lucked out in some ways because of where I live, previously purchased equipment, and gym membership savings.
$0, Twin Cities trails: The Twin Cities have many trails, and many places to run. Some of my favorites include Lake of the Isles, Lake Calhoun, and Lake Harriet. These are all well-maintained, scenic trails. Many of them have water fountains, and some even have small restaurants, and serve beer!
$0, Couch25K podcasts: I used the Robert Ullrey ones listed on the Cool Running website, mainly because they were free. However, having someone motivate me and cheer me on throughout the podcasts was helpful, especially in the beginning, when I thought I was going to die after running for five minutes.
$0, iPod: I already owned this, so I didn't need to purchase an mp3 player or other device to play music and podcasts.
-$150, Cancelled gym membership: I normally pay about $50 per month for my gym membership. I canceled it, so over the past three months, I've saved $150, which offsets some of the costs listed above.
Adjusted Total ($426.16-$150): $276.16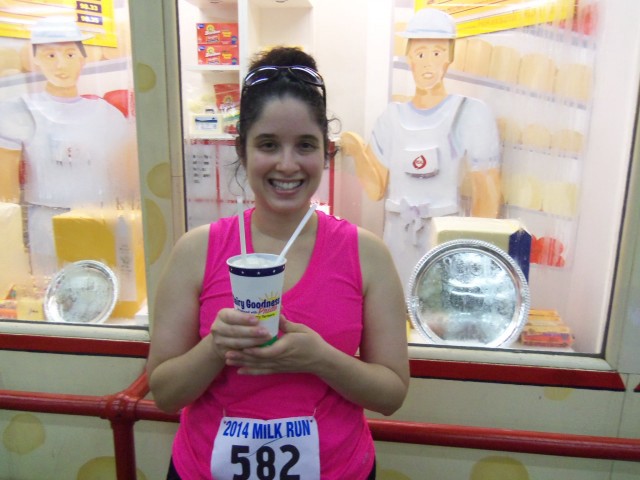 In this picture I am drinking my post-race vanilla malt. Please note the dairy products on display behind me.
Nicole Johns lives in a suburb of Minneapolis and she is the author of Purge: Rehab Diaries.
Top photo: Josiah Mackenzie
---
Support The Billfold
The Billfold continues to exist thanks to support from our readers. Help us continue to do our work by making a monthly pledge on Patreon or a one-time-only contribution through PayPal.