Job of the Day: Stuntman, Best Boy, Gaffer, Grip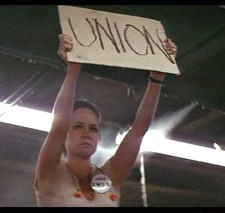 Asking you ever wanted to know about what film industry jobs pay, or don't pay, as the case may be, you can find out in this fascinating Hollywood Reporter dissection of salaries. For instance, Jonah Hill only got paid $60K for his Oscar-nominated role in The Wolf of Wall Street. Leo, by contrast, made more than $25 million.
Lest you harbor any fantasies that it's a meritocracy over there in Tinseltown, Dwayne "the Rock" Johnson made a mind-boggling $52 million this past year, and "Crystal the monkey earned $108,000 in 2012 for appearing in nine episodes of NBC's Animal Practice." Well, at least she earned it.
Entertainment lawyers easily make $2m — $5m a year. Extras make $148 a day and more if have to abase themselves by wearing a hairpiece. The white dudes in charge of late night are doing fine. Did you know Colbert makes $15m at Comedy Central and is set to make even more when he moves to network TV? But that's still chump change compared to some: "The Daily Show's Jon Stewart remains the top earner at $25 million to $30 million a year."
Producers do quite nicely. Publicists, not so much. And as for stunt men, well, that's basically a labor of love:
the average working stunt person makes only $50,000 to $100,000 a year.
That's barely enough to cover a daredevil's insurance premiums, let alone pay the bills when he or she takes the inevitable spill. "I was doubling Jim Carrey in Yes Man, on the back of a scooter on Sunset Boulevard with the girl doubling Zooey Deschanel," recalls McComas. "A car that was supposed to slide by us hit us at 50 miles per hour. She shattered her pelvis; I jumped, flipped in the air and herniated a couple of disks." He was out of work for eight months. "When you're hurt, you show up the next day and you're fired. Basically we're blue-collar workers who punch the clock. I went from $10,000 a week to $900 a week on disability. The bottom line for a stuntman is: Don't get hurt."
Ouch. Mamas, don't let your children grow up to be stuntmen. If they must chase the excitement of life near the limelight, steer them to wiser careers such as Best Boy ($92K), Costumer ($79K), Foley Artist ($88K), Wigmaker Class Two ($69K), or one of the numerous other middle-class type jobs available on set. Steady money and a smaller chance of dying young and leaving a mangled corpse.
As for me, I'm going to figure out how to be a Novelization Writer ($12,500 per book). Just tell me where to submit my resume.
---
Support The Billfold
The Billfold continues to exist thanks to support from our readers. Help us continue to do our work by making a monthly pledge on Patreon or a one-time-only contribution through PayPal.