Got $400? Stay at the New Harry Potter Themed Hotel Rooms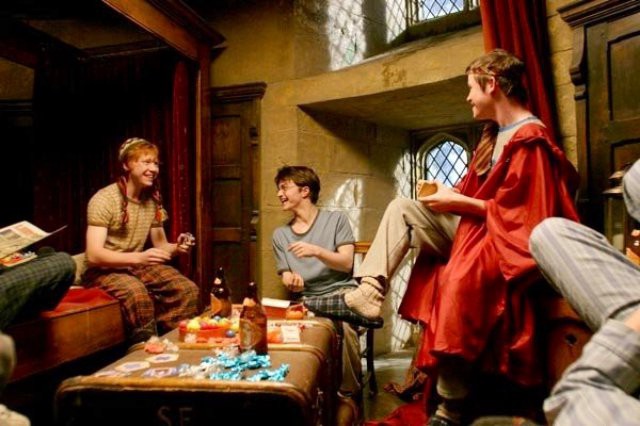 So now I have a new life goal: to write the last chapter of How Wizards Do Money from the inside of the Georgian House's Harry Potter-themed "wizarding chambers."
As the Mirror reported:
The 163-year-old Georgian House hotel near London's Victoria Station has now introduced replica Hogwarts rooms as well as personalised wizarding packages.
These include a tour of central landmarks from the films and a trip to the Warner Bros Studio for The Making of Harry Potter Tour.
The two hotel rooms (yes, the hotel only converted two rooms into wizarding chambers, which seems like a missed opportunity to schedule large-group wizarding events like, say, conventions) look good and wizardy, with four-poster beds and locked trunks and old-timey teapots that you're probably not actually supposed to drink from.
The Mirror notes that the smaller room costs £249 (approx. $400) per night, and the larger room, which sleeps five, costs £363 ($584).
I'm not actually sure if I'd stay here. In the right circumstances (like writing the last chapter of How Wizards Do Money in some fantasy world where I could drop everything to travel to London for a week and do that), I'd totally be up for it. But I think I'd have to have a really good reason to make the trip. A Warner Bros tour just isn't enough. I'd want a full wizard experience, including the opportunity to wear the Sorting Hat, take some kind of magical chemistry class where we turn powders green or something, and, of course, a Yule Ball.
The Buzzfeed article on the wizarding chambers contains the most telling information about the hotel experience:
Although the hotel designed the suite to attract families, Serena von der Heyde, a partner at The Georgian House, told The Independent that young couples who grew up with the series have been the ones to book the rooms.
Oh, those Millennials. Honeymooning at Pretend Hogwarts. (Okay, that would be a good reason to make the trip.)
What about you? Does this sound like a good deal? Do you totally want to fly to London and hang out in a wizarding chamber?
---
Support The Billfold
The Billfold continues to exist thanks to support from our readers. Help us continue to do our work by making a monthly pledge on Patreon or a one-time-only contribution through PayPal.