The Costs of Living in Kazakhstan
by Rebecca Slaven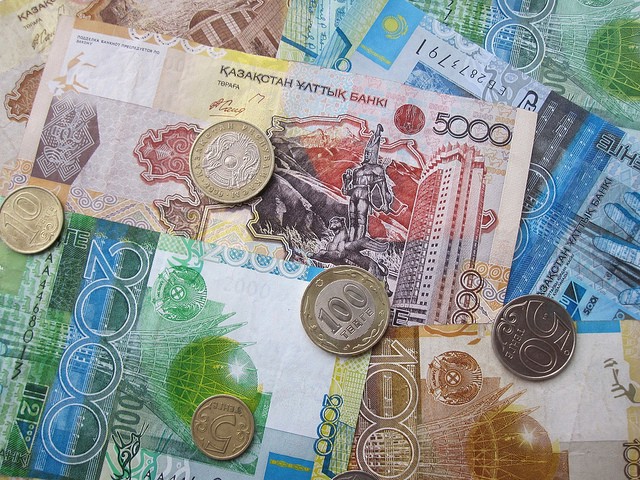 The costs of moving to Kazakhstan were considerably more than the general costs of living in Kazakhstan. It's easy to live comfortably here in Astana. Though, I'm happy to have savings from my last job so that I can travel/easily escape.
Housing is covered by the library where I work, which is a relief because when I researched rental prices, they averaged about $700–800 for a modest one-bedroom apartment. I wouldn't have been able to afford that on my salary, which is about half of what I made at my last job in Vancouver, Canada.
I share an apartment with another international librarian. The apartment is much nicer than I had anticipated and I have en-suite laundry for the first time in my life. The panel is entirely in Russian and I'm not used to having so many options like selecting a spin cycle, which would make the machines difficult to use even if they were in English. I rely on a Youtube video of a British child giving a tour of his aunt's washer/dryer.
My workplace provides medical benefits for a yearly fee but I'm not sure what that actually entails. I used up all of the benefits from my last job before leaving because even if I get dental benefits here, I would be terrified to go to a dentist who doesn't speak English.
The organization also pays for a one-way ticket to Astana if the librarian has over three years' work experience (student jobs don't count). Even with my 3.5 years' experience, I still had to push to have the flight costs covered.
It's my impression that faculty get considerably more financial perks, such as living on their own, significantly higher salary, a moving budget, and flights home over Christmas. However, the library is considered a separate organization from the university and librarians as a profession are not recognized in Central Asia in the same way that they are in western countries. There are no MLIS/MLS programs offered in the region and librarians with this degree are paid much less than they would be in North America but much more than the locals generally make. This monetary disparity is especially clear when it comes to socializing outside of work. Expats most often go out with other expats because we can afford to.
The currency here is the tenge, which is very colorful and full of animals and 1 dollar = 182 tenge, at the moment. I wasn't planning on transferring money to my bank account back home but a professor here recommended that I do since the value can drop at any moment.
I have not looked into how expensive clothing, makeup, and beauty products are. I assumed those items would be costly and so I brought a large supply with me.

These are costs I encountered and researched within the first few weeks of living here. All prices in American dollars:
$.50: a bus ticket. It used to be $.32 but they just raised the price last week.
$2.75: 5 gallon water jug. You can only drink bottled water here. My room mate and I order one of these a week.
$.30-.60: the aforementioned amazing bread.
$.38: 10 apricots. There's not a wide range of produce but what is available is extremely cheap. I eat a lot of apricots, plums, garlic, and peppers. I miss kale a lot.
$.10: a giant bag of salt. I love salt and was overly excited about this low cost.
$3: cafeteria lunch. Usually this consists of some sort of meat, sauce, and a side of either rice or this grain I like and eat a lot but can't identify yet. I usually bring my own lunch and pick up a pastry and/or a dessert as an accompanying snack. The library staff all eat lunch together in the cafeteria. I thought I would dislike this because I need a certain amount of quiet time every day but we're not super chatty with each other during work hours and so it's nice to talk over lunch.
$.55: the most delicious little chocolate cake called kartoshka. It's apparently made of crumbled up cookies held together by butter. I get antsy when I'm at the back of the cafeteria line and only see a few left.
$10–30: dinner out with a beer. I hear that restaurant costs can be incredibly expensive at some places, especially those few that offer brunch, but this has been the range for most of my meals so far. There's good Indian, Georgian, and local food. Wine is expensive, which is strange because it's so cheap in stores. A horse steak at a nice restaurant costs about $23.
$5.50: local bottle of wine. The name of the wine that I buy most often is pronounced "Jar-Jar". I haven't been able to get over how sweet the regional wines are.
$12: highball at Fashion, Astana's most popular nightclub, which felt like a futuristic yet '90s version of the Star Wars Cantina.
$6.50: cover charge at Fashion.
$500: round trip flight to Istanbul, which seems to be the most accessible nearby major city. I'll likely be going in May to meet up with a friend.
$360: bicycle. Deciding whether or not to bring my bike was the most difficult decision I had to make before moving because it's a totally customized road bike that I've toured with and had for five years. I opted to leave it with a friend in Vancouver and I really regretted it until my first time cycling the steppe. It would not have handled the riding nearly as well as the cyclocross I picked up.
$3.85: average cost of an unofficial taxi.
$22: haircut. Men and women's haircuts cost the same. I hadn't planned on getting a haircut while here but I went with a friend to his appointment just to get some decent coffee (most salons are Turkish and local coffee is terrible) and the hairdressers are quite meticulous and skilled. Thankfully, they don't wash ladies' hair KGB style with the customer's head face-down in the sink as they do with men.
$5.50: estimated month's worth of phone usage. Everyone here gets a SIM card and loads it up, as needed. I haven't bothered getting a data plan for my phone, though I should because I have a terrible sense of direction and could really use Google Maps. Apparently, it only costs about $15 a month for unlimited data.
$12.50–20: ticket for the theatre, opera or ballet.
$5.50: soccer game ticket. Astana v. Villareal was a surprisingly even match.
$2.75: antiseptic ointment. One of my co-workers had to come with me to the campus pharmacy to translate. I've heard that you can buy antibiotics here without a prescription and have them delivered to your home!
$8: contact lens solution.
$135: yearly fee for medical benefits provided through my workplace.
I have a persistent nagging feeling that I should create a monthly budget simply because it was necessary for me back home. But as long as I keep fancy horse steaks to a minimum, I think I'll be okay without a budget here.
Rebecca Slaven is a librarian and a writer. Her subject specialties include law, beauty, and croquet. Her format specialty is the how-to guide. She writes most regularly at http://howtobealibrarianinkazakhstan.com.
---
Support The Billfold
The Billfold continues to exist thanks to support from our readers. Help us continue to do our work by making a monthly pledge on Patreon or a one-time-only contribution through PayPal.