Saying Yes to the Dress, Pt 2: KLEINFELD'S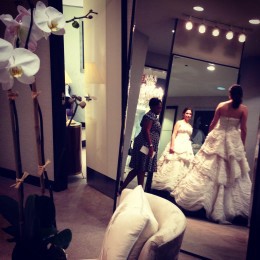 Perhaps you remember K, my dear friend who is getting married in March and looking for a traditional, princess-y kind of dress for her special day. A month ago, we went to the original Saks Fifth Avenue to look at their collection of gowns. A few days ago, we went to the Jerusalem of wedding dress stores: Kleinfeld. In between K visited a couple of other places — here in New York and also with her mother on the west coast, which is coincidentally where the wedding will be, in the desert — but nothing struck her fancy.
So walking into the holy land, hopes were high. K's especially. Her mom was with her, visiting, and her best friend; all three of them watch the TLC show "Say Yes to the Dress" that made Kleinfeld a household name.
As we've established, I was not much of a bride myself and am now a bemused if enthusiastic observer. My job was to help K feel good about herself and to peer, close up, at an alien, ultra-feminine, straight-lady-oriented, beauty-pageant world of commerce.
I was not disappointed. But I may have been the only one. Because I arrived early, I got to stand by the glass doors and watch the cast of characters parade into the store: immaculately turned out TV host Randy, the family being taped for the latest episode of the show, the crew taping the family.
Once everyone else arrived, we were ushered into a huge lobby, itself more spacious than most Manhattan stores, outfitted with couches, mannequins, and chandeliers. Immediately we saw ourselves reflected on every couch: one thin, alert young woman, her hair blown out, her posture erect, surrounded by fluttering ladies-in-waiting and the occasional gay friend.
Our docent came to greet us, trailed by an intern. She directed compliments and an appraising eye at our bride, and then guided us back to through a palatial space, a universe, really, of brides like so many suns, around which orbited helpful planets and past which shot smears of white light. Ringing the Universe Room were more racks of dresses than there are stars in the heavens: ivory dresses, cream dresses, dusky rose dresses, apricot dresses, even a couple of goth-style black dresses for effect. (No one tried them on.)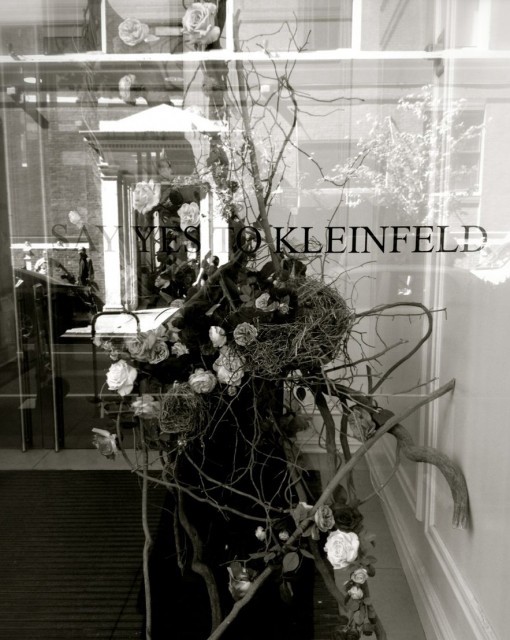 Our bright-eyed, beautiful bride noticed Randy, helping the family being taped for the show, and exclaimed, so our docent arranged a photo op: Randy, K, and K's mom. Then we got down to business.
K had done her homework and brought in a notebook full of pictures and information from the Kleinfeld web site, as well as her mom's veil (which she intends to wear) and answers to those age-old questions: A-line or mermaid, what kind of ceremony, B/C cup, etc. Lucky for K, too. In Kleinfeld-land, a D or DD cup costs an additional $400 in alteration fees.
She also gave her budget: she'd like to stay around $3,500 and would max out at $5K. No problem, the docent assured her. I am very respectful of budget. Fantastic! The glorious cosmic ballet began.
The docent and the intern pulled dresses, K tried them on. For a while, we hung out in the Universe Room full of poufs and mirrors and activity, becoming yet another little solar system and watching the others in fascination. One bride, hardly more substantial than a flash of vertical light, zipped herself into a still-warm-from-the-runway dress whose designer, it so happened, was visiting from Europe. His satisfaction and hers reflected each other. No matter how many other dresses she tried on, and no matter the cost, it seemed clear that she would end up saying Yes. How else could the story go?
On the other side of the room, narrative force gathered around another bride, also as thin as a light beam, and I got the same feeling: she would say Yes. How could she not? And yet all these brides looked like models. Every dress probably suited them because every dress was designed for them.
Meanwhile, in our own solar system, things were not going well. The first dress K really liked — corset-y up top, swirling of skirt below, with a spangled bling-a-thon of a crystal belt tying the two pieces together — cost $8500. The belt looked like it should cost $50 in a costume jewelry store but there was no option to buy the dress without it. Other gowns made her feel too bland or insufficiently special. The presence of so many model-type suns everywhere, blinding us with their studied brilliance, probably didn't help.
We went back to the dressing room to try to get some perspective, as well as some privacy. The emotion made K wobble a bit, and the docent fetched some bottled water and donut holes, which are the modern equivalent of smelling salts. K kept apologizing and we kept assuring her no apologies were necessary. The narrative demands of the store were suffocating: when you put on the one right dress, you are supposed to just know. That is predicated on the idea that there even is "one right dress," as opposed to a Totally Good Enough Dress, or "right jumpsuit," like the one you can buy from J Crew's wedding section. It's all part of what NPR's Caitlin Kenney describes as the "signaling" intended to make you overpay. And, while you search, hyperventilate.
We danced. It helped.
Still, we were behind schedule. How much is this one? K asked. $6000, but on sale for $5500, the docent replied. Suffering succotash! And it was too late in the appointment to pull any more dresses. K tried to fold up her disappointment and stuff it away inside of her where, amidst the expectations and stress and hope and fear there was hardly room. What about all these dresses in my budget that I found on the website? she asked. Sorry, said the docent. We don't have those in the store.
Clever ploy, I realized as we got our stuff together and trooped out, exhausted. Except when it backfires.
K speaks: "I realize now that we were basically background extras for the TV show. It was so much fun to meet Randy, but I'm so glad that I opted out of being on camera. The lights and camera, upsell nonsense, circling designer … Talk about overwhelming!"
The search continues.
---
Support The Billfold
The Billfold continues to exist thanks to support from our readers. Help us continue to do our work by making a monthly pledge on Patreon or a one-time-only contribution through PayPal.