Say Yes to the Dress, Pt 3: The Conclusion
Part one of my search for a wedding dress with and for my friend K. took us to the flagship Saks 5th Avenue. Part two took us to Kleinfeld.
In between, K visited more stores here in New York and in California while visiting family there. She went back to Saks but found, to her dismay, that the Austin Scarlett dresses she had liked so much were gone. There was nowhere to go but forward.
"Amsale, Madison Avenue, 1:00 PM," she texted me. "You in?"
Oh, I'm in.
Two of K's friends — thin, made-up professionals next to whom I was Frumpy, the 8th dwarf — joined us in the salon, which was as quiet as a planetarium and evoked a similar level of subdued awe. A docent named Dia offered us water. "Or champagne," she added. Who, if offered free bubbly, would opt for tap? Champagne all around, please. Under ordinary circumstances, the wine is probably reserved for celebration after a dress is selected. No matter. It set the tone. We were there to make an expensive purchase and we toasted what we hoped would be an alignment of the stars.
It became clear quickly that there was little point in asking, "And how much is this one?" Unlike in Kleinfeld, where for whatever reason every dress was out of the given price range, Dia only pulled gowns under $4K. That worry alleviated, we could focus on fit and look.
A huge satin number with the modern equivalent of an 1890s bustle didn't make sense for a desert wedding but I loved it anyway because it was so delightfully ridiculous. Other very pretty gowns hid her bass, and we are all about the bass these days, or laid lace on top of mesh, which is pretty from far away but a bit bizarre up close. In truth, the dresses were lovely, though, which makes decisions hard. They were all fine! All figure-flattering! All in her price range! Is the bride really supposed to break down weeping because one ivory tulle confection speaks to her in a way the ten before didn't?
"Dia, you're the expert," I said. "Do people cry in real life, or just on TV? Are they overwhelmed and exhausted? Are they ready to be done? What's the crying about? Is it a necessary part of the process?"
She answered in a politic fashion: "Some women cry, some don't. It depends on the person."
"Hmph," I said.
After a while, K's manicured Manhattan friends had to leave, but I wasn't going anywhere. I planned to see this through. K and I had tried on her first dress together and together we would try on her last. With grim determination, I drank more champagne.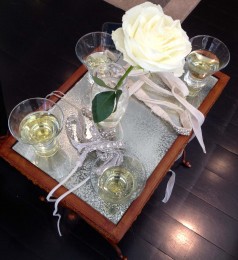 Then K emerged in something that looked familiar. "I tried this on at Saks, didn't I?" she asked me, peering at herself. She had! But she, still scared of her hips at that point, hadn't been ready for it yet. This time it was kind of great. Maybe not quite 100% perfect … ?
She tried it on with the veil. Suddenly, I felt a telltale prickling behind my eyes.
"Dammit!" I said, sniffling. "But you do, you look like a bride."
"Hang on," said Dia. She swapped the dress K was in for another, one she had picked, named Isadora. Very similar only, you know, better.
"Isador was my grandpa's name," said K. "[Fiance] is going to be so happy seeing me in this," and then she started crying too.
"This is a conspiracy," I said, and drank more champagne.
Isadora and the other Amsale gowns are made in New York, so she was locally grown. She was also on sale: total cost ~$3,600. K went home to sleep on it, to review photographic evidence and consult her conscience, and then on Sunday she returned to try the dress on again. K still loved Isadora and the feeling seemed mutual. After that, the purchase was a mere formality.
The wedding will be in March. If K lets me, I'll take pictures.
---
Support The Billfold
The Billfold continues to exist thanks to support from our readers. Help us continue to do our work by making a monthly pledge on Patreon or a one-time-only contribution through PayPal.