Producing a Beyoncé-themed Burlesque Show on a Budget: Part III
by Amanda Green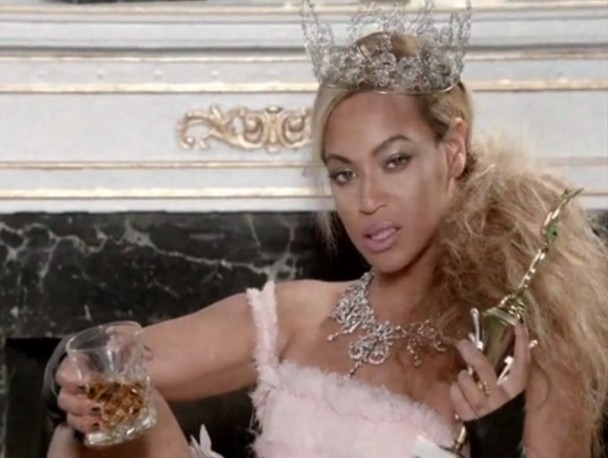 Part three of a series, wherein the author attempts to answer the question, "Can I produce a NYC burlesque show without losing my shirt?" Part one is here. Part two is here.
Turns out, people were ready for this jelly. "All the Single Ladies" sold out! My co-producer Calamity Chang and I didn't just break even — we made some money, too. At the end of the night, I video-chatted with my boyfriend in LA to show him my wig and makeup, gently made it rain in my living room, and stumbled into bed. Within 24 hours, I was thinking the same thing I do when I turn in a piece of writing: "That was fun. Glad it's over. What's next?"
The Turnout:
Even on the cab ride to the show, I worried we might have 15 people in the audience. I'd received some random emails from strangers Saturday afternoon inquiring about advance tickets and seating. Still, you never know. I maintain that NYC is the flake capital of the world, and many of my friends didn't show up for various reasons. I'd have been pissed if all these awesome strangers hadn't come to the rescue. I don't know how they found out about Beylesque, though some people mentioned The Billfold and one person follows my pet tortoise on Instagram. At some point in the evening, I realized that we'd run out of chairs and a few guys were standing. One friend did a headcount of 78 people! The venue's capacity is technically 75, but no matter. Calamity and I were over the moon.
The Press:
Of course, the stars didn't just align. About three weeks before showtime, I put "All the Single Ladies" on a number of NYC events calendars. I also sent a press release to at least 10 different outlets that were most likely going to ignore this one-time event. A few days before the show, things started to pay off. Time Out New York featured "All the Single Ladies" on its burlesque page. The free Metro newspaper included it in a roundup of weekend recommendations. Then an editor at Refinery29 asked if we'd be interesting in sharing our Beylesque photos after the event. Uh, does Beyoncé stay calm in an elevator? Hell, yeah!
The Night Of The Show:
I just want to write #flawless and leave it at that, but that wouldn't be true. Things went smoothly overall, but there were a few hiccups. I had a mini-heart attack while picking up the cupcakes in Bushwick in 453% humidity, and we narrowly avoided a torrential downpour. A band performed right before our show, so Calamity and I had to set up quickly. She later realized that we forgot to take the rug off the stage and that performers could've tripped on it. I hadn't even noticed.
Parkside Lounge was great about helping us set up the lights, sound, and mic. Calamity and I had prepared for everything…except the Blowfish for Hangovers banner falling down. There were no hooks for hanging it, and we couldn't just hammer it into the wall. Masking tape sufficed for a few sets, but you didn't have to be Sir Isaac Newton to figure out how this was going to play out. We tried to fix the banner a few times before finally giving up. Our audience knew about our main sponsor, so mission accomplished. We'll get you next time, gravity!
What I Learned:
1) Work with someone who knows what's up.
I avoided so many learning curves, including false eyelash application, by partnering with Calamity. I'd like to think that I taught her something, too — namely, that Beyoncé is awesome and cupcakes are a delicious act of ethos.
2) Raffle, raffle, raffle.
Much of our extra money came from our raffle swag bags, which you'll recall were full of amazing products from Urban Decay, Babeland, and more. Many people sprung for the $20 body wrap option. We also had a really great dance-off prize bag. But seeing the delighted faces of the winners? Priceless. (Or at least valued at over $200.)
3) Every little bit helps.
Never underestimate the power of a sponsor, even if he or she can't give money. We were lucky to get free Sweet & Shiny cupcakes for our first 48 guests, which everyone loved. Another sponsor, SmartGlamour, provided two raffle bag gift certificates and then brought a group of people to the show. It was great seeing them in the audience.
4) The harder you work, the luckier you get.
Did you think I came up with that? Nope — Samuel Goldwyn did. But it's so true. Calamity and I worked hard to make this a fun show. I'd do a few things differently, like making shorter proposal decks, but I think going the extra mile worked for us. We wished we could've paid performers more, so that's a goal for next time.
Next Time: Yes, there's a next time! "All the Single Ladies" was so successful that we're bringing it back Saturday, December 6, at 11 p.m. at Parkside Lounge! We'll have new acts, more amazing raffle prizes, and a banner that doesn't fall down. Hope to see you there!
Total expenses: $784
Next Time: Yes, there's a next time! "All the Single Ladies" was so successful that we're bringing it back Saturday, December 6, at 11 p.m. at Parkside Lounge! We'll have new acts, more amazing raffle prizes, and a banner that doesn't fall down. Hope to see you there!
Amanda Green is a freelance writer and editor in New York City. She's written for Mental Floss, Popular Mechanics, Marie Claire, and various other print and web publications.
---
Support The Billfold
The Billfold continues to exist thanks to support from our readers. Help us continue to do our work by making a monthly pledge on Patreon or a one-time-only contribution through PayPal.