A Brooklyn Poet Has Moved To Detroit, Will Die Eventually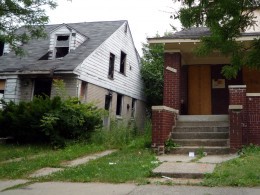 Well, well, well. Remember the Detroit Write A House fellowship we talked about, wherein a Detroit organization gives you the deed to a house if you agree to um, live in Detroit and blog about it for two years? Well, according to The Michigan Daily, they've declared a winner. That winner is a poet from Brooklyn.
"I love places where people are like, 'You're going to live there?' I think with Detroit I'm just really, really fascinated by the arts scene," she said. "This is an incredibly vibrant community. Everyone was like, 'you're gonna die' but I don't believe it, I don't believe it. Everyone does eventually."
Coming straight from Brooklyn, Rocheteau was immediately surprised by the cultural differences between something as simple as taking a walk on the streets of her old city, and her new one.
"I took a walk today and I ran into eight people that I didn't know that all just said, 'hi.' I was like, 'what's up, Midwest!'
I mean, in this woman's defense, everyone does die eventually.
Meanwhile, a federal bankruptcy judge has agreed to hear testimony from low-income families arguing for a six-month injunction against water shut offs:
Nearly 20,000 Detroit residents lost access to water and sewers this summer, sparking protests and leading the mayor to issue a month-long moratorium on shutoffs as well as requirements that the water department post warnings on people's doors about the risk of losing water access.
Sue McCormick, director of the Detroit Water and Sewerage Department, told the judge a six-month injunction would financially harm the city's water department, which is struggling with $90 million in unpaid water bills.
McCormick, however, also recognized that the water service had not followed its own rules on personally notifying households of an imminent shutoff or on cutting off those with medical conditions.
---
Support The Billfold
The Billfold continues to exist thanks to support from our readers. Help us continue to do our work by making a monthly pledge on Patreon or a one-time-only contribution through PayPal.