40-Hour Workweek My Aunt Fanny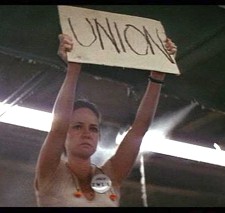 According to Gallup, and probably your own experience too, "full-time" in this country is not 40 hours a week.
The 40-hour workweek is widely regarded as the standard for full-time employment, and many federal employment laws — including the Affordable Care Act, or "Obamacare" — use this threshold to define what a full-time employee is. However, barely four in 10 full-time workers in the U.S. indicate they work precisely this much. The hefty proportion who tell Gallup they typically log more than 40 hours each week push the average number of hours worked up to 47. Only 8% of full-time employees claim to work less than 40 hours.
47 hours a week is more than one extra hour of work per day. WTF. This is because we don't have unions anymore, right? ("The number of U.S. wage-earners also belonging to a union in 2012 and 2013 is 14.5 million, or 11 percent of the workforce, according to the most recent figures from the Bureau of Labor Statistics, compared to roughly 30 percent 64 years ago.")
Did you ever / do you now belong to a union? Is it amazing? I have a friend who works for a unionized lefty magazine and she doesn't even realize how amazing she has it because amazing, for her, is the norm. For the rest of us, though, it is merely a dream.
---
Support The Billfold
The Billfold continues to exist thanks to support from our readers. Help us continue to do our work by making a monthly pledge on Patreon or a one-time-only contribution through PayPal.