The "Give Everyone a Goalie" Kind of Sex Ed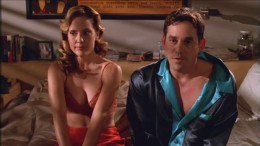 Sex ed is a hot button issue in America because certain folks believe it's not a good idea for public schools to acknowledge that unmarried humans also have genitals, so we have an alarmingly high teen birth rate compared to other developed nations. That costs everyone money. What if instead of arguing about whether it's acceptable to have high schoolers roll condoms onto bananas, we gave every lady a goalie instead, i.e., went straight to funding long-term, reversible birth control?
Between 2007 and 2012, Colorado saw the highest percentage drop in birth rates among teens 15 to 19 in the country, according to a report released today by Centers for Disease Control and Prevention's National Center for Health Statistics. During that time, its teen birth rates dropped 39 percent compared to 29 percent nationwide. Abortion rates in the state among teens fell 35 percent between 2009 and 2012 and are falling nationally, as well.
The CDC's report comes on the heels of Colorado's own study, which reported a 40 percent decline in births among teens 15 to 19 from 2009 to 2013. The stunning decline in teen birth rates is significant not just for its size, but for its explanation. State public health officials are crediting a sustained, focused effort to offer low-income women free or low-cost long-acting reversible contraception, that is, intrauterine devices or implants. The Colorado Family Planning Initiative, supported by a $23 million anonymous donation, provided more than 30,000 IUDs or implants to women served by the state's 68 family-planning clinics. The state's analysis suggests the initiative was responsible for three-quarters of the decline in the state's teen birth rates. … The state also saw a 50 percent drop in repeat pregnancies among teens. With a second child, the already-high odds are ratcheted up that a low-income mother will not finish high school, remain trapped at the low-paying end of the economic ladder and reliant upon public assistance. (You, taxpayer, may read this as ka-ching, ka-ching, ka-ching.)
Women who elected to go with condoms, the pill, or the patch instead were twenty times more likely to get pregnancy accidentally than those who got the implant/insertion. Shifting more of them to the long-term methods saved taxpayers $12 billion just in 2010. TWELVE BILLION!@!#!! Several other states are following suit, expanding Medicaid to cover the costs of long-term devices for postpartum women.
God, I hope this is something we can all get behind. Progressives/Lefties, Independents, Fiscal Conservatives, and Libertarians: we can unite behind this common-sensical program, right? It works, it saves money, you could argue it saves lives. Hey, it should lower the abortion rate! Fewer unwanted fetuses → fewer terminations. It gives young women more control over their bodies and their destinies, and while I know that isn't the top priority for a lot of people, it has great longterm effects for the economy.
With the money we save as a country, maybe we can continue to have Social Security beyond 2037!
I'd be willing to do a trade-off: we'll teach "Abstinence Only" sex ed programs in school if we can also outfit any young woman who wants it with long-lasting, reversible birth control. We'll tell them not to have sex and at the same time protect them, and society, in case they do. Win win, right? Oh, and we should give everyone a set of Jean M. Auel's "Earth Children" series, which is basically a fictional version of The Guide To Getting It On and did more to teach me about sex than any official education in school ever could.
---
Support The Billfold
The Billfold continues to exist thanks to support from our readers. Help us continue to do our work by making a monthly pledge on Patreon or a one-time-only contribution through PayPal.