The Difficult Task of Putting a Price on Our Pet's Health
by Laura Leigh Abby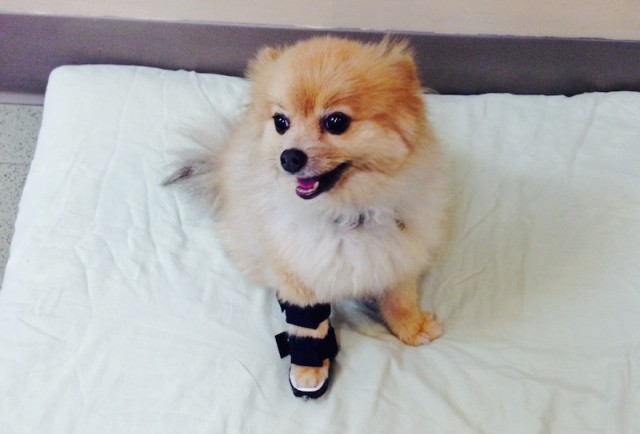 Winston is due for more sessions.
She said this with a smile.
Do you want to buy a package?
I was flustered. I didn't want to buy a package. I didn't want to be spending thousands of dollars on another round of physical therapy for my five-pound Pomeranian.
Sure, uhh, How many sessions do we usually buy?
Let me take a look here … six.
I asked how much that would be.
One thousand, fifty.
She paused. I nodded.
Great. I'll run it through.
She said this with a smile, a smile that made me wonder if she thought she'd said "Free."
We call our little guy, Winston, our Problem Child, our Money Pit. As a puppy he broke his leg roughhousing with my brother. Seven grand later he'd undergone emergency surgery, had metal plates implanted into his leg, and was healing in a hard cast. During this time he also suffered from seizures, and despite the money we spent and the vets we visited, we never figured out why. He grew out of the seizures.
Our female Pomeranian, Luda, was a healthy pup and a pretty good-looking specimen, despite her bulldoggedly bowed legs. When she was about three she had knee surgery to correct her luxating patella, a common problem with Pomeranians, we were told. A few thousand dollars later she was back at it, jumping on the couch and tearing down the sidewalk. When our vet suggested that Winston undergo the same surgery three years later we thought: another expense, but a worthwhile one. Only Winston healed but stubbornly refused to use his leg. He kept it bent up off the ground as he walked. Weeks passed. Months. Our vet reported to the surgeon, who claimed surgery had gone well, so why then, we wondered, did our attempts to correct Winston's discomfort result in him no longer using his hind leg. I felt like the worst kind of mother. I was angry with the vets who weren't helping us, and myself for agreeing to surgery in the first place.
So that's how we were referred to Dr. A, the rehab specialist. And that's how we spent upwards of $3,000 last summer taking Winston to his weekly rehab appointments. We took a break in winter, and not only did his hind leg get worse, but his front leg, the one with the metal plates, started twisting in an odd way.
Now back in weekly rehab sessions, he was fitted last month for a state-of-the-art leg brace that cost another thousand, on top of his cocktail of daily medications and supplements: codeine for the pain, an anti-inflammatory called Rimadyl, Metacam, fish oil, Dasaquin, and now two new ones, one injectable and another chicken-flavored Amantadine, being delivered this evening. The doctor adds the medications, we give the reluctant okay after once-again reviewing the list of all his other medications, and they run our credit cards.
Somewhere between Winston's broken puppy leg and his patella surgery, pet insurance grew in popularity. We got on board too late. Full coverage for dogs can, depending on the breed, run under $50 a month.
Last fall Luda vomited for days on end, and we noticed a growth on her foot. We rushed to buy Trupanion pet insurance, but a week later our vet verified our fears: Luda had Cancer. We were referred to an oncologist and rejected by our insurance plan. This appeared to be a pre-existing condition, they explained, and besides, we were still within the 30-day window during which they wouldn't cover us. By now both of our dogs had pre-existing conditions that were continuing to grow to be a financial obligation.
Oh Luda, you're so perfect.
My wife sang to her as she filled a syringe with Winston's chicken-flavored codeine.
Well, aside from your $10,000 cancer scare.
I laughed. The surgery and vet bills had not cost quite that, but they grew close. After Luda was cleared and her oncologist explained to us that there was an experimental drug called Palladia that we could try for six months, we were cautious. He told us the drug might not be necessary, and that it would cost us around $5,000. I asked him point blank: If she were your dog, would you do it? He wasn't sure. We declined the drug, knowing that if she was screened for cancer in the next quarter and the cells were discovered, we would feel terrible. We'd finally put a price on our love for our dogs.
A friend, who doesn't particularly like dogs, tells me a story. Her childhood friend Jackie lives in my neighborhood with her husband and their two Cavaliers. One night one of the dogs was ill, maybe it was seizures, or shortness of breath — something was definitely wrong. They raced their dog to the same hospital where Winston goes for rehab. The doctors worked on the animal. The couple remained there all night, and eventually cost came up.
Suddenly they were presenting me with these numbers; if you love your dog this much, this is what you get, if you love her this much, which is an added thousand, then this is what you get, and on and on. I felt like these people were judging me, asking me how much I love my dog. Did we love her enough to go thousands of dollars into debt?
This is essentially what Jackie told my friend, the one who doesn't particularly like dogs, and she laughed as she reported it to me, laughed at how ludicrous it all is. But I understood, as a pet owner, a dog lover, that we are responsible for these little guys, that we want to throw credit cards around and tell them to do anything and everything to maintain our animal's quality of life. But most of us can't.
Dr. A suggested Winston continue rehab twice a week. Like with the Palladia, we've had to put a cap on this. We cannot afford twice a week rehab, and we cannot afford rehab for the rest of his life. He's only seven. Pomeranians can live to be around 17. I cannot go back in time and undo the damage, but I worry about what his life will be like, how long it will be, and how sad we will be when we lose our little Pommies.
I tell my wife we have only ourselves to blame, that we should have bought pet insurance years ago, that we should have found a better surgeon for Winston's knee, that we should have taken better care of him. Old ladies stop me on the street in my neighborhood:
What's wrong with his leg?
They burble. Some think I haven't noticed.
Something's wrong with your dog's leg.
They think they are the first to bring this to my attention. I explain. They tell me they had a Pomeranian once, best dog in the world, lived to be 18. A champion, some say. One woman produces a stack of photos from her handbag: Her dog among the newly blossomed spring tulips.
I keep the conversations short. I don't mention that Winston is famous at rehab. I bring him in the mornings.
I'm in ripped jeans, an old tee shirt, my face free of make-up.
Winston, my man, shouts a man I've never seen, as a woman emerges from the elevator. She gasps.
Yay, Winston's here.
They take him inside, tell me they'll see me in an hour. While I'm getting coffee and reading the paper a few blocks away, Winston is on the underwater treadmill, then Winston is receiving a massage. Sometimes Winston gets laser therapy, warming gel, ice packs. He is coaxed to walk on uneven surfaces scattered with treats. I watch him limp toward me when I pick him up from rehab.
My little Money Pit.
I scoop him up. A second opinion at the hospital has confirmed that Winston needs another surgery. I nudge my wife, "Can we ask your dad for the money?" They tell us this one should be the one, the final one, the one that ends his leg saga. They "seriously suggest" post-surgery rehab. But I'm scared. I swallow hard when they call him "lame." So instead I think about what the women of the neighborhood will say when he hobbles down the street in his adorably tiny, top of the line OrthoPet carpus leg brace.
What's wrong with his back leg, and why's his front leg in a brace?
I'll want to warn them that dogs are expensive, that insurance is key, but instead I'll just shrug and say,
Worth every penny.
Laura Leigh Abby is a freelance writer and blogger at 2Brides2Be.com. She lives in New York City with her wife and their two Pomeranians.
---
Support The Billfold
The Billfold continues to exist thanks to support from our readers. Help us continue to do our work by making a monthly pledge on Patreon or a one-time-only contribution through PayPal.