On Sneakers and Spending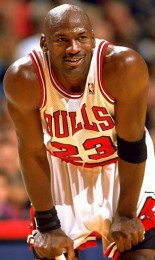 This Mychal Denzel Smith essay on shoes, cool, and Michael Jordan vs LeBron James is an interesting meditation on what and why we spend.
I bought two pairs of Jordans last month, which brought the total to five for the year. I'm going to buy (at least) one more pair this month, and a few more before 2014 ends. In other words, I have and will continue to spend entirely too much money on some fucking sneakers. I'm not a collector. I'm more interested in my own vanity than impressing sneakerheads with a closet full of shoes. But I'm not out there buying just any shoes. I'm drawn to Jordans in a way that almost makes other shoes invisible to me. …
Take my most recent pair, the Wolf Grey Jordan 3′s. The colorway is new, but the Jordan 3 debuted in 1988, the year Michael Jordan's legend was cemented. In his fourth year in the NBA, he led the league in scoring, averaging 32.5 points per game, as well as steals, won Most Valuable Player and Defensive Player of the Year, on top of winning the slam dunk competition. The design of the shoe is almost secondary; it's cool to feel a connection to such greatness. That's what I'm really buying when I get a new pair of Jordans: cool. It's not something I come by naturally.
Smith admits that LeBron is a more political, and perhaps more powerful, icon ("Jordan owns cool, but LeBron's legacy will be much more important"), especially in light of how our society is treating young black men these days. But one man's aura is a wallet-opener and the other's isn't, and logic doesn't have much to do with it. ("Putting on a pair of Jordans is like being able to wear Jay Z lyrics.") Rarely has the psychological motivation behind spending on certain items been laid out so well.