Magic Words That Will Save You $$$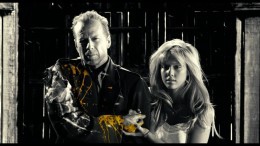 Jake Halpern's noir-ish story in the NYT Magazine about debt collection is scarier than Sin City. Poor Theresa! (We are all Theresa.)
there was little that Theresa could do; she had paid off her debt to the wrong collectors and had fallen into the debt underworld. If anyone was going to help her, it wouldn't be the state attorney general, or the Better Business Bureau, or the F.T.C., or even the police, but the former banker and the former armed-robber who bought her debt.
The most valuable takeaway from the piece, as underlined by an interview Halpern gives Ira Glass on "This American Life," though, is that a few magic words can make the whole nightmare go away.
Jake Halpern: [The lawyer] said, oh, well, when a consumer actually shows up in court and says the magic words, then these cases basically evaporate. And I say, the magic words? He says, yeah. Show me the evidence.
Ira Glass: Show me the evidence. In other words, show me where you got this number, $3,762.20. The Georgia Legal Services lawyer told Jake that if you're standing before a judge and you say, OK, I don't recognize this amount that you say I owe, and I want to see some documentation, I want to see account statements or whatever, because I have no way to know with certainty that this debt is really mine, the judge will usually turn to the other side and ask for the evidence. And in all likelihood, they'll have no documentation and they'll drop the case. And this is true not just in Georgia, but elsewhere. Because the way this business works, Jake says, when credit card companies sell these IOUs to debt collection companies, they usually don't give them any documentation. Usually they just give them a spreadsheet with a long list of people who owe money on their credit cards and their addresses and the last payment and how much they owe, and not a whole lot more than that.
Amazing!! You have the right to remain silent, America, or to use the magic words that will set you free. Think you've got it down? Test your skills by playing the game!
---
Support The Billfold
The Billfold continues to exist thanks to support from our readers. Help us continue to do our work by making a monthly pledge on Patreon or a one-time-only contribution through PayPal.