Job of the Day: Maker of Life-Size Sex Dolls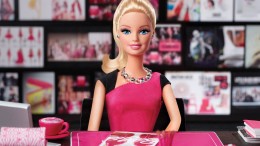 This Atlantic article about the sex doll industry is even-handed and fair minded and still made me feel kind of queasy. I mean, if it helps certain frustrated or socially awkward men feel like they have a much-needed sexual outlet, great! Right?
The realism and utility of sex dolls took a giant leap forward in the late 90s, when artist Matt McCullen started working on a lifelike silicone female mannequin and documenting its progress on his website. Before long, he began getting emails asking if it was … anatomically correct. At the time, it wasn't. But the demand was there, and so McCullen provided the supply. Hence, the eerily lifelike RealDoll was born. After shock jock Howard Stern got hold of one and seemingly had sex with it on his radio show, McCullen's company grew quickly, and he now sells anywhere from 200 to 300 high-end customizable sex dolls per year.
Most of McCullen's dolls are female; he makes a small number of male ones, but there are fewer options for customizing them, and they account for just 10 percent of his sales. "As an artist, I was always drawn to the female form, so that's what my subject matter was," McCullen says. "The female form was my muse." He insists that actual women have nothing to fear from his dolls. "Imitation is the sincerest form of flattery. Do I think the dolls will replace women or threaten to replace women? Absolutely not."
I did some research (NSFW) and discovered that prices peaked last year at $1,000 per doll and have now come down to about half that for certain models. You can buy a stationary female companion who will never laugh at or leave you for as little as $350, or less if you're not particular and don't mind the absence of a head or limbs. On the other end of the spectrum, one that looks like Joan Holloway Harris costs $1,600. (No, I will not provide a link.) For that much, I imagine you could enjoy the company — and then the memories — of an actual buxom redhead, but maybe some people really prefer the fantasy/approximation of the experience to the experience itself.
For whatever reason, the dolls on the page I'm looking at look racially homogenous: white or Asian, though with cartoonishly exaggerated boobs and hips, such that if you tried to stand them up, they'd tip over. McCullen, I'm sure there's a demand for other ethnicities! Get on that, okay? No pun intended.
---
Support The Billfold
The Billfold continues to exist thanks to support from our readers. Help us continue to do our work by making a monthly pledge on Patreon or a one-time-only contribution through PayPal.