Folks Sure Do Have Strong Opinions About Kennedy Weddings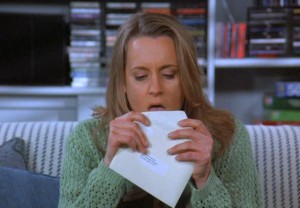 When a man gets married, one says, "Congratulations!" When a woman gets married, one says, "Best wishes!" And when a Kennedy gets married, one says, "Don't get into a small plane with him, no matter HOW good a pilot he says he is. Learn how to swim !!! don't cross any bridges." That, at least, is how randos on Facebook react. Sarcasm! The digital equivalent of throwing rice.
As perhaps you saw this weekend, Robert F. Kennedy Jr. has married Cheryl Hines. It is not the first time at the rodeo for either member of the couple. RFK Jr. has been married twice before and has six children; Cheryl has been married once and has a daughter. Even outlets like TMZ have been uncharacteristically restrained in regards to the couple, wishing the newlyweds happiness without unpacking and flinging around all the baggage the bride and groom brought with them to Hyannisport.
Well-known rich families in America seem to bring out the strong opinions in many of us, and no dynasty more so than the fabulously wealthy, famously unlucky Kennedy clan. (A Roosevelt recently married without any fuss.) The family seems to be a magnet for the problems of affluenza: drugs, alcohol, women, accidents, accidents involving women, drugs, and alcohol, and inadvisable moves into the political arena. Is how you feel about the Kennedys indicative of how you feel about wealth in general? Or are they too unusual to serve as a crucible?
Here are some of the other details about this wedding that are making Internet commenters bonkers:
It's a "speedbump" wedding: they were both still with their spouses when they met and even, in his case, it seems, when they started dating
They were introduced to each other (as friends!?!) by Larry David, Cheryl's TV-husband for a time ("in another universe I feel like I'm actually married to Larry and we exist as a couple").
Entertainment, meet politics
Hollywood, meet New England
"Conor Kennedy, RFK's second son who is best known for dating Taylor Swift, told a reporter Friday he was 'pretty happy' for his father's wedding."
Until this year, when they got engaged, Cheryl was one of 43 "suspected mistresses" stored in RFK Jr's cell phone under "G" for "goomah." Supposedly. Wouldn't G for Girlfriend be more logical? He wasn't Italian.
His last wife committed suicide, which is tragic and awful and maybe had something to do with That Diary and all of the above too
He's an anti-vaxxer, and that is actually the detail that makes me go, "Cheryl, what are you thinking?"
But maybe she's a secret Scientologist in addition to / instead of a Catholic, in which case, God bless.
Here's a representative screenshot of the FB reaction. (I don't know any of these commenters personally.) (Thank God.)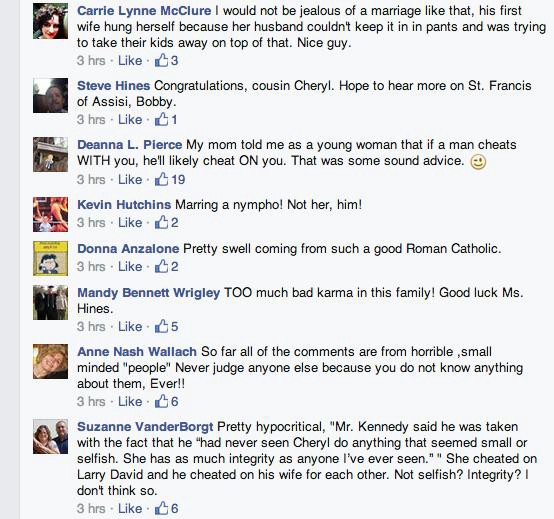 ---
Support The Billfold
The Billfold continues to exist thanks to support from our readers. Help us continue to do our work by making a monthly pledge on Patreon or a one-time-only contribution through PayPal.