B&B, Air B&B, or Kink B&B?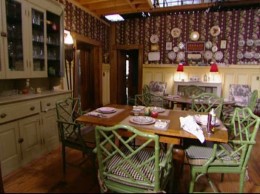 Why get a regular room somewhere when you travel when you could get a deluxe experience, and I mean deluXXXe, as detailed in this Refinery 29 profile of the NoCal hotel Stay & Play:
"It is a free-standing, two-level adult playhouse," [Diva, the proprietress] explains, "like an adult treehouse." Three years ago, the "adult treehouse" was a barn used primarily for hay storage. Now, the farming tools have been replaced with a menagerie of props for submission and domination. "I am not a submissive. It doesn't work for me to play that role — it's oil and water," Diva tells me. "In corporate America and in S&M, people equate being a dominant woman with being a bitch. I always thought you could attract more flies with honey."
A weekend night at Stay & Play costs $300, minus $50 if you stay through the weekend. It includes full usage of the S&M facilities and (of course) comes with the sweet touch of a home-cooked breakfast. Couples are the usual guests, but the occasional threesome or larger group isn't unheard of. Guests range from S&M newbies who are curious about the lifestyle to old hands.
This sounds terrifying, but perhaps no more terrifying than the average B&B, which forces you mingle over scones with strangers, or the average Air BnB, which might catch fire. At least this B&B, like the best ones, has character.