A Summer Interning at a Center for Performing Arts
by Megan Reynolds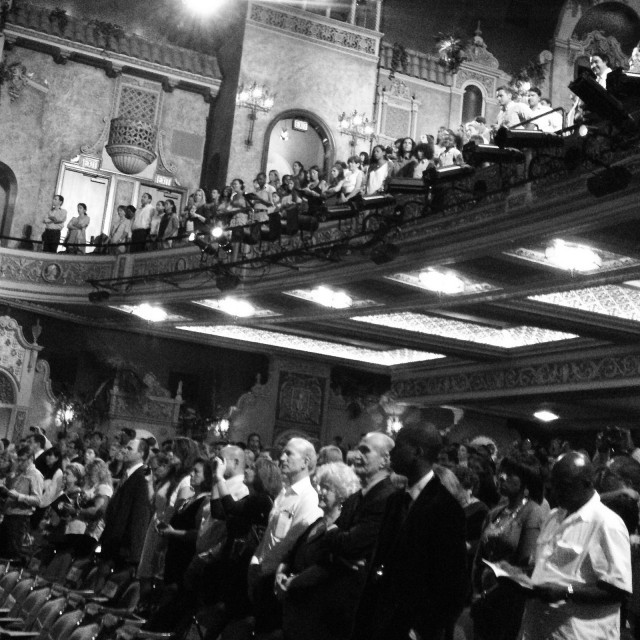 I worked at the Center for Performing Arts in my hometown of Rhinebeck, New York for two summers. It's now a big red barn, set off Route 308, that we pass on the way home from the train station, but that first summer, it was a big white tent. We were loosely interested in musical theater then, only because there was little else to do, and it was the thing that everyone else was doing, so the job was perfect. That summer, we put on an especially inspired performance of Bells Are Ringing. On closing night, Natalie Merchant was in the audience, and if you watch the performance, immortalized forever on an aging VHS in Sonia's parent's house, you can hear her whooping cheers over the earnest applause of our parents.
Officially, we were interns, hired with the express purpose of giving us something to do for the summer, and to also maybe get some insight on how to run a performing arts space. Really, we answered the phones, set aside reserved tickets and worked the concession stands. The first summer, we spent a lot of time lying about the office and eating ice cream. I'm not entirely sure how helpful we were, but it was exciting enough. For nerdy musical theater kids who didn't know any better, it was a sweet gig.
We were 14, and it was the summer after our freshman year of high school, so we were grown enough to know that we should be doing something, but young enough to need guidance. Our boss was the director of the Tent, a woman named Donna, who left us in charge most of the time. We were all members of a youth theatre group called RUST (Rhinebeck Unplugged Student Theatre), headed by the inimitable Dan Lavender, our mutual frenemy. He had great dreams of being on Broadway, and I haven't seen him in years, but apparently he's had a modicum of success, in one way or another. The last time I saw him, we were at Sonia's house over a winter break in college, old enough to drink wine, but immature enough to treat drinking in your parents' house while they were still awake as a novelty. If memory serves, we ended up playing "Castle On A Cloud" on the out of tune piano in Sonia's living room.
The first summer was easy. It was my first entree into the long hours of quiet mental solitude and boredom of an office job. We occupied our time by pilfering bites of sauerkraut and making brownie sundaes instead of actually eating solid meals. We were young, we couldn't drive, so once our parents dropped us off, that was it. There was excitement that came from being left alone for such a long time, and the thrill of doing things that felt vaguely grown up, but most of the time, there was boredom, just hours of languid summer heat, leading up to the shot every night, when one of us would man the concession stand and the other would handle the ticket window.
A lot of things happened that summer. One of the girls we worked with purportedly lost her virginity on the tennis courts after hours. I briefly had a crush on a red-haired boy named Jordan who played Barnaby Tucker in a production of Hello, Dolly! The night that Princess Diana was killed in that awful car crash, someone relatively important from a cable news network was in the audience, and had to use the office phone to answer the page he had just received. Natalie Merchant continued to stop by occasionally, taking in a show here and there. I learned all the words to every song in Stephen Sondheim's classic Follies, because I worked the concession stand every single night, cleaning out the hot dog water as a blowzy blonde vamped her way through "Losing My Mind" night after night, trailed by a shaky follow spot.
The second summer, things were slightly different. The Tent was now a big red barn, and there was a real office. I had a desk this time, and a boss who was around more often than not, a very nice man named Kevin who provided the same amount of guidance we had received the previous summer. I think this time, we were definitely paid, though I don't remember how much. It was nicer working inside an office with air conditioning, but even so, the year lacked some of the charm of the first. We were expected to do more, and Kevin was a little stricter with us than Donna was. I recall counting lots of money, setting up the till for the concessions stand, and meticulously writing down last names on white ticket envelopes, relishing in the pleasure of a sharpened pencil and my own handwriting. I vaguely recall trying my hand at a press release, somehow being allowed to write something that I'm sure was heavily edited before going to press.
As a reward for a job well done, Kevin drove us to New York, three girls sitting on the floor of a big white van, padded with pillows, rugs, blankets. When I think about it now, it's a miracle that our parents let us go on that trip, but that's sort of how things were. We slept on the floor of his friend's photo studio in the West Village, three little bodies draped in blankets, surrounded by large black and white portraits of men in Speedos. We went to a comedy show where we were gently heckled by the comedian, who expressed comic disbelief at the fact that we were only 16. I remember stopping by a gym, and standing awkwardly behind as Kevin hugged his sweaty friends in the middle of their workouts. We walked through the streets of the Village, eating real New York pizza and envisioning what our lives would be like when we all finally left Rhinebeck and moved on.
Megan Reynolds lives in New York.
Photo: Ines Hegedus-Garcia