1 Thing Compares 2 U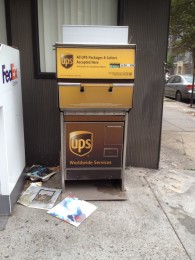 Thursday is a great day to do that 1 thing you don't want to do but also don't want to continue thinking about doing.
I RETURNED THE TANK TOPS. On Tuesday I strapped on the baby, tucked a package with an over-sized shipping label under my arm, and marched in the drizzling rain to Parcel Plus, which as it happens in three blocks from where I live. On the way to Parcel Plus, however, I saw this: A UPS mailbox. I was so happy and horrified by my ineptitude that I took a photo before I dropped in the package, approximate 60 days after I got it in the mail and decided I needed to return it.
I have to continue to ignore the fact that I need to call about multiple medical bills and direct my attention to a sad but real issue in my life right now: I need to change the card that gets automatically charged when I order from Seamless. HA. I almost overdrew my account the other day without thinking.
What are your Things?