Measure Your Life in Birth Control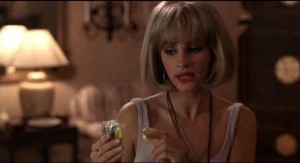 My life divides neatly into AD — years of delightful innocence about the realities of life — and BC — when I had to dedicate a part of brain to thinking about obtaining, using, and paying for birth control so that my womb wouldn't get any ideas about its outsized importance of my life and start throwing its weight around, dictating terms. Here is my life in birth control.
At first I used condoms, and though I bought them occasionally at less than $10 a box, my male partner almost always came prepared. (ba dum CHING!) Soon, though, I realized I wanted to own the control part of birth control. Besides, I hated the way latex smelled. I might have gotten the pill from my doctor at home, but when I tentatively broached the subject of sex with him, he told him dismissively that I was too young and ended the conversation. So I talked through my options with the thankfully less judgmental gyno at the college health center.
First I paid about $10/month for a subsidized patch. Its adhesive sides collected masses of fuzz from my flannel sheets, which meant what should have been a subtle flesh-toned square swiftly turned a garish violet. Then I got sick. Very sick. After a dizzying week, I ended up in the clinic overnight for Valentine's Day with a fever of 103.5 and had to get an extension for my seminar paper on the American steel industry. I hate not being on time.
Finally, tired of trying to tough out the patch, I ripped it off. The college gyno next tried me on the ring, also sold subsidized at $10/month. It gave me staggering headaches from the hormone shifts and the opportunity to come to grips with myself — specifically my cervix — twice a month. The ring didn't kill me within the week or render me invisible to all but Sauron, so I dealt with the side effects for the next decade. The most I ever paid for the ring, when I was unemployed and had no health insurance, was about $70/month. That was more than I paid for anything: more than my gym membership, more than my phone bill. But what was my alternative? When I found a drugstore that stocked it for $55/month, I was grateful.
Postpartum, my midwife and I discussed other options. Her practice can't afford to do IUDs since health insurance won't reimburse them enough to cover the costs of insertion. Though I could have gone to Planned Parenthood to get one there, she suggested the mini-pill. I've been on it for about a year. No side effects that I can tell, but the best part? Under ACA, the kind I get is free. No co-pay, no nothin'.
For others, though the search for affordable, reliable BC continues. Some have considered black market birth control because the available options are, as this awesome infographic shows, expensive. And now that the Supreme Court has weighed in on the contraception mandate, as covered here by our fabulous in-site counsel Josh Michtom and even more pointedly by Michelle Dean, access will become more difficult, not less. That's a shame for everyone who is trying to make responsible, and already sufficiently difficult, personal decisions about their health.
---
Support The Billfold
The Billfold continues to exist thanks to support from our readers. Help us continue to do our work by making a monthly pledge on Patreon or a one-time-only contribution through PayPal.