How the Other Half Lives
by Joshua Michtom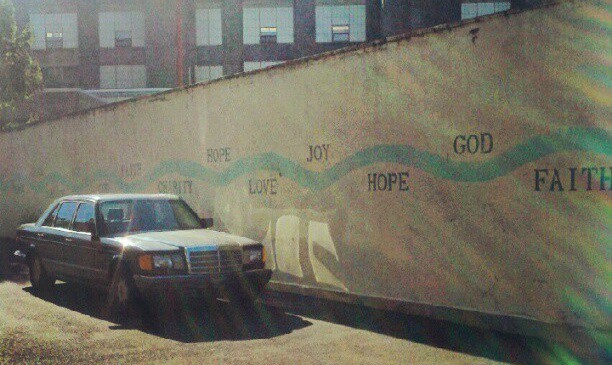 While I was in the middle of writing a long meditation on the moral obligations of the rich, I received the following email: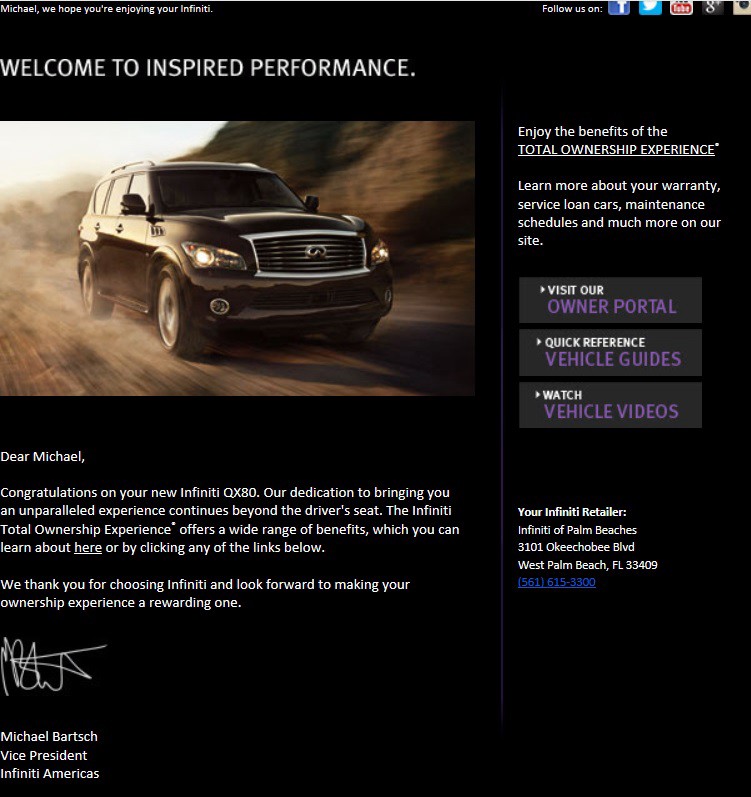 Woo hoo! A new Infiniti is in the mail to me! Some thoughtful benefactor must have seen me, my girlfriend, and my two kids trying to pack our aged little Prius for our weekend camping trip and said, "That family needs a luxury SUV right away!"
Actually, I assumed it was some sort of email scam and ignored it. But then, the next day, another email came: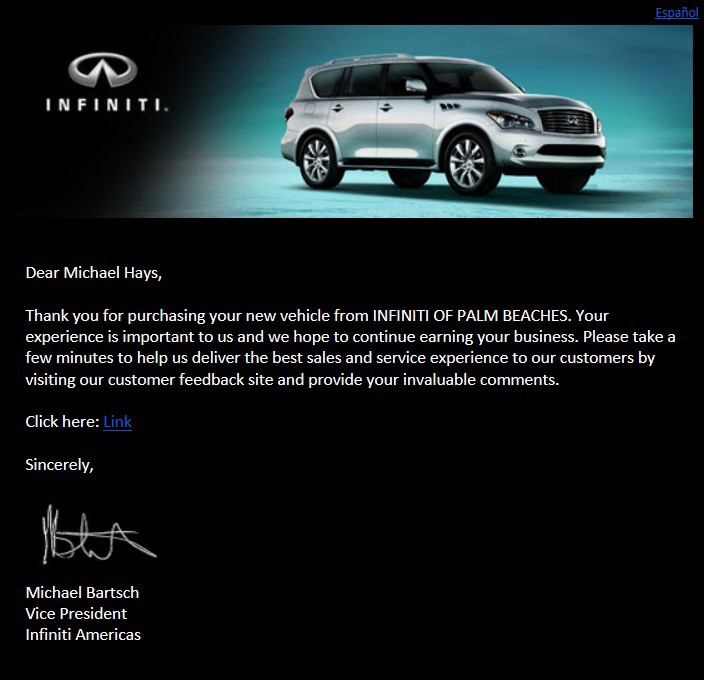 I began to think that maybe this was an honest mistake, like that time I got the invoice for fancy furniture purchased in Vancouver, BC, by Michelle Tom (my last name is Michtom. Mich-Tom, see?). In an effort to put aside my old biases toward people with fancy new cars, I resolved to contact the dealership and set them straight. Maybe Michael Hays was dissatisfied with his purchase but didn't know how to contact them!
While filling out the "Contact Us" form on the website for Infiniti of the Palm Beaches, a pop-up informed me that I could do LIVE CHAT! "This will be easy," I thought. Here's what followed:
System: You have initiated a Live Chat.
Jenny: Hello.
Jenny: Welcome to our live chat!
Josh: Hi
Jenny: One moment please.
Jenny: How may I help you?
Josh: Infiniti of Palm Beaches is sending me emails. They think I am Michael Hays, who apparently just bought a new car. I am not him. They have the wrong email address.
Jenny: I am unable to access or update this information, but I can forward your request to the appropriate person to take care of your request
Jenny: Just to be sure, your first name is Josh?
Josh: Arg. You are a robot! I will just send an email. Forget it.
Jenny: I am a live person. I am the Online Operator for our dealership.
Josh: So can you make Inifiniti stop sending me emails?
Josh: And maybe they can double-check with Michael Hays, who surely wants all the info on his new QX80?
Jenny: I will forward your information and let them know your preference.
Josh: Thanks.
Jenny: In order to process your request, I will need this information. May I know your e-mail address please?
Josh: *********@******.com But please, no more emails to me!
Jenny: Thank you, Josh. I will forward your information and let them know your preference.
Josh: Thanks.
Jenny: Is there anything else I can help you with today?
Josh: Nope.
Jenny: On behalf of our sales and management team, "Thank You for visiting our website"!
Jenny: Have a great day!
Jenny: Please enjoy your stay on our website.
I found myself strangely comforted to know that even someone who has just purchased a vehicle with a starting price in excess of my yearly post-tax income, and done so in sunny West Palm Beach, Florida, still has to put up with the same insipid style of customer service I face when pleading with my bank to waive overdraft penalties in impoversished, post-industrial Hartford.
Photo by the author.
---
Support The Billfold
The Billfold continues to exist thanks to support from our readers. Help us continue to do our work by making a monthly pledge on Patreon or a one-time-only contribution through PayPal.