When Your Airbnb Rental Catches on Fire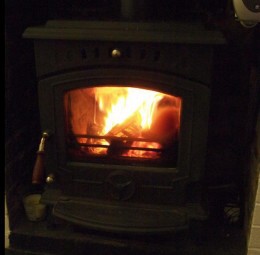 I haven't traveled anywhere yet that's made me consider using Airbnb (except maybe Madrid a few years ago), but here's a good question to ask if you are ever looking at spaces: Is your place insured? Medina Eve learned to ask this after her Airbnb rental caught on fire due to a wood-burning stove:
There's a thing or two to know about the fancy $1 million insurance plan that Airbnb put in place as well. In our case the damage was minimal, but you might be surprised to learn that the "every booking, every time" insurance coverage only applies if the property is already insured.
If the damage exceeds the amount that the existing property insurance affords, then and only then could the renter dip into Airbnb's coverage. Sneaky, sneaky.
It also says something kind of interesting about Airbnb as a whole. They love to show off all the weirdo, quirky properties but aren't very upfront about which properties are insured and which aren't. I suspect that a lot of their quirkier properties aren't insured, but it's not really a question most people think to ask when they're booking an Airbnb. So their "every booking, every time" marketing leads you to believe that a) if something happens, you're covered and b) that they have done their due diligence to make sure the place is safe/up to code, because an insurance policy like that would demand fairly rigorous screening. But neither of these things are true.
Also, here's some servicey advice about why you should have renters insurance from NOLO, a site that helps consumers with everyday legal questions: It doesn't just insure your stuff while you're at home, but if you're staying short-term somewhere else as well (check your policy).
Renters' insurance has another little known benefit: Depending on your policy, it can provide coverage not only when you are home, but when you travel as well. So, for example, if your purse, cell phone, or other personal property is stolen while you're staying someplace you rent short term (through Airbnb, VRBO, or another online hosting website), your renters' policy will typically cover the loss up to your policy limits. Not only that, if your luggage is lost or stolen while you're in transit, your renters' insurance may cover the cost of the lost items to the extent such loss is not reimbursed by the airline — again, up to your policy limits.
Photo: Matt Hutchinson