Waitress Given $1K; What's the Most You've Ever Tipped?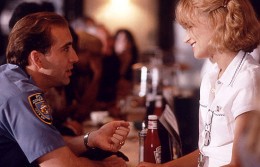 Waffle House waitress Shaina Brown got a $1,000 tip from a customer — and immediately had to surrender it:
During a night shift on Mother's Day in North Carolina, the Waffle House waitress received an extraordinary tip from a humble benefactor. The man, who has not been named, wanted to leave $1,000 for Brown, and an additional $500 he wanted her to share with another customer in the Raleigh restaurant, local outlet The News & Observer reports. So the benevolent patron wrote $1,500 on the tip line on his receipt before leaving. Brown was overjoyed to receive the gift, until she learned that it was not in Waffle House's policy to let her keep such a generous tip.
The chain's policy is to refund any tip that extravagant left via credit card. It makes sense in a way — presumably they don't want to take seriously what could be a joke, or a simple typo, and have to deal with an irate customer challenging the charges. But the poor waitress! Luckily the patron, in this case, assured the restaurant that the gift was intentional and he wrote Brown a check for the full amount.
Once I tolerated a lonely man flirting with me in bad French when I was tending bar, helping out at a friend's fundraiser. It was only an hour of handing out glasses of wine, and I had $40 in tips at the end of it, half of which came from that one guy. I guess he was $20 worth of grateful to have something to do instead of circulate awkwardly. What's the best tip you've ever gotten, or — like famously extravagant tippers Frank Sinatra and Johnny Depp — given?
---
Support The Billfold
The Billfold continues to exist thanks to support from our readers. Help us continue to do our work by making a monthly pledge on Patreon or a one-time-only contribution through PayPal.