Maybe You Should Have Written That at a Standing Desk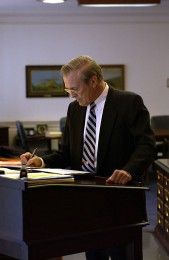 Standing desks: not just for tech bros, and not so new. For the Millions, Dominic Smith expounds on the "prestigious lineage" of writing that got done at the now-trendy standing desk.
There's very little room to store abandoned manuscripts, rejection letters, or knickknacks. Distractions are kept to a minimum. It's taller, sleeker, and less hospitable than its slouchier cousin. In the way that it mimics a lectern, a podium, or a drafting table, it reminds the writer that this activity requires blood, enzymes, and exertion. Here is your novel, spread out like a map or a campaign speech. Here are your poems, arranged like blueprints. Pace, stamp your feet, fold your arms, but stay upright. Stand there like it's the prow of a ship.
Standing at the prow of a ship sounds great (she said from the comfort of her couch), but until I get a lectern of my own, I'm not going anywhere.
For further I should but I won't guilt-spiration, Smith rounds up a list of famous writers who used standing desks:
Hemingway: "a set of bookshelves with a typewriter perched on top."
Virginia Woolf: "a desk standing about three feet six inches high with a sloping top; it was so high that she had to stand at her work."
Nabokov: "lovely old-fashioned lectern I have in my study."
Philip Roth: swears he is done writing but when he did he did it standing up.
See also: Thomas Jefferson, Winston Churchill, Charles Dickens, Søren Kierkegaard. Damn you, people.
Photo via Wikimedia Commons
---
Support The Billfold
The Billfold continues to exist thanks to support from our readers. Help us continue to do our work by making a monthly pledge on Patreon or a one-time-only contribution through PayPal.