Job of the Day: Taco Bell Product Developer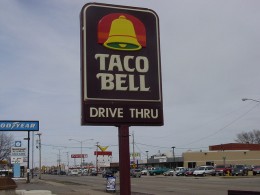 Businessweek takes a peek behind the curtain at Taco Bell today, introducing us to Heather Mottershaw, who invented the Waffle Taco. Turns out she got the idea for the Waffle Taco after seeing a photo of a friend's lunch posted to Facebook:
Mottershaw, director for product development at Taco Bell, ran out and picked up a box of generic waffles and started to ponder what to do with the sweet, grid-marked cakes. "I brought the waffles in Monday morning at 7 a.m. and just started playing with them in the kitchen," she recalls. By taking the frozen waffle, leaving it to thaw at room temperature, folding it, and flash frying it in Taco Bell's chalupa baskets, she ended up with a crispy waffle in the shape of a taco shell. By 9 a.m. it was stuffed with eggs, sausage, and cheese and being evaluated by executives at Taco Bell's Irvine (Calif.) headquarters. "As soon as the team started to see it," she says, "there was this instant excitement, this buzz that this is a cool idea, this is a big idea."
This lady dreams up taco ideas all day! Then makes them and eats them. There is a whole innovation team of people working for Taco Bell:
Taco Bell's innovation team looks at 4,000 to 4,500 ideas every year, of which 300 to 500 are tested with consumers…
This keeps the 40-person innovation team busy and well-fed. "We eat all day long," says Elizabeth Matthews, Taco Bell's chief food and beverage innovation officer. "Sometimes, before 10 a.m., I'm sure I've had 3,000 calories." To counter the resulting so-called Taco Bell 12 (pounds), there's a well-equipped gym on site that also hosts about 20 exercise classes weekly.
This reminds me of Matthew, our Frozen Food Taster. Are their tongues also covered in sodium benzoate sores? Do they even care?
Photo: compujeremey
---
Support The Billfold
The Billfold continues to exist thanks to support from our readers. Help us continue to do our work by making a monthly pledge on Patreon or a one-time-only contribution through PayPal.