Banning Laptops, Making More Money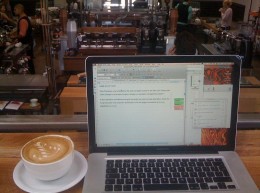 August First Bakery & Café in Vermont used to offer free Wi-Fi to customers when it opened its doors four years ago, but it has figured out a better way to make money: get rid of Wi-Fi and implement a "no screens" policy during lunch hours (smartphones are okay):
"We saw a lot of customers come in, look for a table, not be able to find one and leave," [owner Jody] Whalen says. "It was money flowing out the door for us."
That's why Whalen decided there'd be no more screens. It was a gradual move. She started by shutting down the Wi-Fi two years ago. Then, the cafe banned screens during lunch.
"A lot of people were disappointed," Whalen says. "But we actually saw our sales increase."
What's socially acceptable when it comes to using a laptop in public, anyway? Student Luna Colt says it's about how much money you spend.
But according to Whalen, it's less about how much a laptop user buys and more about how much space and time they take up.
We recently got a new office, and while I waited for it to be ready, I worked from home and tried working at a coffee shop a few times. The Wi-Fi cut in and out and I didn't want to feel like I was wearing out my welcome, so instead, I spent the month working from my couch.
Photo: Anthony Mayfield
---
Support The Billfold
The Billfold continues to exist thanks to support from our readers. Help us continue to do our work by making a monthly pledge on Patreon or a one-time-only contribution through PayPal.