Who Benefits from "12 Years A Slave's" Oscar Bump?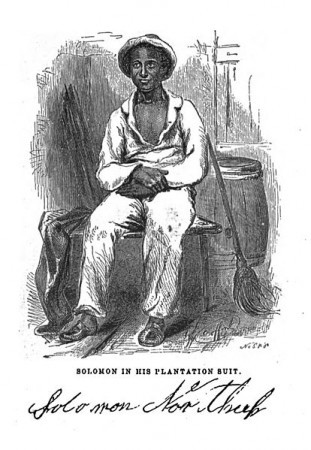 The Academy Awards are a meaningless popularity contest decided by out-of-touch old white men in suits with the help of an occasional white lady. But if your movie wins one, an Oscar can help make a significant difference in how posterity treats it and, more immediately, in how much money it makes. 12 Years a Slave, which raked in a very respectful $140,000,000 worldwide before it won Best Picture, Best Supporting Actress, and Best Adapted Screenplay, is beginning to enjoy its Oscar bump — or perhaps, bumps:
12 Years will make a major expansion in U.S. theaters — Fox Searchlight will be playing the movie in more than 1,000 theaters — even though the slavery drama comes out on DVD Tuesday. … Beyond the big screen, best picture winner 12 Years a Slave is getting a post-Oscar bump for the book it was based on. The 19th-century memoir by ex-slave Solomon Northup jumped from No. 326 on Amazon.com before Sunday night's Academy Awards ceremony to No. 19 on Monday afternoon.
According to the New York Times, the movie launched its source material to the bestseller lists this past fall. Now its trajectory is steep enough that Oscar-winning director Alfonso ("Gravity") Cuaron could be called in to film it. When your intrepid author checked on Tuesday, March 4, the paperback remained in the top 20, while the Kindle version had jumped to #17 overall and #2 on several specific lists:
• #2 in Books > Politics & Social Sciences > Sociology > Race Relations
• #2 in Kindle Store > Kindle eBooks > History > Americas > United States
• #2 in Kindle Store > Kindle eBooks > Nonfiction
People are rediscovering a lost classic and paying for the privilege! Terrific. But in a case like that of 12 Years a Slave, when the memoirist is long-since deceased, who profits from the book's Oscar bump? Not to be all Upworthy about it, but the answer may surprise you.
According to the official website 12YearsASlave.org, Sue Eakin, a 12-year-old white girl in Louisiana, found a dusty copy of the manuscript on a shelf at a time when all copies had thought to be lost and the original memoir, though a bestseller in its day, was out-of-print. She rescued it from obscurity and in turn it shaped her life:
Dr. Eakin went on to write her master's thesis about Solomon Northup's story, and after decades of research, produced the first authenticated edition of the book in 1968. In 2007, at the age of 88, she completed her final definitive edition with over 100 pages of fascinating new information, never-before-published images and unique maps related to the story.
After Dr. Eakin died, her foundation carried on her legacy:
A primary mission of our book and audiobook sales program is to continue the civil rights legacy of Dr. Sue Eakin by supporting organizations combating present-day slavery in its various forms, such as human trafficking and forced child labor. Eakin Films & Publishing and its retail partners are donating a portion of proceeds from e-book and audiobook sales to carefully selected organizations. Further, Mr. Gossett is donating performance royalties earned from audiobook sales to his non-profit organization.
Those carefully selected organizations include the National Underground Railroad Freedom Center, the Eracism Foundation, the Frederick Douglass Family Initiatives, and others. Browse them all here and, if you feel so moved, buy the book here. Now that's an Oscar bump we can believe in.