Talking to The Doubleclicks About Running a Band and a Business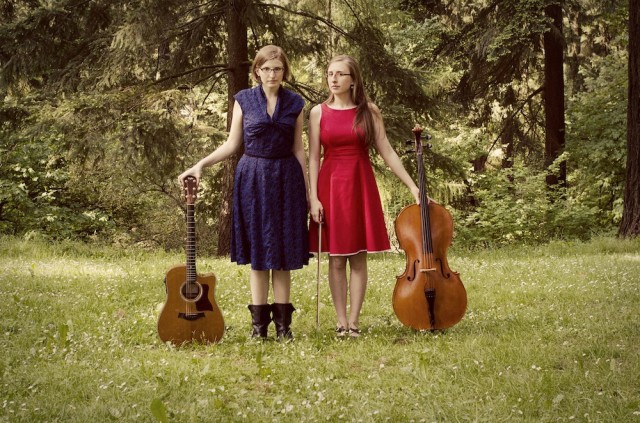 A lot of people start bands. I started my first band in junior high, with my little sister and my best friend (we wrote one song, which pretty much lifted the hook from "Penny Lane," before we fell apart over creative differences). As an adult I actually spent some time as a performing musician, where I faced the question that nearly every musician faces at some point: Is this something I'm doing for fun? Is this a job? Is this a business?
It's one of the hardest things to figure out, because indie musicianry is one of the hardest ways to build a career. It has all of the hazards of the freelance life plus an extraordinarily large overhead; you've got to ship yourself, your instruments, and your merch from city to city, with all the concordant costs of travel included. None of it is cheap; that $20 T-shirt sale is likely to result in, at most, a $5 profit, on which you have to pay federal, state, city, business, and sales tax, all before you funnel the profit back into your business and, if there's anything left over, buy food.
That's why I sent a note to my friend Angela Webber, whose band The Doubleclicks is not only an artistic success, headlining major events like PAX and recording music videos that get over a million views, but is also functioning as a successful business. I wanted to learn how Angela and her sister Aubrey made their band work.
Angela responded immediately: It always makes me feel a little weird to talk about business without reason, but when there is reason I am *excited* because I think about it so much.
So we started chatting over email, and she told me everything I wanted to know.
"We didn't start thinking about making money until the band started costing money"
The Doubleclicks started as a way for Angela and Aubrey to play at open mics with their friends. Aubrey Webber already had years of experience performing as a cellist in Portland music ensembles, but Angela was relatively new to singing, guitar-playing, and performing. They didn't start The Doubleclicks with the plan to become "The Doubleclicks;" they just wanted to write songs and have fun.
As Angela told me: "We didn't start thinking about money until the band started costing us a lot of money." The Doubleclicks had released an EP and put their songs on YouTube. They were becoming popular in the geek music community, and were getting regular requests to play at conventions and travel to other states to do shows. Angela and Aubrey didn't have the funds to take advantage of these opportunities out of pocket, so they had to figure out a way that The Doubleclicks could pay for itself.
"For a while, the band was just funding our convention habit," Angela explained.
"When I decided to quit my day job, we really had no choice but to succeed"
Around 2011, a little over a year after The Doubleclicks first started playing shows, the band began getting opportunities neither Angela nor Aubrey wanted to turn down. These were big-deal gigs, like the invitation to perform at the nerd music festival w00tstock alongside hosts Wil Wheaton, Adam Savage, and music comedy group Paul and Storm.
"We were spending A LOT of time on the band," Angela told me.
Then she ran out of vacation days.
"When I decided to quit my day job, we really had no choice but to succeed." Angela's decision broke the rules, a bit; if you go check out one of those "how to start a business" books from the library, you'll always get the advice that you should wait to quit your day job until your business earns enough to make back your salary.
On the other hand, if The Doubleclicks had waited until their business fulfilled that rule, they would not have had the time to do the work and pursue the opportunities that made their business successful.
So in 2011, Angela quit her job to manage The Doubleclicks. It turned out to be a very smart decision.
(Aubrey quit her job just this year, after fans funded it as a Kickstarter stretch goal.)
"We put our energy into making new things"
Of course, the majority of the questions I had were "but how do you do it?" After all, I knew exactly how expensive it was to screenprint hoodies and stay in convention hotels. So I asked Angela a pile of technical questions like "Do you go in the red to print stuff? Who pays when you travel to a convention? How much of your revenue goes towards funding business overhead?"
Here's how Angela explained it:
• MERCH: We run pre-sales on pretty much every physical product that we produce — CDs, t-shirts, tote bags, and so on — and those pre-sales (plus margins) pay for us to get surplus to sell at shows.
• PEOPLE: We got really lucky here. Aubrey has a degree in music production and is extremely talented in that area, so we have a built-on person who can do all the most expensive things that bands have to pay for — she can record, arrange, and mix our music. She has done this for all of our songwriting projects and saves us tons of money by doing a lot of the work on our albums. That's not helpful to other people, because you CANNOT HAVE AUBREY. SHE IS MINE.
• REVENUE: Most of the money stays inside the band account, and we basically take the minimums we need to survive right now.
• TRAVEL: We've gotten to the point now where we can pretty much require that out-of-state conventions pay for our travel and that is absolutely necessary. I think putting money upfront for travel in the past definitely paid off, but we always did a super careful calculation.
• MARKETING: The internet has made music so easy to access, and we strive to make this the case by putting our music everywhere people want it to be, and putting a lot of emphasis on making our websites easy to use. But marketing can also be a lot of frustration ("Why won't this blog notice me," "This song deserves more attention," etc), so we are a lot happier when we just put that energy into making new things, instead of marketing old ones.
"Yes, we have enough"
That brought me to my last question. Does Angela feel like The Doubleclicks is earning "enough?" One of the worst mental cycles that business managers can get into is that feeling of always having to beat last month's income, or wanting to hit a certain amount of revenue that just seems impossible. When fear beats enough, your business falls apart — and I want The Doubleclicks to stick around.
"Yes, we have enough," Angela told me. "We are extremely lucky that people pay for our music at all, and that people come to our shows, and I really mean that. We have a TON of fun. Would it be nice to be super comfortable and to have my student loans paid off and to own a swanky tour van? Yes. And maybe we'll get there. But right now we focus on the things we can fix, and that's making more and better music."
When she told me this, I thought: good gravy does Angela Webber have it right. Ever since I've known her, she has consistently floored me with her artistry, her kindness, her savvy, and her ability to make sense of what to do with her amazingly successful band.
So check out The Doubleclicks. Go say hi afterwards if you see them at a show, or if you see them at PAX East in a few weeks. And if you're ever curious about how an indie band makes it work, this is one way that one band makes their business happen.
Nicole Dieker is a freelance writer and ghostwriter, and is the only member of the band Hello, The Future!
Photo Credit: Jessie Kirk
---
Support The Billfold
The Billfold continues to exist thanks to support from our readers. Help us continue to do our work by making a monthly pledge on Patreon or a one-time-only contribution through PayPal.