Side Gig of the Day: Kid's Party Clown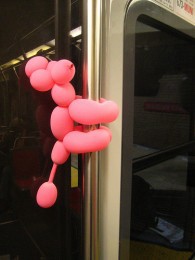 I am in love with this essay by Mairead Case about the clowning side hustle she did when magazine work was drying up during the recession. It is also about George Schindler's Balloon Sculpture: An Illustrated Beginners Manual, which frankly, sounds amazing.
When I was a clown, I put up ads on Craigslist and boards one neighborhood over, where more toddlers lived, and I started getting calls. My deal was I'd show up with balloons, facepaint, already dressed — this was important, I was the clown at the door not the lady who turned into one — and then I charged by the hour. I loved it. I felt like a superhero whose comic hadn't come out yet.
I kept thinking about Schindler:
When asked, "How long have you been doing this?" You may reply, "Since I got here this afternoon."
With some irregular circles drawn on his neck and back, this fellow can be really handsome.
The Giraffe is made very much in the same manner as the Basic Dog or the Dachshund. The difference is in the proportions of the bubbles being twisted.
I loved clowning at parties because it was five minutes after five minutes, hanging with a kid who wanted to talk about something she loved. If she wanted a mouse, we'd talk about did you ever meet a mouse, and were you scared or was it soft? If he wanted outer space on his cheek, we'd pick a planet to paint and talk about what he liked best in the sky. Then I got to say, "You look great!" which was true, also like setting an example for desire achieved. I didn't talk about myself, I was just the clown Mom happened to invite to the party, and when you're five that's like oh hey clown, you're a clown!
Photo: rick