Navigating The Time-Honored Gray Area of "Date Or Business Meeting?"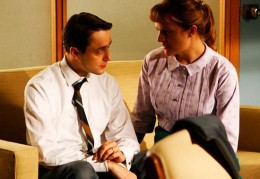 For present and potential colleagues both, the difference between flirting and networking can be confusing — in both interactions, a hopeful person seeks another's attention, then tries to appear intelligent, impressive, and winning. Moreover, the peak ages of active dating — the 20s and 30s — coincide with a relatively desperate moment in your career, when you're trying to figure out what you want, get a toehold, maybe start some momentum. The result is a smorgasbord of miscommunication.
Maureen O'Connor tackles "The Colleague Zone" for NY Mag's The Cut. You know, that thing where someone suggests you meet for drinks after work and you don't quite know why and halfway through you aren't sure whether it's a date or a business meeting or something in between. Or so I hear and certainly did not spend years of my life experiencing firsthand in a series of professional and romantic humiliations.
There are also Helpful Tips:
Mike agreed that the best colleague-zoning technique is the brisk asexuality of corporate jargon: "When they text later, you have to be like, 'Thanks for reaching out!' And then they will immediately lose their erections. Or 'Ping me!' as opposed to, 'Hit me up later girl.' Not that I would ever say either of those, but you know." Other popular networking-zoning phrases: "Shoot me an email," "Great to connect," "Let's circle back later," "Do you have a business card?" A man who emails "just to touch base" isn't planning to let you get past first.
Sound advice. Except! I would caution that this kind of jargon could be misinterpreted as flirtatious irony, right? Like, "Ha ha, I know you from BUSINESS so let's 'touch base' and by base I mean your bathing suit area."
---
Support The Billfold
The Billfold continues to exist thanks to support from our readers. Help us continue to do our work by making a monthly pledge on Patreon or a one-time-only contribution through PayPal.