Investment Advice from Warren Buffett (It's All About Low-cost Index Funds)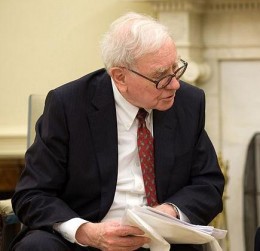 The latest edition of Warren Buffett's shareholder letter champions the low-cost index fund as the smart way to invest (as we've mentioned a few times previously):
In the 20th Century, the Dow Jones Industrials index advanced from 66 to 11,497, paying a rising stream of dividends to boot. The 21st Century will witness further gains, almost certain to be substantial. The goal of the non-professional should not be to pick winners — neither he nor his "helpers" can do that — but should rather be to own a cross-section of businesses that in aggregate are bound to do well. A low-cost S&P 500 index fund will achieve this goal.
That's the "what" of investing for the non-professional. The "when" is also important. The main danger is that the timid or beginning investor will enter the market at a time of extreme exuberance and then become disillusioned when paper losses occur. (Remember the late Barton Biggs' observation: "A bull market is like sex. It feels best just before it ends.") The antidote to that kind of mistiming is for an investor to accumulate shares over a long period and never to sell when the news is bad and stocks are well off their highs. Following those rules, the "know-nothing" investor who both diversifies and keeps his costs minimal is virtually certain to get satisfactory results. Indeed, the unsophisticated investor who is realistic about his shortcomings is likely to obtain better long- term results than the knowledgeable professional who is blind to even a single weakness.
And it's not just advice for the "non-professional" either — Buffett says he puts his money where his mouth is. As he says in regard to his will: "My advice to the trustee could not be more simple: Put 10% of the cash in short-term government bonds and 90% in a very low-cost S&P 500 index fund. (I suggest Vanguard's.) I believe the trust's long-term results from this policy will be superior to those attained by most investors — whether pension funds, institutions or individuals — who employ high-fee managers."
Photo: Wikimedia Commons
---
Support The Billfold
The Billfold continues to exist thanks to support from our readers. Help us continue to do our work by making a monthly pledge on Patreon or a one-time-only contribution through PayPal.