An Interview With a Person Who Makes a Living Doing Seasonal Work
by Leda Marritz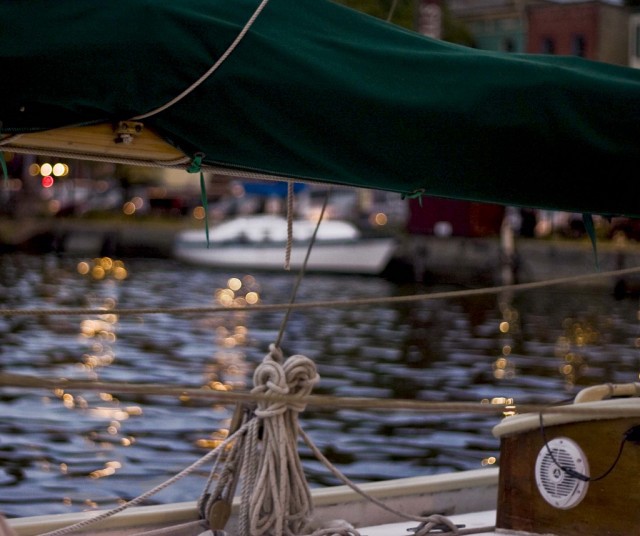 My friend Emily and I first met while preparing to study abroad in Barcelona in 2003. Some of the first things I learned about her were that she loved ice hockey and sailing. After we graduated, Emily took a summer job as the seasonal program director of a yacht club. She took it again the following year, and the year after that. Every year I kept expecting her to eventually not go back to her summer position, and every year, she managed to. It's now 10 years later, and while her position has changed and evolved, she's still doing the job she loves most for four months each year. I interviewed her about how she does it.
You're the program director for a sailing school, but the position is only full-time during the summer months. When did you first start to work coordinating summer sailing programs?
I grew up learning to sail in a junior program on Cape Cod. It is very common for the students in this program to move into junior instructor positions when they become old enough — and skilled enough — to work. I did this, and eventually became a senior instructor during the summers between college and finally the seasonal program director just after college.
In 2008, a position (still seasonal) opened at a neighboring sailing program, which I applied for and was offered. After three seasons in this new program, my supervisor left and the organization restructured. The board chose not to replace the position, so we all had added job responsibilities. This is when my position evolved from full-time seasonal (10–12 weeks) with a little bit of off-season work, to (more than!) full-time for four months of the year, and part-time (or varying degrees) for the remainder of the year.
We graduated together in 2004; you were a biomedical ethics major. Did you have any idea of what profession you wanted to enter after graduation?
I did not. And I think I still struggle with the question of what profession I see myself in. I truly love what I do now; it has allowed me to pursue one of my passions as a career, but like any job, it has its limitations. One being that it doesn't allow me to use my training and interest in biomedical ethics.
What was your first "real" job?
After college, when I was working seasonally as the program director of my home sailing club, I worked at a Public Radio International show. I interned with the organization and eventually moved onto their full-time staff as an associate producer.
When you took that job, did you anticipate trying to keep your summer program director position?
When I accepted the position, I needed a job and the income that came with it. I don't think I had fully digested moving into year-round work and leaving the sailing industry, but I also didn't have much flexibility at that time.
Walk us through your job history briefly. We've been in the working world for 10 years and you've managed to keep your summer position for that whole time. How have your bosses at different jobs reacted when you told them that you wanted to take the summer off?
At the public radio show, I enjoyed what I did, but it was incredibly sedentary work (computer-based) and added to that, it was a small workplace with limited social interaction. I desperately missed the nature of my summer work, which was outdoors, very active, and very social between the staff I was managing and the students I was teaching. By the time the spring arrived, I was unhappy. When I look back at this time, I think I was also very antsy — I really didn't want to relinquish the "summer" work and lifestyle. I remember feeling very torn about what to do.
I ultimately decided to leave the position at the radio show for a number of reasons, some beyond what I've described here. When I approached my boss, he asked what I would be moving on to do. When I told him I'd be leaving for seasonal work, he suggested I return to the show in the fall. I was shocked. But, for this small organization, it was an opportunity to save money. So, I went on leave and returned in the fall.
I eventually left that position and went to graduate school for a master's in public health with a focus in health communication. Much of the work I had been doing at the radio show, was in this field. I then had two more summers where I needed to make a healthy salary, while in school. This is when I moved on from my home club to the sailing program I am currently employed by. My advisor in graduate school was less than thrilled, but I still couldn't let go of this passion and I was well ahead of my classmates in credits so I had the flexibility.
After graduate school, the sailing organization restructured, and this is when I took on off-season part-time work (eight months). I still needed something to supplement this work for those eight months — both in terms of salary, and this new degree I was excited to put to use. I found a part-time position at a university, developing medical ethics courses for a new online master's program. When I first accepted the position, I had already signed a contract to return that next summer to the sailing organization, so taking a leave was part of my negotiations. We ended up settling on one month of distance work and a three-month leave. I did this for two more summers (three total leaves), because the department — again — was interested in saving money.
This winter is the first winter I have not worked a second position to supplement my work with the sailing organization. This is for a few reasons, including that my professional lives were so different, it became incredibly stressful to juggle them. However, I currently find myself continuing to enjoy working in the sailing industry, but also missing my work in the fields of medical ethics and health communication. As a result, I don't know what the future holds!
A lot of people bargain for salary when they're in the running for new positions. Do you tell potential employers up front, during the interview process, about wanting the summer off?
I have taken both tactics — and it generally depended on whether or not I had already signed a contract committing me to being away for the summer season. If I had, I was up front with my potential employer.
Let's talk about finances a little. Are you able to make ends meet with this arrangement? Does cash flow stress you out, especially in the off-season?
My salary with the sailing organization is sufficient to cover all my living and everyday expenses year-round. I receive paychecks over 12 months. I have taken on nine-month work so that I can contribute to my savings, tackle my graduate school loans, and also pursue my interests in ethics.
How (in general terms) does your compensation and time for your summer job get spread out over the year?
My compensation was determined according to the volume of work the position requires at different times of the year. I was originally paid hourly, so it was easy to go back and look at how much I was working over the course of the year, and then build my salary off of that. Currently, my salary is built on the assumption that I will work roughly 50–55 hours/week for 3 months, 40 hours/week for 1 month, 10–15 hours/week for four months and 20–25 hours/week for four months. My salary also includes benefits, including housing for four months of the year.
Tell me about the experience you've gained from your position as a program director. What skills and strengths have you developed?
The sailing organization has grown tremendously in the seven years that I've been involved. When I first started, I was working directly under a supervisor, so I was learning the ins and outs of the program, managing one site (we have three) of about 100 students/day and 15 staff members, and helping to coordinate many of the program's logistics.
I am now solely responsible for our entire set of programs. We see about 800 students in nine weeks, at three different sites, and have around 45 seasonal instructors. Some of the most valuable experience I've gained is in management. This begins in the off-season when I hire the seasonal staff, which can often be a very challenging and time-consuming process (we receive well over 100 applications and inquiries for the 45 positions). In the summer months, when programs are running, it's a balancing act — I split my time between our three sites and our office. I spend a lot of time focusing on the quality of our programming and the safety of our students and staff. These two go hand in hand, so I try to be present at our sites as often as possible, and to have a relationship with each of our employees. For the four months I spend full-time with the sailing organization, it is very intense work, coordinating everyone and everything. I have become a master at logistics!
Obviously you love your summer job. How hard is it to find positions that excite you for the other nine months of the year? Do you think there are year-round jobs that could satisfy you the way this one does?
It is very challenging to find exciting positions in the off-season, and that's one of the reasons I currently don't have a nine-month position. Temporary work can often be unfulfilling because there are limited opportunities for advancement when you keep taking time off.
There are full-time, twelve month positions in the sailing industry for program directors. These are almost always in warmer climates, where programming continues into the shoulder seasons. So, if I wanted to stay in the sailing industry, I would certainly be a candidate for one of these positions.
If I chose to leave the sailing industry, would there be a year-round job that could satisfy me in the way that this one does? Certainly. But I spend a fair amount of time wondering what industry that would be in. The things I love about my current job, and that have become very important to me include how active the position is, the time spent outdoors, the option to teach classes and work directly with the students when I choose, the social nature of working with a large staff, and the flexibility of self-directed off-season work (work that does not need to be completed between the hours of 9 and 5.) I would hope to find many of these things in a twelve-month position. Might this be a tall order!?
There's no such thing as a free lunch. What about this arrangement of your professional life hasn't worked for you?
I've probably alluded to this already, but when I had the two positions, I felt very distracted. Constantly. When I was at one job, the other would require my attention and vice versa. Ultimately, this is one of the reasons I only have the single position this winter, but I have sacrificed building my savings as a result.
Additionally, there are pluses and minuses to living in one place for four months of the year and another for eight months. Many of my friends long for this flexibility — especially because I live inland in the winter and on the coast for the summer. It truly is wonderful for so many reasons, but the packing and unpacking can get old — as can the mail forwarding, etc! Added to that, it can be challenging to maintain friendships and a community in both places when you are constantly coming and going.
I really admire you for finding a way to do something you love so much despite the fact that few jobs are structured around flexible schedules. Have your professional priorities changed in the last 10 years?
I think so. I was never interested in learning about the financing of non-profits, fundraising or management, but now the courses in a business school program sound appealing to me. I am lucky to have a partner who is in the same field, so we spend a significant amount of time discussing management issues, and program issues. I now spend time reflecting on how I can be a better manager, in the most basic sense of the word. I want the people who work for me, to enjoy what they do as much as I do. I also think this reflects on our programs and the experiences that our students have. I also take a lot of lessons away from the way I am managed by my supervisor — for better or worse.
Although I don't know where I'll end up professionally in the next few years, I do now know that I enjoy the coordination and organization of programs from a management level. These are not interests that I had in college or even in graduate school.
Leda Marritz lives in San Francisco. You can read more of her writing at smallanswers.us. Photo: Brian Murphy