The Rise of Part-Time Work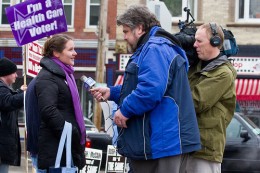 The rocky recovery since the Great Recession has been marked by fewer full-time jobs, lower wages, and the rise of part-time work. "Since the end of 2007, the number of employed workers who work part-time but want full-time jobs has increased about 4.3m, or more than 70%," Brookings pointed out recently.
The real-world dynamics of living on part-time work, however, aren't told in the statistics. Some take part-time work because they can't find full-time jobs; others, because they're going to school; others yet, because they fell into the part-time life and liked it better.
Our own Logan Sachon interviews a handful of people who are making it work with part-time work, for the Guardian. She talks to customer service reps, an adjunct, a swimming coach, and a guy who works for a distillery. Go read it!
Photo: sskennell