Righteous Non-complaining and the Cost of Participation
by Dory Kornfeld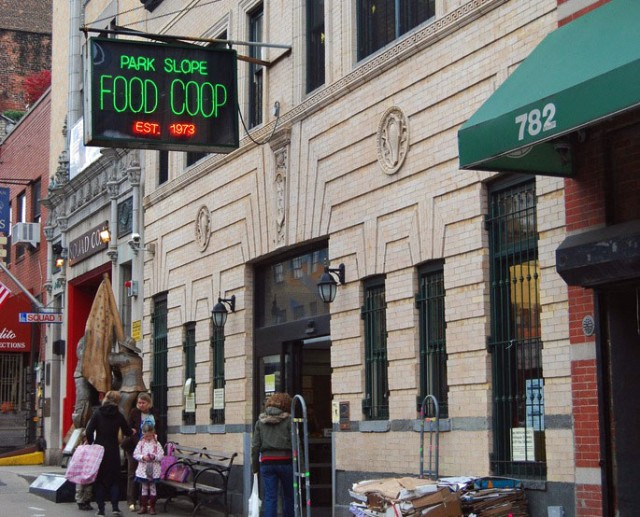 I am a member of two organizations in New York that members love to hate: the Park Slope Food Coop and New York Road Runners. The Coop is the nation's largest member-owned grocery store where, to earn your shopping privileges, you must work two hours and 45 minutes every four weeks. NYRR is the organization that puts on the New York City Marathon, as well as a gazillion other races in New York.
The one thing that these two organizations have in common — other than a leisure-class association with health — is that there is a certain intensity to the way people grumble about them. The coop is fascist! Their processes are archaic and byzantine! You have to stand in two different check-out lines! NYRR is autocratic! The races are too expensive and too crowded! Their customer service is terrible!
All of these things are true, but I am taking a firm stand in the opposite camp: I am practicing righteous non-complaining.
Membership in both NYRR and the coop is voluntary. The coop might have the best stuff, the freshest produce, the cheapest prices, and the largest selection of organic yogurts, but it is far from the only place in New York City to buy these items. In order to shop there I trade my time, and sometimes my dignity (I did one work-shift valet parking people's bikes where the protocol was to take people's membership cards, write down their name and member number, and make them sign a waiver, thus turning the 45-second process of locking up your bike into a six to seven-minute bureaucratic enterprise; after that I switched back to check-out), but there are plenty of supermarkets, farmers markets, and "provisions" shops that ask absolutely nothing of me other than my dollars in exchange for their wares.
The same goes for NYRR. Yes, for guaranteed entry into the NYC marathon this coming November I had to become a member ($40) and run nine of their races in 2013 ($18 to $117 dollars, including one $50 loop of Prospect Park, where I run for free almost every day), I had to volunteer at one race (a six-hour shift handing out bib numbers for the Brooklyn Half Marathon where the staff member overseeing the volunteers yelled at us for looking at our phones when no one was in the space), I had to pay another year's membership for 2014 ($30, my half of a family membership), and then finally was I allowed to pay $227 to register for the marathon itself. But I don't have to run the New York City marathon, it's something I, Dory Kornfeld, of sound mind and body, have chosen to do.
For both organizations, the monetary and other costs to joining are worth it. They are worth it to me and they must be worth it to the other 16,000-odd coop members and the over 40,000 NYRR members.
Here is an example: This year, the coop opened late on New Year's Day, at noon rather than 7 a.m. My Wednesday B-week 10 a.m. shift fell during those closed hours, and in early December we were informed that we would have to schedule an off-cycle make-up shift to compensate for the hours we wouldn't be working. Annoying, maybe, but reasonable — we all know that we have to work 13 shifts a year. However, the vitriol from my shift-mates was instant, and the coop staff person doing the explaining mentioned that the same thing was required of people who missed their shifts when the store was closed during Hurricane Sandy.
"That's ridiculous!" the woman next to me muttered after the staff person went back to the office.
"Well," I said, "the alternatives are quitting the coop, or proposing a rule change at a monthly meeting, and I'd rather do a make-up shift than either of those things."
In 2012, when Hurricane Sandy ravaged Staten Island and rescue workers were still finding bodies in houses, NYRR refused to cancel the marathon until they absolutely had to, and then were silent for months about whether people would receive refunds on their registration or guaranteed entry into the 2013 race. NYRR messed it up and people were reasonably upset, and we all have every right to not ever run a NYRR race again. There are plenty of other races in New York, including those put on by the wonderful new-ish group, NYC Runs. Still, the alternative to the New York City Marathon — which runs through all five boroughs, brings out huge crowds, and is the best holiday in New York — is the Brooklyn Marathon, which is eight loops of Prospect Park. Most people watching the Brooklyn Marathon don't even realize that a race is happening.
I doubt that righteous non-complaining wins me many friends. Complaining is a social practice, it's what people talk about when there's nothing to talk about. Complaining about the Park Slope Food Coop or New York Road Runners is partly about communicating actual belonging to those organizations, signaling that you're on the inside. Complaining brings people together. By refusing to participate in the complaining, I come across as a Pollyanna with a stick up my ass. Hence, the "righteous" part of righteous non-complaining. It's not just failing to complain, righteous non-complaining is actively refusing to participate in complaining, and saying so out loud. It's pointing out why rules and requirements are in place, and declaring that the trade-off is acceptable. And because this sort of non-complaining is being prickly, it is almost a form of complaining about the complainers.
Maybe righteous non-complaining is smug, but it's also an important form of noticing. Noticing how organizations run (fact: They are run by people who have to make decisions about things!), noticing the privilege we have to freely join organizations that suit our interests (I would never advocate righteous non-complaining about the difficulties of signing up for SNAP benefits, for example), and noticing how people relate to each other. I think that the tendency to complain as a way to quickly form a bond with another human is a toxic practice. It makes me uncomfortable just how easy it is to slip into the conversational trope of complaining. I think it makes us grumpier, less content, and dreary, and that's not what I want to be or who I want to hang out with. Righteous non-complaining gives me the opportunity to push back.
Dory Kornfeld is a Ph.D. candidate in Urban Planning at Columbia. Her best side gig is teaching economics to IBEW union members at the Harry Van Arsdale Center for Labor Studies. She also makes quilts for all the weddings and the babies. Her halfhearted tumblr is greenpeugeot.tumblr.com.
Photo: Paul Lowery