Calculating the Costs: 'Pan-Roasted Chicken with Harissa Chickpeas'

Here's a new series! (Kind of.) I often browse various recipe sites looking for new dishes to try out, but the recipes very rarely tell you what it'll end up costing you (unless it's from a specific budget-conscious site like Budget Bytes).
The recipe I tested this weekend was one I found in the January issue of Bon Appétit for Pan-Roasted Chicken with Harissa Chickpeas, which I decided to try based on the photo and the fact that I had never cooked with harissa. Bon Appétit insisted that "harissa is a great shortcut ingredient to flavor," and the number of ingredients seemed reasonable.
The cost breakdown:
• 1 tablespoon olive oil (I have a big bottle already, so, like five cents?)
• 8 skin-on, bone-in chicken thighs (about 3 lb.) (I was only cooking for me, so I bought four "antibiotic-free" for $3.26.)
• Kosher salt and freshly ground black pepper (Most people have this on hand and the cost of this is practically negligible.)
• 1 small onion, finely chopped (40 cents)
• 2 cloves garlic, finely chopped (10 cents)
• 2 tablespoons tomato paste (Tube of tomato paste was $3.49, and I used a quarter, or 87 cents)
• 2 15-oz. cans chickpeas, rinsed (One can was $1.29)
• ¼ cup harissa paste (That tube of harissa — pictured — was $2.49, and I used about a fifth, or 50 cents)
• ½ cup low-sodium chicken broth (I had some in the freezer that I had made)
• ¼ cup chopped fresh flat-leaf parsley (This was essentially a garnish, so I didn't buy it).
• Lemon wedges, for serving (50 cents)
The total cost of this recipe for me was $6.97, and made two meal servings, so about $3.50 per meal? Totally cheap. Chicken thighs are cheap — even when you pay more for ones that are antibiotic-free. Harissa is really spicy and you don't need to use a lot of it, so I'm already looking up other ways to use the rest of the tube. The Bon Appétit version is on the left, and mine is on the right (obviously):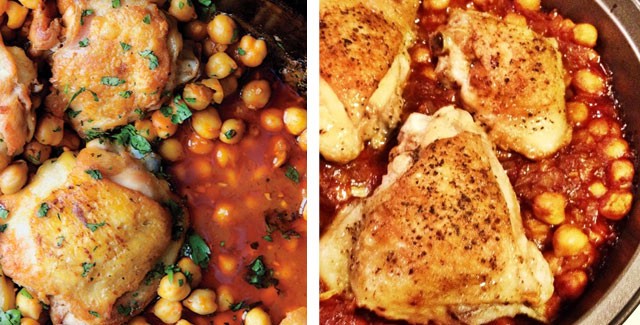 Verdict: Great recipe, totally worth it. Really easy. Would cook again.
Bonus: I saved the chicken fat (schmaltz!) and used some in place of olive oil to make a mustard dressing for some greens on the side, and it was great. I saved the rest in a little container in the fridge (I hear schmaltz is making a comeback).