All the Drama of the Super Bowl, None of the Sports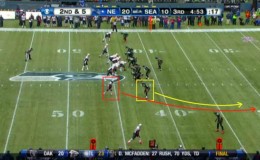 If those interstitial background stories and interviews about where professional athletes came from are the only interesting thing about sports to you, too, then listen up. J. Ryan Stradal is back at the Rumpus with his annual Super Bowl Preview For People Who Don't Know Football, and it is excellent:
In 2014, Richard Sherman has made himself known, and we should be thankful for this. His story is a quintessentially American one; it's banal and heartbreaking to say it couldn't have happened in any other place or time, but some of what sets Richard apart in his rags-to-riches trajectory is how deeply he wants to be representative of a much larger group of men and women like himself. He is not, as they say, simply along for the ride.
Richard grew up in Compton, California, a place known to most Americans through rap songs, violent films, and piqued news footage. Afflicted by such media, it may be difficult for many to imagine the vast majority of Compton citizens who are simply trying to get by, attend work or school, and feed their children. Kevin and Beverly Sherman are two such people. Kevin rises at 4 a.m. daily to drive a garbage truck, and Beverly is a senior clerk for California Children's Services.
He highlights a handful of other football players I have never heard of, such as Demaryius Thomas, Eric Decker, Russell Wilson, and Peyton Manning (okay, I have heard of him), and writes about them in a tone that sounds just urgent enough, with material that is just human enough, I can almost squint my eyes and forget we are talking about sports.