Your Gross Happiness Index Is Showing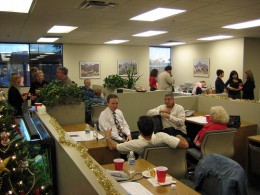 "One of our core values is to inject fun and quirkiness into everything we do," Neil Blumenthal, a founder of the online eyeglass retailer Warby Parker, recently told The New York Times. This is a philosophy currently enjoying a resurgence in the tech and retail industries, among others. As we enter the season of office holiday parties, it's a safe assumption that the workplace quirkiness quotient will skyrocket. Which means it's also the season for the curmudgeons among us to renew our passionate entreaty: Please — no, really, please — can we stop trying to "make work fun"?
In all seriousness, I'm sure Warby Parker is a fine place to work (although kill me please) and I do think all these "activities" are well-intentioned, but I do maintain that all this mandated fun is ultimately a distraction from how fulfilling, effective, and well-compensated the work itself really is, or the fact that it is "work" at all. Not to mention there is nothing worse than looking your boss in the eyes when he asks you if you are coming to Game Night or Movie Night or Pie Baking Night or if you're carving pumpkins or painting faces or listening to a guest lecture or going to happy hour and then trying to come up with an excuse on the fly that isn't, "I did my job today, and while I do enjoy your company and the company of everyone here, it is time to go home and be with people who are not-you, for at least a few hours every day for the love of all that is holy."
I am with Burkeman on this one,
Lest my curmudgeonliness be mistaken for misanthropy, let's be clear: There's nothing wrong with happiness at work. Enjoyable jobs are surely preferable to boring or unpleasant ones; moreover, studies suggest that happy employees are more productive ones. But it doesn't follow that the path to this desirable state of affairs is through deliberate efforts, on the part of managers, to try to generate fun. Indeed, there's evidence that this approach — which has been labeled, suitably appallingly, "fungineering" — might have precisely the opposite effect, making people miserable and thus reaffirming one of the oldest observations about happiness: When you try too hard to obtain it, you're almost guaranteed to fail.
Fun at work is the best, but when I say fun I am thinking more "writing BUTTS on the whiteboard in the conference room and seeing how long it stays up," than the "emotional labor" of mandated bonding.
Photo: Phil Sexton
---
Support The Billfold
The Billfold continues to exist thanks to support from our readers. Help us continue to do our work by making a monthly pledge on Patreon or a one-time-only contribution through PayPal.