Places I've Lived: TEXAS (& Brooklyn)
by Summer Anne Burton
Where have you lived, Summer Anne Burton?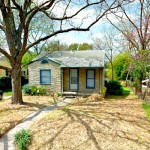 Avenue F, Austin, TX, 2001–2003, $575 (my half)
My first home away from my family was a few blocks from all the things that ridiculous, impractical 19-year-old me needed: a cooperatively-run anarchist bookstore, a carefully curated independent record store, a 7–11 where the coke slurpee machine always worked, an alternative sex toy emporium, the best comics book store in town, a giant vintage store stuffed with ironic ashtrays, and a dark pizza place that doubled as a punk venue. Naturally, it was also way more expensive than my friend Rebekah and I could realistically afford on our toy store salesclerk salaries. Still, we moved in and christened the place "Homie Shangri-La," hanging our grade school achievement certificates and good report cards on the wall. I spent a lot of time worrying about whether I was a good roommate. Looking back now, I can say with certainty that I was not… sorry Rebekah.
West 6th Street, Austin, TX, 2003–2004, $750
I decided it was probably best to spare others from my lifelong messiness problem, and I moved into an apartment by myself. The place was tiny and characterless, but I didn't drive and it was a few blocks from the bookstore where I worked, so it was practical. The guy next door lived alone with an extremely large collection of plush animals I would occasionally see through the curtain. One night, my boyfriend and I stood out front all night, chain-smoking and making up freestyle rap songs. The next morning the plush animals neighbor had affixed a letter to my door transcribing every word of our new songs as a warning to watch what we said outside. I started smoking in the apartment.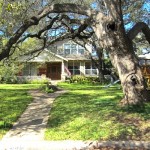 Cliff Drive, Austin, TX, 2004, $0
I don't remember it feeling like a failure that I moved back in with my dad for a few months, although it was definitely because I never learned to rent places I could actually afford and so had run out of money. It was great, though. Dad inexplicably allowed me to move into the master bedroom itself, which had a separate entrance, a little deck with a fancy hanging "sky chair," and a closet crammed full of old family photos and my dad's mysterious keepsakes.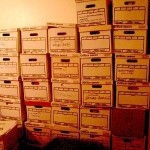 South Lamar, Austin, TX, 2004–2006, $900.
I lived here with my cat, Tigger, who had been a present for my fifth birthday. The apartment was lovely, a few blocks from my dad's house, and it had enough room for all the random crap I'd collected at thrift stores. Two of my best friends helped me move in, and I remember sitting on the floor eating pizza, admiring the number of boxes full of books stacked almost to the ceiling along the living room. I think this was the first place away from my parents that actually felt like home. I made out with my secret boyfriend on the floor, drank way too much, and took a lot of selfies in the parking lot. I read dozens of books and watched hundreds of movies. It felt like a real home for awhile. Then the secret boyfriend broke my heart, Tigger died, and they sold the place and turned it into condos, evicting all of the renting residents. Sad trumpet noise.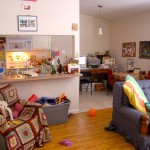 South 1st Street, Austin, TX, 2006–2007, $400 (my half)
My second experiment in having a roommate was with my best friend Larissa and her three-year-old son Braedyn. Our apartment, which I'd found by driving by it on my way to somewhere and falling in love with the tiny complex and its ornamental yard. Our unit had huge windows and vaulted ceilings Larissa and Braedyn shared a bedroom. The three of us were a little platonic family, and we were very happy excluding everyone else from our secret wonderland, watching Braedyn's Transformers episodes hundreds of times over, improvising new cupcake recipes, and scraping together the money to pay rent on our bookstore salaries.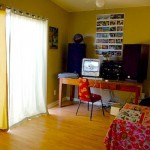 South 5th Street, Austin, TX, 2007–2008, $575 (my half)
Our little family moved a few blocks away so that Braedyn could have his own room. The property manager was this old Austin hippie who sometimes disappeared for weeks on end and who insisted that we drive our rent checks to his apartment a few miles away and drop them off at his door. The house was adorable, though — we spray painted a stencil I'd made of The Little Prince onto the concrete floor of his bedroom and filled the place with all of the trappings of our twee collections: vintage kid's blankets and felted toys and robots and polaroids. We threw parties and had boys over all the time and I got a new cat named Irwin who hid in a drawer for two weeks. Still, platonic best palships can only carry you so far before relationships fuck everything up, and they did. We both found boyfriends and tearfully broke up the family.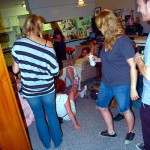 Parker Lane, Austin, TX, 2008–2012, $750 (at start), $375 (after Brian moved in)
My Parker Lane house was the place I've lived the longest as an adult. It was cheap and big, a two-bedroom in a house split into four parts, with real friends on either side. Our landlord's name was Alan but liked to be called Rane. There was a deck, a yard, and feral cats for me to try to tame. Perfection. Eventually, my boyfriend Brian moved in and we started to merge his collection of baseball caps and back issues of ESPN The Magazine and Dwell with my boxes of .45s and animal tchotchkes. It took me awhile to adjust to living with someone again — I still miss it sometimes when I feel obligated to wear pants, but it's cool. When Austin flooded, the makeshift foundation of our hippie house shifted and for a couple weeks we couldn't use the front door and had to use the window to get in and out . It was totally worth it because Rane docked our rent in half that month. I'd have climbed through that window forever…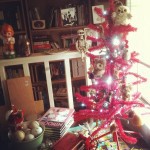 Quincy Street, Brooklyn, NY, 2012–2013, $1350 (total)
I had talked about living somewhere other than Texas someday when I was a teenager, but by the time I was 30 and still there, I had happily resigned myself happily to enjoying breakfast tacos and my proximity to my parents for the rest of my days. Then, a couple weeks after my 30th birthday, I went to visit BuzzFeed, the company I was working remotely for, and they offered me a full-time position in their New York office. It was a dream job and so I suddenly became a career woman (and luckily for me, Brian agreed to come along). I came to the city a month before Brian was due to arrive with all of our stuff, and I stayed with a friend from Texas who was living in an ancient Bed Stuy brownstone. The unit just upstairs was empty, and I ended up falling in love. Our apartment is laid out incomprehensibly, with one long hallway shaped bathroom separating the living room and bedroom. But there's a beautiful and huge kitchen, charmingly crooked architectural details, and a very kind older landlady living on the bottom floor. I love Bed-Stuy, and I'm happy I ended up here because it reminds me of home, and people actually make eye contact, say hello, and smile. I pay the rent by myself and Brian pays the bills and does the dishes — a solution to my untidy problem, at last!
Summer Anne Burton lives in Brooklyn.
---
Support The Billfold
The Billfold continues to exist thanks to support from our readers. Help us continue to do our work by making a monthly pledge on Patreon or a one-time-only contribution through PayPal.