The Best Thing I Bought for My Trip Around the World Was Travel Insurance
by Lisa Findley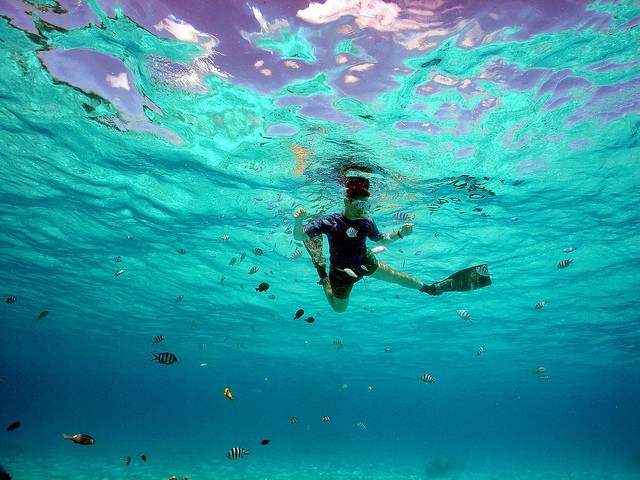 I dithered a little about buying travel insurance for my solo trip around the world. I'm young and healthy, and what's an adventure if some bean counter has insured me against all the risks of taking the world by storm? I'd probably never need to make a claim, and then I'd have wasted that money, when I could have spent it on a mountain trek in Laos instead. Then again, I'm remarkably accident prone, and if I fell off a mountain in Laos and needed emergency evacuation, I'd be screwed without an insurance policy.
I planned to be on the road for a year, the realization of a dream a decade old. I bought a policy through World Nomads, a company that specializes in insurance for longer-term travelers. I could get the Standard plan or, for $30 more a month, the Explorer plan. I like to see new places, but I'm no adrenaline junkie, and I figured I'd just need the Standard, until I saw that snorkeling was under the same coverage as extreme activities like base jumping and parachuting. Snorkeling the Great Barrier Reef was on my agenda, so I became an Explorer. For $100 a month, I was covered for injury and illness, emergency evacuation, loss of luggage, canceled flights, and some liability on car rentals.
Was it worth it?
Absolutely. I got shingles in Australia, two concussions in New Zealand, an eye infection in Thailand, and stitches after being hit by a car in Vietnam. I went to one optometrist, three ophthalmologists, four general practitioners, and six hospitals. I went to at least a dozen pharmacies. I had to pay for it all out of pocket, yes, but I got receipts for every last thing and harangued doctors to type up medical reports. I provided proof of travel and swore that I didn't have any other insurance that could cover me. I scanned everything at tiny copy shops in Byron Bay and Hanoi, and sent email attachments to the claims department of World Nomads.
It took ages to fill out the forms and put all the documentation together, but I'm glad I did. I spent almost $1,400 on doctors and drugs over the course of ten and a half months, and World Nomads reimbursed me every single penny. (I wish they were paying me to say that, but they're not.) I don't know how it would be if I'd been drunk when I'd had my accidents — I hear that's a reason a lot of travelers' injury claims get denied — but as it was, all my claims were paid in full. If I hadn't bought the insurance, I still would've spent $1,200 on health costs, but I'd be out another $200, which got reimbursed because I took the safe route and bought insurance.
If I'd lost anything or missed a flight, the insurance would have covered that, too, and it was always a comfort to know that if I got really stuck somewhere, I'd paid some people in Pennsylvania enough to convince them to bail me out. Paying $1,200 up front was painful, but it would've hurt more to have been without travel insurance on this trip.
Nothing hurt more than those concussions, though. Those were the worst.
Lisa Findley has been injury-free for 33 days. You can read about her travels on Stowaway, at lisafindley.com.
Photo by NOAA's National Ocean Service.
---
Support The Billfold
The Billfold continues to exist thanks to support from our readers. Help us continue to do our work by making a monthly pledge on Patreon or a one-time-only contribution through PayPal.