The Hustle of a Dancer In New York City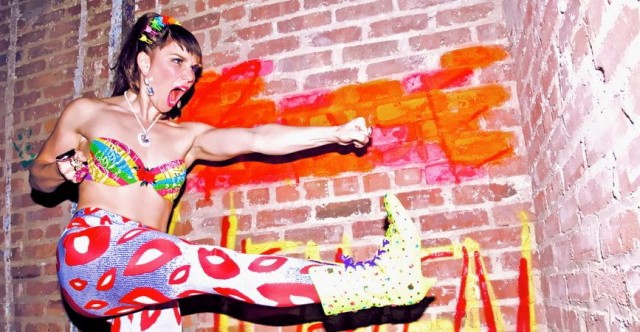 Viva Bodyroll is a professional dancer in NYC. We talked about her career and money and what it's like to hustle as a dancer.
Logan: Tell me about your rehearsal this morning.
Viva: This morning I had a rehearsal with the Haus of Sweat, a proFRESH party starting dance crew I started. We have a few gigs coming up that we are preparing for.
Logan: Will you get paid for these gigs?
Viva: Now we only do paid gigs. We've been working on Haus of Sweat for 2 years and have done a lot events for free, and we're finally starting to get paid, or at least I've been better at saying we need to get paid. But all that money has gone back into the Haus, into rehearsals, logos, flyers and costumes. We're coming from the bottom up making our own thing. There are plenty of dance jobs where you can get paid and paid well, but we're starting from the bottom, developing a brand/name for ourselves as a dance crew.
I've been trying to get better at marketing the Haus and getting us paid. If I'm interested in a club or party, I'll do a promo, we'll come in and perform a set for free. That's if I really want to work with them. This is kind of a niche thing, having a dance crew come in and be a source of entertainment — DJs, burlesque girls, go-go girls, drag queens, musical acts are an integral part of parties, but a dance team? We don't battle, we don't exist in a category, ie: house, breakers, whacking, vogue. Haus of Sweat is a blend of a variety of street dance forms and the art of drag. Transforming ourselves with costuming is an integral element of our act.
Logan: How did you find each other?
Viva: There are four of us. We all have an alias. I'm under the alias of Viva Bodyroll. I teach aerobics and I'm super bubbly, cheesy and outgoing. Eva Bust a Move is a Guatamalan house and break dancer and we went to college together, I met her dancing here in New York. Boy Georgia, she is queer and has a super androgynous femme bot vibe. I met her through a mutual friend; we currently dance for Jessica 6 together. I met Davon aka Miss Jade, through a job at a dance studio. He is a fierce street jazz teacher & I heard he did drag…the rest is history.
Logan: How did Haus of Sweat start?
Viva: Haus of Sweat started out when I began teaching a class called Bodyroll. It's a '90s-themed dance aerobics class which encourages people to dominate a dance floor; I try to create a space of empowerment for my students through dance. So through this class, I started building this character, this zany aerobics teacher, a blast from the past, bringing back the humor of fitness, the fashion! I wanted to market the class and I was thinking, how am I going to get the word out about Bodyroll, so I thought, why don't I take the class to the club and do Bodyroll routines in the club? So it was first to market the class, and now Haus of Sweat is its own thing. We don't just do aerobics stuff, but still nineties and fly girl vibe.
Many of the moves have been inspired by the underground gay dance scene. There is more freedom to really let loose on the dance floor and not feel totally objectified. I like playing with gender and playing with sexuality and that community has been more of a comfort zone for experimentation. Boy Georgia also plays with drag in a different form. We wear full costumes and drag and wigs, costuming has been an element of my work too and fashion, blurring lines of gender. The root of Haus of Sweat is yes we are avant garde and playing with gender roles but we are also entertainers, so we use the '90s as the access point for our audience. I love the freedom to experiment but I also am a struggling dancer, and want to broaden our scope. Reach a bigger audience.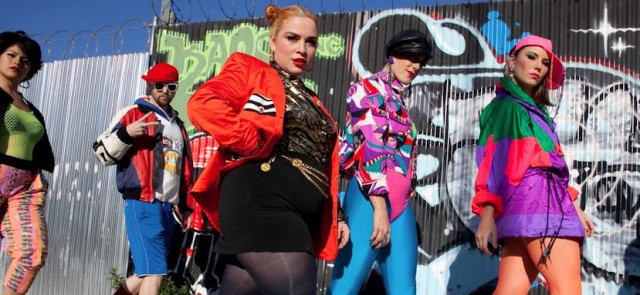 Logan: Is the move towards straight clubs strategic? Is there more money there?
Viva: We will perform anywhere and for anyone. There is money in both. We are just interested in reaching new audiences and spreading the sweat of Bodyroll and the Haus! I want to be on TV, I want to become global. Rupaul is a huge inspiration for how he has branded himself and the art of drag. We want to be accessible.
We do all sorts of events. I'm interested in bringing dance and aerobics and fitness into the art scene. So we've done events at gallery events — we're a great transition piece, we get any party started, get the dance floor going. We've also done events for kids. We can exist anywhere with anyone.
Things are starting to have more momentum right now, there's a good charge with everyone on board. It's been a rollercoaster trying to direct and product this crew, members come in and out. Now we're at a strong four but it's taken two plus years to get there, and still, someone has to come home at night and post about it or make a flyer, initiate the rehearsals, schedule the rehearsals, go thrifting to get costumes, manage the money. I do most of that, but the crew has become more proactive about booking gigs. We are starting to spread the outsourcing of gigs across the group. We all have a gazillion other things going on. The goal is that Haus of Sweat, all the members will teach their own signature classes and we have a space or a pop up shop for that and offer master classes with the members of Haus of Sweat. But right now we all teach separate classes all over, and then have our other gigs. I teach, am a waitress, go-go, backup dance, and dance motivate at bat mitzvahs.
Logan: Is that common, for dancers to teach?
Viva: Many teach-it's a way to make money, a way to get to dance. Dancers love to dance and we want any opportunity to get to do that. I was interested in teaching fitness, I really like teaching people how to move — someone who hasn't danced in years, creating a space for them to access that. There's so much competition in dance, you go to some of these classes and it's very intimidating. I wanted to create a class that was for everyone — beginners, anyone is welcome — and I thought putting a fitness spin on it would make it more accessible to people. I was interested in branding a class, so then I would be this specialty thing, rather than teaching jazz or hip hop or a certain style, I was interested in creating something new.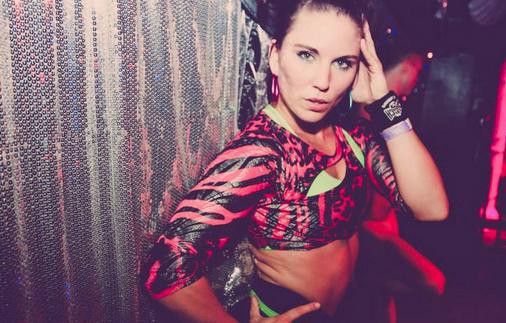 Logan: So did you start Bodyroll as a business?
Viva: It really started as more of an art project. I come from an experimental dance background. I went to school for modern dance, improv and choreograph. I grew up doing studio dance — jazz, ballet, hip hop, 5–6–7–8. Big recitals. Then I went to college and the program I went to at the New School, Eugane Lang, was much more based on performance theory, choreography, and the role of dance artist — not really 5–6–7–8 at all. We had studio classes but it was really about you as a performer and what are you trying to say and what is beyond the body. I got out of the commercial vibe, I thought it was shallow, I wasn't interested anymore, wanted to make my own work, way more conceptual and avant garde. But I love to dance, freestyle mainly so I was still going to the club/underground queer parities mostly and getting sweat.
And I noticed when I'd go out people would mimic me. I have an infectious personality and love to dance, and I'd notice people following me. People said, I love going out dancing with you because I don't feel so inhibited. I thought, okay, maybe I should do a project where I teach a class of all my club moves. I decided to call it Bodyroll; it's my go-to move. I'll do it once a week for a year and I'll invite everyone/anyone to come and join me. I don't even know what is, I'll figure it out as I go. I knew I'd use '90s; I enjoy '90s R&B and hip hop. So I rented a studio space and did it every week. It started with three people, and it gradually grew, our record is 27 people, strangers started coming. Then I got into doing the logo and website and the slogans and the hashtags, and it kept growing and I was having fun with this role I was playing. It was very performative, and it still is, and that momentum has kind of taken me to where I am now. The class exists and now this club act has been born out of that and has its own momentum. And now it's more than an art piece, though it still is. It's also a business.
Logan: What are the financials of teaching a class, how do you rent space?
Viva: There are numerous dance studio rental places which run by the hour. There is usually a rate for rehearsing and rate for teaching. It's a flat rate, and there's a big range. In Brooklyn you can find it by the hour for $17/hour to $26/hour, in the city, you can't find anything for less than $45, and that's a tiny studio. For something that can fit 25 people, you are going to pay $60 an hour, minimum. It's a hustle, some of it is week by week, some you can set up a system month by month, but you have to be on it so you can renew your slot. Every month you have to rebook your space, put in extended requests, pay cash, be respectful of being on time starting on time ending on time. I was getting a little tired of that process, and I wanted to have more exposure. In the rental space I was in, there wasn't foot traffic for people taking class, it was people coming in to rehearse. I decided I wanted to be represented by a studio, where other people were taking classes, they could see us, sign up.
So there are a few ways to do that. You can come in and have a flat rate teacher fee, where you get x amount of money no matter how many people come, or you can work on percentage, where you get x amount percentage per student. Those are the ways I've experienced it so far. Which is better is the question. Do you want to walk in and know what you're making, even if there are 30 people and you're making 50 bucks? That studio is making a lot of money on you. Or do you want to make a percentage and hustle to fill your classes and make your money? I'm a hustler, so from the beginning, I've been telling people about this thing. It didn't exist, I made it up. I'm essentially selling myself, my body and myself as a teacher, but I was more comfortable selling this product even though I'm the product because it's essentially this extended third thing. I've always thought in really big and grand ideas. This is bigger than just me. And now we have Haus of Sweat that doesn't exist with just me. I might do the paper work and the backbone stuff, but its not just me.
Logan: So have you made money from Bodyroll?
Viva: Bodyroll has definitely made me money. But because it's a business, it just goes back in. In the beginning, I was paying $30 for the studio rental and the students were paying 10 bucks, I could make 50 or 70 bucks to teach for an hour. With that money I could get a logo, make me a website, make gear, temporary tattoos — merch. I love that stuff.
Bodyroll has been more profitable than Haus of Sweat so far. Haus of Sweat started as a marketing scheme to give myself and fellow dancers a platform to give ourselves exposure. So many dancers hustle so hard to get gigs, but the dancer is anonymous — you're backup dancers or you're in a music video and you're an extra. I'm interested in branding ourselves as dancers and create personalities so people seek you out to take your class or see you perform. Like right now, if I'm like, who is your favorite dancer, it's like, Beyonce? But she's a singer! What about just dancer? I'm interested in creating personalities and personas for the dancers to market themselves. The Knicks girls, or the Nets, are amazing, phenomenal dancers, but they're anonymous.
Logan: When you were studying to be a dancer, is there a particular job you felt you were training for? Or a traditional job?
Viva: I went an art school. There was not a whole lot of prep for the next step. It wasn't a conservatory or more traditional dance school. I think it's classic of any art school: Now you've graduated with a bunch of opinions. There wasn't any prep for working as an artist. I would have appreciated a class on how to make a website, ha.
The traditional route, I guess, is the route of going with an agent who will book you for jobs: live performances, video work, modeling, more commercial kind of work. Then there is teaching and fitness. Lots of dancers transition to fitness, because there's a lot of work. And so many dancers work for free when they are starting out. It's a stereotype that dancers will work for free, and we will! We want to be seen, we want to perform. So we're waitressing, freelancing, nannying, teaching. Even if you're a teacher teaching x amount of classes per week, you still might have to be bartending.
That's what I found when I was looking into how much dance teachers make, and it's kind of bullshit: $30 to $50 a class, and you hear about Soul Cycle and other fitness instructors making $200 a class. And we're in the same field, but spinning is trending. So that's also my concept, I want to make money and a way to make money would be to make it specialized and have it be this specific thing so I can charge more for it.
But honestly when I graduated I was like, poof into the world — there was no setting up shop. A lot of dancers are hungry for an agent because they get you jobs that pay. It's a pendulum, you're either working for free or you're working in a Rihanna tour or on Broadway, making bank.
Logan: Do you have agent?
Viva: No. I was really into experimental dance and really against all that. But I'm realizing now, for me to get the exposure I want for this class, for the Haus I need to do other peoples work. I cant just blast onto the scene. A lot of people come to the city, take class, do tours, then maybe they'll open up a gym, start a fitness brand, and get their niche that way. I went the opposite way, I don't know why. I guess because it started as an art project, I wasn't chasing after a gig. So now I need to get the gigs to get my name out of there. And not just my own gig, my own show. I need to be in other people's productions. Bodyroll has been my sole focus, but I need to open to other people's work in a commercial way. But it's kind of cutthroat and competitive, and it can be and it can feel kind of shallow.
Logan: How do you get an agent?
Viva: The best way to get an agent is to constantly take class, network in class. Like in any field, find mentors who have already been through it, train under someone you really admire. There's a lot of word of mouth. There are websites you can go to and see cat call auditions, but the best way is to network, create real relationships with dance teachers, directors, casting people.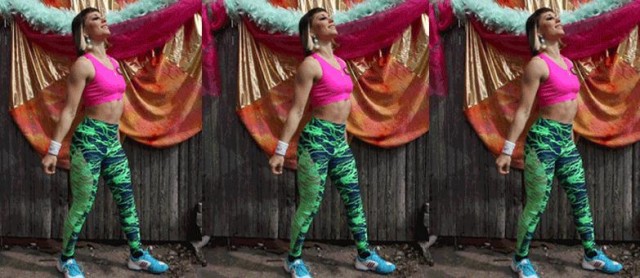 Logan: Do you take classes?
Viva: I take class. I've been really into dance hall, a Jamaican Caribbean style dance that came out of the '70s. Dance hall is a Jamaican genre of music, rooted in reggae. I take hip hop, street jazz, Vogueing, house dance. There's a drop in fee, you just go. The main places are Broadway Dance Center, Steps, Peri Dance. I teach at Crunch and I've been taking a lot of classes at Crunch. There are some amazing dancers there as well. I go to yoga. A lot of what I like to do is freestyle in the club, just go dance all night, get lost in the music 'and dominate the dance floor!
Logan: How much are you spending on dancing and clubs and classes?
Viva: Classes are normally 20 bucks a piece, I try to go a couple times a week, maybe three times, so whats that, $240 a month. Then there are our Haus rehearsals, we gotta pay by the hour for those, usually a 3 hour rehearsal per week.
Logan: Are you paying to go dance at parties?
Viva: I don't pay to go anywhere. Now I only go out dancing as a networking thing, I know a promoter will be there, there's a performer I admire. That's my networking ground.
Logan: So do you have a dance budget? Or do you just go as you go?
Viva: I don't know about very other dancer and I don't know how they function, but my life is very week by week. Sometimes on the fly, I'll go take a class. It's not like, I always go to dance on Tuesday and Thursdays. I'm not that structured. I always have some projects going on. I have to wait and hear about when rehearsal is. So much of hustling as a professional dancer in NYC is last minute. We got word we were going to London for a show, and we had two days to prepare; that's classic. We had one rehearsal. That's why it's so important to take class on the reg. If I have three hours, I'll pop over to Peri Dance and take a quick class. I always have a pair of sneaks and leggings and 20 spot. You have to be able to quickly pick up choreo, your body is in shape, let's go. We are on hold still for these two gigs right now; sometimes we are rehearsing just to be ready. If you get a call tomorrow, you just never know. The entertainment world is fleeting and so last minute. You're constantly kind of piecing it altogether. And you need to be like, I'm good, I'm ready. If a Madonna gig pops up tomorrow, you gotta be ready to slay.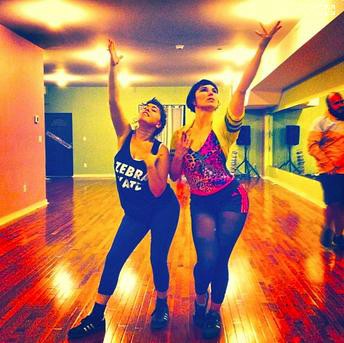 Logan: Do you worry about money?
Viva: I go in and out. I'm living in a place right now where I feel like I'm broke, I'm always broke, I never have any money. If I think about the long-term, it's scary. I don't have savings, I don't have any security. You can get lost in this hustling game — if I just do one more gig or one more free event, it'll work out. It's this pendulum again — you're working for nothing, and then you'll get flown to Europe for a gig and make a thousand dollars. I'm always trying to hustle more money. I'll work x amount of shifts at a restaurant, and if I get a call to do a bat mitzvah, I'll do the bat mitzvah, go to the restaurant, then do go-go dancing, for this party called Hot Rabbit, which is a queer party with a good vibe. I work at a restaurant to try to have rent, to know I can pay my rent, but there's never enough time in the week.
I don't know if I worry about it but I'm constantly thinking of trying to make more money. But at least right now, I'm enjoying the game and enjoying hustling. I'm not focused on building a safety net of money. I will spend my last 20 bucks on a costume piece for a show right now. That might shift at some point. But who knows. If you need to make money, you'll make money. If I only have 200 bucks and rent is due in a week, I will bust my ass to pick up shifts and make those coins.
Logan: Were your parents hustlers like this too?
Viva: My mom is a yoga teacher, she was always teaching classes at different places, I think I've followed in her footsteps for sure. My dad ran his own business, a video production company — events, concerts, racing, infomercials, stuff like that. So I'm not surprised that I'm now trying to run my own fitness brand and dance crew, to be honest. But I didn't go to school for business, we didn't have a business for dancers class. But a lot of people say that even if you went to business school, you learn as you go. A lot of this is throwing myself into it and learning as I go.
Logan: Have you actually gotten into the business part of it, legally?
Viva: Not yet. It's in our future but we aren't there yet. Getting an LLC and trademarking is intimidating to me, you need to be making money then. As a Haus we are not making big money, yet. I'm trying to raise the bar on what our fee is, and that's something I've been experiencing as a dancer, a personality, an entertainer — "what is your rate." And that's a really important question to ask yourself as a performer or a freelancer in general. If someone is like, I can't afford that, then maybe that's not the right client.
Should I legitimize to manifest? I don't have any money, I don't have daddy throwing me five grand to get my business started. That's terrifying for me to do that. I'm barely surviving trying to make this thing happen.
The rate thing is so crazy, you don't want to ask for too little. I recently talked to a promoter, and I gave him a big rate: $1,400 bucks for a four-hour session with original choreography and go-going. And his response was, I think that's valid, but good luck trying to get that in New York nightlife. We are coming literally from the underground up — we would just show up at parties and do a pop-up performance. And we've come a long way since, people know who we are and we're getting compensated now. So now it's about where are we going to take this, and where can we take this.
Follow Viva Bodyroll and Haus of Sweat on Twitter and Facebook // all photos courtesy Viva Bodyroll