Porn at the Office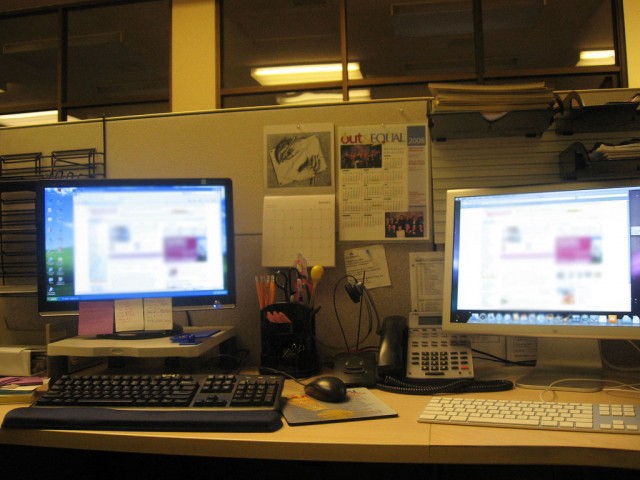 The first time it happened, my reaction was a mixture of embarrassment, shame, and fear. When it happened again the next morning, those feelings turned to anger, and then suspicion. Someone was logging into my desktop computer after work and watching porn, and then leaving it up on the screen for me to find when I arrived in the morning.
I walked out of the office and across the street to the drugstore to buy a container of disinfecting wipes, and when I came back, I proceeded to wipe down my keyboard, mouse, desktop, and the armrests of my desk chair.
"Cleaning day?" a coworker, Dave asked.
I laughed, and then felt my eyes squint. At that point, all of my coworkers were suspects.
I was working at one of the first jobs I had out of college, which was described as an editorial position, but was really a marketing job convincing people to take surveys. But it was a job, and it had health insurance, so when I was offered the position, I said yes.
The work was okay, but the best thing about the job was the staff — nearly everyone was the same age, including our bosses, so we all had a lot of things in common. During lulls in the day, we'd send each other joke emails to entertain each other. G-chat wasn't really a thing yet, but I'd take breaks with a coworker named Elisabeth to go for a walk and buy fruit from a stand to share with everyone back at the office, or a Diet Coke.
It was a strange workplace — for some reason, we had a robotic dinosaur. The bathroom was always running out of toilet paper. There was no such thing as human resources, so whenever we had a problem, we'd tell a manager about it, and since our managers were the same age as we were and managing a team of early 20-somethings for the first time, they didn't always have answers.
So when I found the porn on my computer, I didn't tell anyone about it, mostly because I thought it'd be a one-time occurrence, and also because I was usually the first person to arrive to the office and could get rid of it before anyone else showed up.
People watch porn, and that's okay — if you do it in the privacy of your own home. Recent polls show that as many as three percent of Americans admit to watching porn at work, though the number who don't admit it is probably much higher than that (for the record, I have not watched porn at work, though I have accidentally come across porn many times). This isn't that surprising. When reports surfaced that 33 employees at the Securities and Exchange Commission watched porn at work while our economy tumbled, most of us weren't too astonished. But when you discover that someone is watching porn on your computer, you can't help but feel a little violated.
The person watching porn on my work computer did not clear the browser history after he or she was done (and let's be real here, it was probably a he). There were times when I would come into the office and after moving the mouse on my desktop, the screen would come to life, and there would be porn, out in the open, in all of its hardcore glory.
I tried to shake it off at first, but then it happened again. And then again. The number of porn sites being browsed multiplied astronomically (clearly, the viewer was getting bored), and then on one of my walks with Elisabeth I blurted out, "Someone is watching porn on my computer."
"Wait, what?" she asked, stopping.
"At first I thought it was a prank, but it's gone beyond that," I said.
Back at the office, as these things go, word that someone was watching porn on my computer spread.
"Oh my god, someone is watching porn on my computer too!" Jane exclaimed.
"Yeah, someone is also watching porn on my computer," Jon said, shrugging.
Someone was also watching porn on Mac's computer. And on Nicole's computer. We all had a collective sigh of relief. It's not just me. We laughed and started sharing our stories of discovery. One person had already notified a manager, and when we discovered how pervasive this actually was, we all reported it to our managers, who then reported it to one of the big bosses, and then the porn stopped showing up after that.
The mystery remained: If it wasn't one of us (and really, we all had a sneaking suspicion that it was Jon), then who was it?
One morning, I came into the office and noticed someone had been using my computer. I had shut down my computer the night before, but the screen was on when I arrived. That's when I noticed the USB flash drive still stuck into the port. When I opened the drive, I found porn — tons and tons of it. I also found a folder with documents in it that revealed that the owner of the flash drive belonged to our boss, the head of the company.
I took out the flash drive, walked over to my boss's empty office, threw it into the room and shut the door.
I never saw porn on my computer again. A few months later, we were all fired from our jobs.
Photo: Jere Keys
---
Support The Billfold
The Billfold continues to exist thanks to support from our readers. Help us continue to do our work by making a monthly pledge on Patreon or a one-time-only contribution through PayPal.