What I Learned Working as an Au Pair for a Family in France
by Ashley Champagne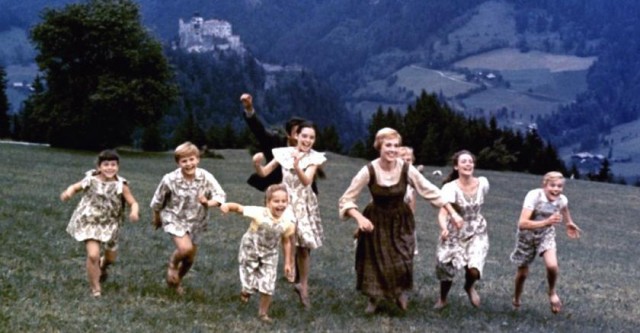 I have two expensive interests: I love traveling and learning French. I always expected I'd do more of both after college, but when I graduated during the Great Recession, travel and French seemed unattainable. I stayed in Oakland, Calif. to find work, and when I eventually landed a day job, I began taking night classes in French at the local community college and looking at pictures of Provencal lavender fields on the Internet. Sometimes, fulfilling dreams is about changing the dream.
After two years of night classes, I still hadn't made much progress. I knew how to introduce myself to a stranger, talk about my favorite colors, and discuss my pets, but I wanted to have a conversation that branched beyond the subjects I talked about when I was in preschool.
So when my mom told me, three years after graduating from college, that the French teacher at the junior high school where she worked knew a family living in the countryside of Burgundy, France, who needed an au pair for the summer, I agreed immediately. (I later learned that there are several free au pair websites, such as www.findaupair.com, if you're interested in becoming an au pair and do not have personal connections.) I had just finished my first year of graduate school by then and had the summer off, so being an au pair seemed like a good use of that time. It was.
I had to pay for part of my plane ticket, but all expenses were covered upon my arrival. Some au pairs also have their plane ticket expenses fully covered. I received $100 each week in addition to room and board, most of which I spent on train tickets to get away on my one day off each week. I booked two additional weekends in Europe beyond the dates of my employment, so that I could visit Copenhagen and Rome.
I was charged with taking care of three children, ages two, four, and six. They were not the playful moppets that The Sound of Music fantasies are made of. Rather than convert curtains into play clothes and twirl around the countryside eating berries, they elected to make fun of my accent and spit on me during bath time. I worked from morning to night, cooking meals and running baths. Speaking French all day long was great for my language skills, but it left me mentally exhausted. On my one day off each week, I took a train away from Burgundy and ate ice cream on a hill. I did not visit museums or important historical monuments. I just ate dessert and savored the precious children-free hours.
Meanwhile, my French was improving at a breakneck pace. Being an au pair in France turned out to be a pretty affordable way to learn the language. I spent about $600 per year on night classes in French at the community college (about $200 per class), and it cost me about $700 to work as an au pair for the entire summer in France. Even studying abroad in France for a summer might not have been as helpful, since most people living in larger cities speak English fairly well. But in the countryside of Burgundy, almost no one knows English, which forced me to up my game.
Still, there's a lot I wish I'd known before I signed up for the summer. When I took the kids to the park, for example, I met other au pairs who told me horrors stories about how their employers had decided they no longer needed them, but their plane tickets — too expensive to change — would not let them depart until the dates they'd originally booked. Foreign au pairs don't tend to have a lot of money, so when they are left without work, there are few options for lodging, food, and transportation.
The family you stay with will make or break your trip. I had it better than most because I had personal connections. I could talk with my mom's co-worker about the family I was staying with. But it is not uncommon that au pairs are treated badly because there is typically no contract or other agreement to ensure that au pairs are paid fairly and timely. The au pairs I became friends with during park visits repeatedly told me they wished they'd checked reviews on the website they had used to find employment.
Here are a few other things that are helpful to know before becoming an au pair:
1) Study the language for at least a year beforehand. While my French classes weren't super-enlightening, knowing basic grammar and how to string words together was essential to getting by as an au pair. It's difficult to make much progress when you have no knowledge of the language and everyone around you is speaking it.
2) Write out your goals. I think this is a good thing to do for most things in life, but it's really important when you're about to be an au pair. Some days will probably be terrible — you will probably be lonely, sleep-deprived, and (depending on which country you're in) potentially living on far less food than you are used to in the United States. I am a fairly small person, and I lost about ten pounds in my first month as an au pair because the portions were much smaller than in my regular diet. So, while crying and hungry in the middle of my trip, I wrote out my goals to learn French and see Europe. I was doing both. Reminding myself of this helped me remember that no matter how tough it could be, I was achieving the things I'd set out to do. Since I rarely get spit on as a graduate student in the States, I knew I could keep holding out to accomplish my dreams. In the end, my trip to France was everything I wanted it to be, and getting through particularly rough days was incredibly worth it.
3) Eat cheese properly. If you stay with a traditional French family who eats typical dinner courses, the last course will be the best. It's cheese! Most plates will have between three and five cheeses. You will want to try them all, but don't: it's considered good manners to taste only four of the five. It's polite to do so because it shows that you are already somewhat full from dinner. Abide by this rule even if you are not full from dinner. I learned the hard way from the grandfather at the house where I stayed.
4) Say "J'aime bien" instead of "c'est bon" after dinner. In my two years of community college French classes, I hadn't learned that c'est bon has sexual connotations. The grandfather looked at me questionably whenever I said "c'est bon!" after dinner, and finally, after three weeks, told me to stop. I later looked up the phrase on Urban Dictionary, which helped explain his evening shock at my use of the phrase. The grandfather told me to say "J'aime bien" instead, which can be translated as "I like this."
While I'm still taking French classes in California to continually improve, I now know enough French to converse with French speakers about subjects far beyond my love for animals and bright colors. I passed my French requirement for my graduate school program, I helped a French couple find the bus in Los Angeles, and I can randomly start talking in French when I am lucky enough to hear strangers speak the language in local coffee shops. My ability to speak French matters to me more than living out a clip from Sound of Music despite how much I've always wanted to wear a dress made from curtains.
Ashley Champagne lives in California.
---
Support The Billfold
The Billfold continues to exist thanks to support from our readers. Help us continue to do our work by making a monthly pledge on Patreon or a one-time-only contribution through PayPal.