A Q+A With a Professional Triathlete About His Money
by Kelly O'Mara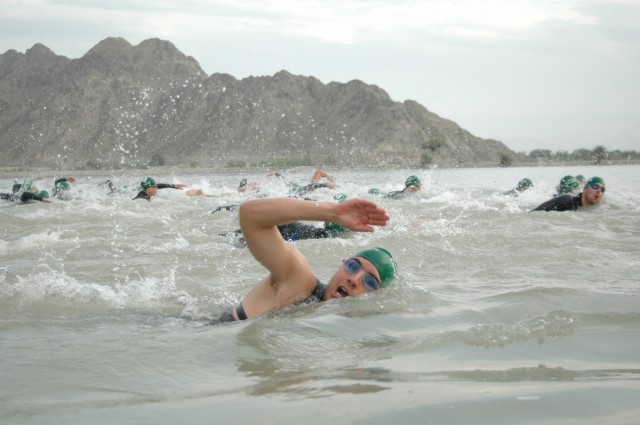 Ben Collins, 30, is a professional triathlete who graduated from Columbia in 2005, where he was on the swim team. After living at the Olympic Training Center in Colorado for three years, Ben moved to Chicago and started an MBA at University of Chicago this past winter — while still racing.
How much did you make and how did you make it in your best year of triathlon?
Last year I made almost $80,000 in prize money alone. With non-disclosures I can't say what I made through sponsorship, but it was a pretty good year. I know some of my competitors made quite a bit more. The way the prize money works out second place is usually only worth about half of a win, and I had five second place finishes but only one win in 2012.
When did you start doing triathlon?
I started when I got to Honolulu right after college in 2006. Actually, the summer before I did a race in Washington for shits and giggles. But, it wasn't until May 2006 that I started training regularly. And, then I won my first race I did after that, an Olympic [distance race] in Honolulu.
But it wasn't until the end of 2007 that I applied for my professional license and started training and racing full-time.
You worked full-time out of college, right? Where was that? How much did you make there?
I worked for an engineering startup based in Honolulu, specializing in autonomous underwater vehicles. I basically made half what I was offered for a similar job in New York, around $35,000 starting salary. I've always valued location and life over money, which is probably why I was willing to take a chance on triathlon.
Triathlon isn't cheap. How did you pay for equipment and travel and races?
No, triathlon is crazy expensive. I've always been really frugal, but it was still about a month's paycheck to set myself up with enough gear to race. And in Hawaii that didn't even include a wetsuit.
When did you train while working?
Before and after work. Everything was on Hawaii time, which means there were somewhat flexible hours.
When did you decide to go 'pro'?
In 2006, I got second at amateur nationals, then at worlds I was leading by two-and-a-half minutes and crashed. Then, in 2007, I won nationals and then won the amateur worlds championships in Hamburg, Germany. For my first international triathlon I actually got to the race by asking flight attendants to help me fly there and staying with a family I found on craigslist.
Is that even a thing? How did that work?
I met some people who worked in the airline industry. Hawaii is super friendly and you're always meeting people. They offered to help out and put me on standby. I didn't have very much money at all, so I had to rely on favors.
I had savings, but I'm not going to spend everything on triathlon. It was still a hobby.
But, then it wasn't a hobby anymore. You quit your job and decided to do triathlon full-time?
Yeah. I sold my car, a nice pick-up truck, and that was $10,000. I wanted to really give triathlon a go and be able to train (and recover) full-time.
How were you making money then?
In 2007, I worked a number of random jobs. I moved back in with my family in Seattle and stayed with friends whenever I traveled. I sold my car to use the money and started riding a bike everywhere. I basically ate up all the savings I had from the engineering job.
How much money did you make as a professional triathlete your first year? Where did that money come from (sponsors, race prize purses, etc)?
In 2008, I lucked out and landed a really good sponsorship. As a first year pro I made about $20,000 total, and $15,000 was from a single sponsor. The rest was split between small sponsorships and a couple of small prize checks. By being frugal and living at home, I made it work and ended up breaking even.
$15,000 in cash? That's not normal for first year pros, right?
It's pretty unheard of. I really lucked out and got hooked up with contacts. Most people get in-kind sponsorships or discounts, then you probably would have to get another job to pay bills.
Did you keep getting that much?
It's interesting. At the end of 2008, I sent out a survey asking all of my sponsors anonymously if they got what they wanted from sponsoring me. Half of the responses were really positive and half were like, 'No, we thought this guy was going to win everything and he didn't.' I have no idea which was which. Some of them paid more attention to personality and other stuff. I had a blog and updated it regularly, which was a big deal at the time.
Still, $15,000 isn't a ton of money. How did you make ends meet?
I just didn't spend money outside of my sport. I had some great friends that believed in me and who were willing to support me with a place to stay and food for weeks on end. From time to time I would teach swim lessons or tutor students for a bit of extra cash, but for the most part I let triathlon consume my life. I was pretty lucky to have all the support from friends and family. There's no way I could have gotten to a sustainable point in triathlon without it.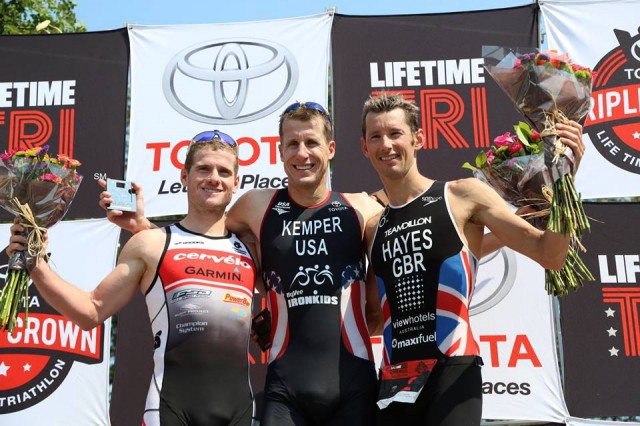 Ben Collins, far left, on the podium with Olympians Hunter Kemper and Stuart Hayes at the Lifetime Triathlon.
You eventually earned a spot at the Olympic Training Center. How do you earn a spot there? How does that work logistically and financially?
Every year the criteria is different. At the time I needed a top 10 finish at a [International Triathlon Union] World Cup, which I managed to earn at the end of 2009.
Once you earn a spot, it's easier to keep the spot and re-qualify. They had no interest until I had lots of results. In 2009, I got sixth or seventh at a World Cup, which got me in the door. Then, 10th at another. Then, I did decent enough and was consistent enough that they kept me on.
Basically at the OTC they give you a dorm room and meals, plus coaching, access to sports medicine, trainers, physiologists, sport psychologists, nutritionists and more. They value a year of residency at $20,000, but I would probably value it much higher than that, considering how much I saved on medical bills by having a sports medicine clinic and how much it would cost me now to hire cleaning and cooking staff. In a way the OTC is almost too good; lot of teenagers go there to prepare for the Olympics and forgo college and learning how to take care of themselves.
There are different levels of funding from USA Triathlon and USOC. What are they? How hard are they to get? Do some people get lots and some none?
Again, this changed every year. Between the fact that I've been out of the system for a couple years and the non-disclosures in my contracts, I can't really say. The highest level used to be around $50,000, and was insanely hard to qualify for. (I never came close.) The next level was a fraction of that, but included both up-and-comers and older people who couldn't make the highest standards.
You got money from USA Triathlon?
They gave me a travel and coach stipend, which isn't included in the OTC. It was because I was on the triathlon national team, called Project 2012. It's like the B team. We got funding to go to races.
While you were at OTC, what did you get from them and what did you have to pay for yourself?
There were weeks at the training center when I didn't open my wallet once. I had to pay for gasoline to get around, but because everything was contained on campus I could make a tank of gas last two months easily. I pay my health insurance and car insurance. Health insurance is insanely expensive for triathletes. Right now, I have a really high-deductible health insurance plan that's $200/month. Before, it was $600/month.
While I was there, I kept making money through sponsors. I started making more money from racing. And, I spent almost nothing. On top of that I had the stipend from USA Triathlon, plus racing expenses. By the time I left in 2012 I had saved enough for a down payment on the house I'm living in now in Chicago and a good chunk of the tuition for my MBA at University of Chicago.
There's actually not as much money for athletes in Olympic racing, right?
With Olympic racing, the ITU circuit [International Triathlon Union] is outside the country, so sponsors aren't as interested and you don't get as much domestic attention. The draft-legal style [meaning bikes can ride in groups next to each other] is also different and not comparable. It's valuable in the US to have pros compete on the same course as amateurs. With Olympic racing, they don't, so most people don't pay attention to it.
Sponsors don't care as much about it, because it's international and there's not as much media coverage. They want you doing an Ironman or half-Ironman or domestic race.
The prize money is also lower, or more competitive. You'll have 75 guys racing for ten money spots. And, the international travel is expensive.
But, still, $80,000 in prize money isn't bad?
In 2011, I made a good amount of money. About 50–60% of it, though, was from HyVee [Triathlon in Des Moines], all from one race where I won a bunch of primes [monetary prizes sometimes awarded within the race for getting the fastest swim or bike lap, etc].
In 2012, I raced 17 times and averaged about $4,000/race. I podiumed ten times. I won the ITU Lima race and the prize purse was $1,500. That didn't even cover the plane ticket. Second got $900. Cameron Dye [another pro triathlete] won the Toyota Cup [Lifetime Triathlon series] with a $60,000 prize. He made almost $200,000 last year.
You keep saying non-disclosures won't let you talk about specifics. That can actually be a problem among athletes, right? Because no one knows how much anyone else earns?
There's a lot of asymmetrical info and it causes problems. To me, you sponsor a triathlete and that's a huge return of investment. As a company, you'd pay more for a single ad in a magazine. Instead, you can pick up an up-and-coming athlete, who will blog and Facebook and tweet about you.
Is it common for sponsors to want you to tweet and blog?
More of my contracts are saying how many tweets I should post, etc. Now, I'm trying to rework some of them around including Facebook and Twitter content.
You missed out on making the London games. And you left the OTC at the end of this past year. Why?
The program at the OTC is really for development and people focused solely on international, Olympic-qualifying triathlons — in which there is very little earning potential, like we talked about. I spent about three years there and it was time to give the next group a go. I would love to qualify for Rio, but there's also a lot more money available for non-Olympic triathletes.
What are you doing now? Are you still doing triathlon?
I spent the second half of last year racing domestically and that's where I earned the vast majority of my income. Now I'm in business school at Chicago Booth. I want to keep racing a few more years, but the MBA will help me transition from competing into my next career. I don't want to be a 40-year-old professional triathlete without a plan.
Life is much less stable right now. Before if I got injured or messed up a race it meant no income, now it means I have to dig into my savings to get to the next race. Life is definitely harder away from the training center, but it's also more real.
I alluded to it before, but I'm funding my MBA with my winnings from triathlon. This season hasn't been great so far from an income standpoint. I started racing half-Ironmans and it's a learning curve. But, I gave myself a pretty good buffer with all the saving I did at the OTC. Business school at Booth makes life way more interesting, and while it may eat up all my savings my life is better overall in Chicago.
Was it worth it?
I don't regret a moment of my triathlon career, and I'm incredibly thankful for the experiences I've had. That said, I was really lucky. Not many people get the kind of support I did, and the sport could easily have put me into massive debt without a few random moments of luck.
For me, it was worth it, but I don't know if I'd recommend it to the next potential Olympian. Of course, I just spent the past five years learning to get funding to do what I want in life. I can't think of a more valuable skill.
Kelly O'Mara is a writer, reporter and former professional triathlete outside San Francisco. Her work has appeared in print, online and in broadcast for KQED, Competitor Magazine, Outside, Columbia Journalism Review and others. She also has a blog. Photo: Michael Foley
---
Support The Billfold
The Billfold continues to exist thanks to support from our readers. Help us continue to do our work by making a monthly pledge on Patreon or a one-time-only contribution through PayPal.