Morning Coffee Orders From Around the World
by Sarah Fox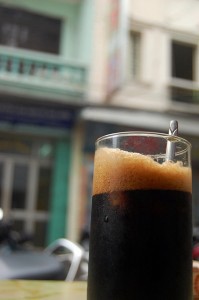 Every day on my way to work I stop at the bagel store between my subway stop and my office and order a large hazelnut coffee, light and sweet, for $1.75. I sit at my desk and drink it as I ease into the work day. $1.75 seems pretty cheap for the best part of my morning.
I asked my friends around the world about their morning coffee orders:
Germany: A typical morning drink is Milchkaffee, a bowl filled with a little filter coffee and lots of frothed milk topped with a sprinkling of cocoa powder. It's often served with a small cookie on the side and costs about 3 euros ($3.98).
Vietnam: Ca Phe Da is Vietnamese dark roast coffee brewed over condensed milk, stirred, and then poured over ice. At a cafe in Hanoi it costs 20,000 VND ($0.94).
New Zealand: They drink a Flat White, which is steamed milk poured over a shot of espresso with less foam than a cappuccino. In Auckland it's going to be NZ$4 ($3.14).
India: In a normal café, filtered coffee costs around Rs.7 ($0.12) unless you are drinking a cappuccino in a Starbucks in Mumbai, where it costs Rs. 80 ($1.31).
United Kingdom: Although the Brits are known for drinking tea and not coffee, my friends in London tell me that no one gets tea to go on their way to work. Instead, everyone makes it at home or in the office. If they are buying coffee out, Brits usually go for a latte, which run about £3.50 ($5.38).
South Africa: If you walk into an office or business you'll usually be offered instant coffee, but if you go to a café a double latte is R22 ($2.22).
Greece: At Flocafe, the largest coffee chain in Greece, a Frappe, made by whipping milk foam and instant coffee together over ice, costs 3 euros ($3.98).
A native Midwesterner, Sarah has spent time living in Boston, Auckland and Berlin. She is currently grounded in Brooklyn, N.Y., where she balances a career in publishing with freelance writing (when she's not balancing her checkbook). Photo: Jess Sloss
---
Support The Billfold
The Billfold continues to exist thanks to support from our readers. Help us continue to do our work by making a monthly pledge on Patreon or a one-time-only contribution through PayPal.