The Dream Chasers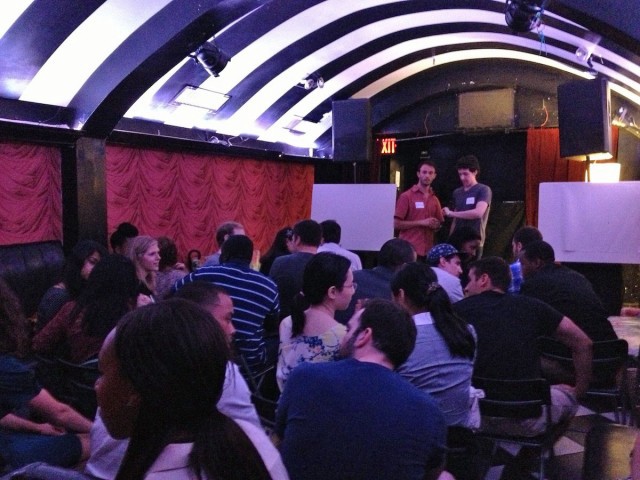 Karden Rabin and Dan Feld host the Prologue Sessions in New York City.
Sasha is a sales manager for a frozen food company that sells gluten-free frozen pizza, but what he really wants to do is become a life coach. Sadiya is a real estate sales agent and yoga teacher who wants to grow her yoga practice and launch a women's accessories line. Joanna has worked in publishing for 17 years, but she wants to either start her own business, or find a job that's better than the one she has now. Cynthia works as a project manager, but she'd like to work in private equity and bring Chinese investors to the U.S. and U.S. investors back to China. Lucia went to law school at NYU, and she's not sure what she wants to do. She just took some time off to have a baby, and she's currently brainstorming her next career move.
It's the Tuesday before the Fourth of July, and a group of about 30 people have gathered in a room downstairs at the Ella Lounge in New York's Lower East Side. They've come for the "Prologue Sessions" which is billed as "a live event series for realizing your career dreams" and feels like a support group for people who are experiencing a career crisis and want to do something more meaningful with their lives.
"Hi, my name is Jamal and I'm a buyer at Gristedes," a tall man says, waving to everyone in the room. "But what I really want to do is run my own business. I've come here to get inspired."

Prologue Sessions is the brainchild of Dan Feld, a 29-year-old podcaster and market researcher from New Jersey who hosts Prologue Profiles, a podcast where Feld interviews people who have pinpointed what they want to do with their lives and have actually figured out a way to do it. Previous guests have included Tracy Weiler, an actress who is co-producing her own TV pilot in Los Angeles, and Jeff Laub, a former lawyer who co-founded the Blind Barber, a popular bar/barbershop in New York City. A few weeks ago, I met Feld at a coffee shop in Jersey City to learn about the genesis of his podcast and live sessions.
Feld graduated from NYU's Stern School of Business in 2006 with a degree in marketing and a minor in sociology, and then immediately got a job at a market research firm.
"I was pretty good at it," Feld said. "I worked there for five years and I learned a lot. But then I started asking myself some questions: 'Is this all there is? Is this what I'm on the Earth for?' The answer wasn't yes, so now what?"
The answers to Feld's questions came to him when he started dating Fabiola Arias, a 26-year-old fashion designer who started her own company while she was a senior at Parsons. Arias sold her gowns to Neiman Marcus after her first collection was shown at New York Fashion Week.
"She made her own dresses and was so comfortable talking about doing what she loves, and I thought, 'I want that, I want my work to matter,'" Feld said. "Literally the next day I said yes to this thing that I've been thinking about for a long time, which was becoming a classroom teacher."
Feld applied to Teach For America and when he was accepted in the program, he quit his job, moved out of his Lower East Side apartment and relocated to Mississippi for TFA's summer training. As the training was winding down, Feld panicked. He felt unprepared to teach two classes of 25 sixth grade students and his anxiety made him physically sick. He knew he wasn't going to make it through the school year, so he left the program. In August 2011, on the first day of school, Feld packed up all his belongings and moved back home with his mother in New Jersey.
"I felt ashamed," Feld said. "I had this amazing going away party, and all my friends knew I was going to do this. Now I had to come back and say, 'By the way, it didn't work out.' I thought, 'Now what?' I had no answer for that and I was freaking out every day."
If there was one thing Feld didn't have to worry about, it was debt. Feld's family paid for his education at NYU, so he didn't have student loans to worry about, nor did he have any consumer debt. Feld got a job at Uniqlo, a clothing store, while figuring out his next move. He started helping Arias promote her clothing line, and his outreach helped her land a magazine shoot.
"Fabiola stood by my side the whole time," Feld said. "And she said, 'You could be your own business.'"
Feld was thinking about what having his business could mean when he picked up a book by James Altucher called I Was Blind But Now I See, which talks, in part, about the time Altucher hit rock bottom and figured out a way to come out of it.
"At the time, I was having these, 'What do I have to live for?' thoughts — down, dark thoughts which I hadn't had before," Feld said. "And I read this book, and I read about this thing Altucher says about us having an idea muscle, and how coming up with an idea every day about what you could be doing strengthens that muscle. He said that if you did that every day for six months, your life will change. And I believed this."
Feld continued to help Arias with her business, strengthening her LinkedIn profile, helping her meet with new stylists, and taking on the role as her PR person during fashion shows. Again, Arias reminded Dan that he would probably be successful at running his own business.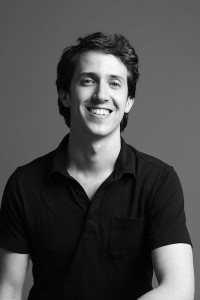 Dan Feld
"I took a step back and was like, 'I'm not the only one in this position,' Feld said. "There are a lot of people out there thinking, 'What am I going to do with my life?' The options are endless. At the same time, I knew people who had figured out what they wanted to do, and who were making things happen for them. And I thought, 'I can make a show about this.'"
So he did. Feld used Google to figure out how to make a podcast and bought two microphones and mixer to record his interviews. He rounded up some people he knew who were chasing after their dreams — friends who've built and sold companies, who've become comic book writers, who've left the corporate world to work for charities they support — and made eight episodes.
"My friends were like, "Dan, this is really good,'" Feld said. "And I thought, 'I know this is good.'"
Prologue Profiles was born. To support himself and the show, he started a side business doing market research. His old company is now one of his clients. In a way, Feld said, his clients are sponsoring the show he loves to make.
Next came Prologue Sessions, an offshoot of the podcast that's co-run by Karden Rabin, a childhood friend of Feld's who's currently running his own pie business. Rabin hadn't baked a single pie in his life until last December, and now his pies are being sold at farmer's markets in New York and the Berkshires.
"I thought, 'Let's bring people together who want to be around other people who want to do amazing things," Feld said. "We've had three live events so far, and the results have been amazing. People have been more productive. Life is really just a conversation with yourself and others. What Prologue Sessions does is brings all of that together."
Feld credits Arias, now his fiancé, for much of his success.
"I have 42 episodes right now," Feld said. "I wouldn't have lasted if I didn't have Fabiola — someone who believes in me and someone who I had in my corner the whole time. A network of people helped me. There are strength in numbers. There's nothing wrong with asking for help."

Feld and Rabin have paired off everyone in the room with someone they don't know who will act as their "accountability buddy" — a person who makes the commitment to check in on their partner to see how they're progressing on their goals every week, which is essentially the role Arias played for Feld. Feld then explains the four stages of what he calls "the escalation of actualization":
Stage One: You want to do something, but you don't know what it is.
Stage Two: You know what you want to do, but you don't know how you're going to go about doing it.
Stage Three: You have started to do what you want to do, but you want to figure out how to grow.
Stage Four: You're killing it, and you want to figure out what to do next.
Feld and Rabin tell the group to explain to their accountability buddy which stage they fall into, where they're currently at, and where they want to go. The room buzzes for a few minutes as each pair begins to share their life stories with each other, and then Feld and Rabin bring everyone back to attention.
"Okay, so now you know where you're at and where you want to go, what's stopping you?" Rabin asks.
"Start yelling out reasons," Feld says.
"Lack of structure!" someone calls out. "Money!" The list begins to grow: fear, lack of time, lack of experience, lack of security, lack of clarity, and most importantly, some people just don't know what they want to do.
"These are things we call 'Hez,'" Rabin says. He explains that "Hez" are the things that make us hesitant to do the things we want to do, and then Feld says the goal is to figure out a way to drop the "Hez" to become "no Hez" so that there's no longer anything standing in the way of us following our career dreams.
Later, Feld and Rabin ask a few people to stand up to talk about their individual situations. Trisha Sanyal, a 25-year-old NYU graduate says she had been recently laid off after working at Nautica as an executive assistant for a year and a half. Ideally, she'd like to launch her own event planning service, but she's having trouble getting it off the ground.
"What's stopping you?" Rabin asks.
"I don't know," Sanyal says. "I go by the book. I attend networking events. I talk to people who could be potential clients about what I've done, but I can't seem to portray trust."
"You can't inspire confidence," Rabin says. "People have trouble relating to you. You think, 'maybe I need to prove myself and tell them what I've done,' and people sense this. We all have really good B.S. meters. Do you have a good B.S. meter?"
"Yes," Sanyal says.
"Listen, up until a few months ago, I had never baked in my entire life!" Rabin exclaims, driving in the point. Laughter fills the room. "And I have a pecan pie company! I call a fried chicken place I like and tell them I like their chicken and I like their pies, and then I say, 'I make an amazing pie, would you like to sell it?' And I said it like I was it, because I was it! And they said, 'Hey, it turns out that the company that sells us their pies stopped making them!' So: You need to be a shining light. Be what you are — you are an event planner."
Sanyal nods and says she's going to work on being more confident and expressing what she does better when talking to people. She tells Rabin she's going to practice her spiel on friends and with her accountability buddy. She sets a big goal for herself for the following week: To land a client for her event planning service.
After the session ends, I ask Sanyal how she felt about how everything went.
"Oh, I loved it," she says. "I think this was really good for me. I know what I have to do next, and what I'll have to do to get there."
I ask the bartender, Miguel, what he thought about the live session.
"I've been learning a lot," he says. "You know, I've started DJing at parties, and I'd like to do it a lot more."
You can subscribe to Dan Feld's Prologue Profiles podcast in iTunes, and learn more about the live sessions on his site.
---
Support The Billfold
The Billfold continues to exist thanks to support from our readers. Help us continue to do our work by making a monthly pledge on Patreon or a one-time-only contribution through PayPal.