Hot Tips for Having a Blast at Comic Con and Spending $0 Doing It
by Katie Peoples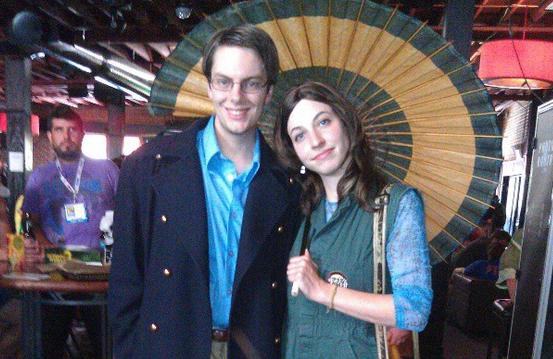 Totally replicate-able. This is you next year. Move to San Diego now.
1. Live in San Diego.
I live in downtown San Diego. I can walk to the convention center. Done. Parking: $0. Transportation: $0.
2. Don't buy a badge.
OK, you're not going to get into any of the panels or on the floor, but you're also not going to spend $175 on a badge.
There are plenty of things to do around the convention center and most of them are free. At one event space, I tried out a whole room full of PC games, sat through previews and Q&As on upcoming releases from Square Enix, and got (pretty) close to Felicia Day. Outside Comic con compiles events like this. Bookmark it.
3. People watch.
One of my favorite things about Comic Con is all the cos-playing. I don't dress up (that's expensive!) but I love seeing how people reinterpret their favorite characters and trying to name them all. A few favorites from this year: Retired Batman held up a sign letting us all know that he was through crime fighting and to call Robin. Link from the Legend of Zelda panhandled for a new shield. And there was much gender-bending among men and women, with girls dressed up as Thor and men dressed up as Slave Leia. The Firefly couple above.
4. Celebrity watch.
Jack Black wandered through the Gaslamp District in a luchador mask. Bryan Cranston wore a Walter White mask. I personally ran into Doc Hammer, co-creator of the Venture Bros., and fangirl-ed in a way I've never fangirl-ed before.
5. Don't buy anything.
Conventions thrive on the impulse buys, but for most of the stuff, it's not worth it. Don't give in! No matter how cute those Game of Thrones vinyl figures are, just remember: Think Geek will have them soon enough (if not already). Also: You probably don't need Game of Thrones vinyl figures. Also I recommend taking business cards from artists you like and then looking them up later when you've had some time to think about it.
6. The further you are from the convention center, the less crowded and cheaper things will be.
My favorite San Diego food deal is the lunch specials at Sushi Deli 2 on Broadway and 4th. Write that down.
7. Freebies.
Grab it all. You can sort the good stuff from the detritus later. I got a processor. A processor! Free.
Katie Peoples lives in San Diego.
---
Support The Billfold
The Billfold continues to exist thanks to support from our readers. Help us continue to do our work by making a monthly pledge on Patreon or a one-time-only contribution through PayPal.