A Conversation With Myself About Buying a Dress
by Sarah Sluis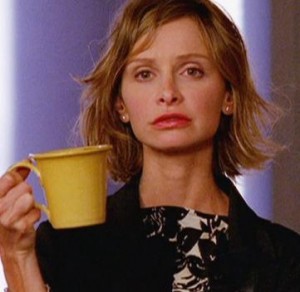 The scene: the clearance rack at Nordstrom Rack.
ME: Whoa. Is that a Diane Von Furstenberg dress? Haven't you always, always been looking for one to call your own? To look like a chic businesswoman? To wear those amazing prints?
OTHER ME: The price tag says it's $189.97. That's way too much.
ME: But the list price is $498! That's a huge savings.
OTHER ME: This is a maxi dress. Haven't they been around for three years now?
ME: But it took you this long just to find a maxi dress that didn't have a print that made you feel dizzy.
OTHER ME: That is true. The fabric also appears to be of high quality.
ME: Yes! Wouldn't you rather have this one dress, that you'll wear once a week, than six horrible Forever 21 dresses?
OTHER ME: You mean I could buy six Forever 21 dresses for this amount? Or maybe a few Banana Republic dresses on sale?
ME: Um..
OTHER ME: This dress is $189.97. That's over a week's worth of groceries. That's how much you spent on a hotel for your last weekend getaway. Aren't those the kind of things you'd rather spend your money on?
ME: But I also have to spend $300 on a bridesmaid's dress soon. I never spend that much money on a dress for myself! So doesn't that mean I can splurge on a nice dress that I want and not on one that someone else picked out for me?
OTHER ME: So now you're spending almost $500 on summer dresses?
ME: Whatever! I won't miss it. I pay my bills every month. I don't even know where my money goes every month, but I always have enough because you won't let me buy anything.
OTHER ME: I'm just concerned that this dress might be out of style soon. And don't you already have a lot of nice summer clothes?
ME: Well, it's true I try not to overstuff my closets, but I have an opening! You know how those experts say you're supposed to donate one item every time you buy one to cut down on the clutter? Well last night this really nice cardigan got tangled in my bike spokes and the fabric pulled, a button popped off, and it's covered in grease. It's ruined! That means I get to replace it with something else.
OTHER ME: I can't believe you want to spend that much money on a dress, when you're going to have to be so careful not to mess it up, and dry clean it all the time. Won't that maxi dress get caught in those exact bike spokes you're talking about?
ME: Never! In fact, it will be make me a more modest rider, since it's very scandalous to bike with any dresses that fall above the knee.
OTHER ME: Fine. You can get the dress. Try it on again at home though. And if you don't get compliments the first time you wear it, you'll know I was right all along.
ME: Whatever. I deserve this dress.
CASHIER: That will be $206.83.
ME: Crap. TAX.
The dress has been purchased and worn for a special occasion, with no un-buffable food stains to date.
Sarah Sluis lives in New York.
---
Support The Billfold
The Billfold continues to exist thanks to support from our readers. Help us continue to do our work by making a monthly pledge on Patreon or a one-time-only contribution through PayPal.